DOJ won't unseal Manafort records due to several "ongoing investigations"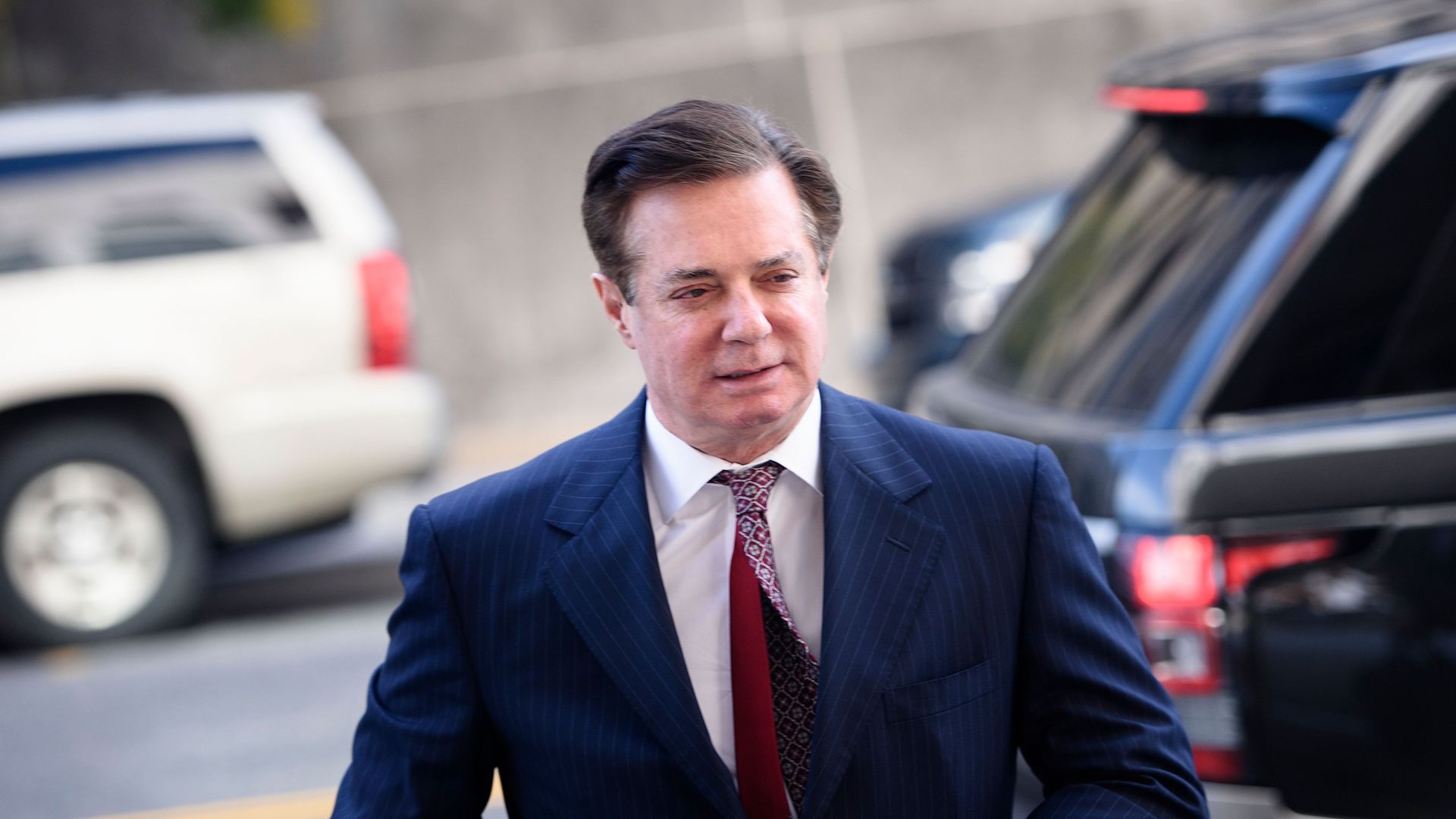 The U.S. attorney for the District of Columbia argued in a court filing Monday that the Washington Post's request to release sealed and redacted records related to Paul Manafort's case should be rejected because of the existence of several "ongoing investigations."
"The redactions at issue were undertaken and approved recently — from December 2018, through March 2019. No material changes have occurred in these past months. Although the Special Counsel has concluded his work, he has also referred a number of matters to other offices. The ongoing investigations that required redactions — many of which were already being conducted by other offices — remain ongoing."
The big picture: A redacted version of special counsel Robert Mueller's report is expected to be released on Thursday morning. But even with Mueller technically concluding his 2-year probe last month, it's become clear that his team has farmed out many of the investigative threads they uncovered to other offices.
Just last week, former Obama White House counsel Gregory Craig was indicted in D.C.'s district court for making false statements in an investigation stemming from Mueller's probe.
Lobbyist Sam Patten was also sentenced in D.C. last week after he pleaded guilty to helping steer Ukrainian money into Trump's inaugural committee.
Among the other confirmed cases that began with Mueller and have been picked up by other offices:
The Wall Street Journal reported last week that the Southern District of New York has interviewed members of Trump's inner circle in its investigation of hush money payments, which remains ongoing even after Michael Cohen's sentencing.
Longtime Trump adviser Roger Stone is expected to go on trial in November after being indicted for allegedly lying about his communications with the Trump campaign about WikiLeaks.
The bottom line: Former federal prosecutor Gene Rossi tells Politico: "The Mueller report was just the first step. What these recent events show me is that Robert Mueller has created an army of acolytes and those soldiers are now embedded in the Justice Department, Eastern District of Virginia, Southern District of New York and Washington D.C. These acolytes are trained, they're hungry and they're determined."
Go deeper