Paul Allen's legacy includes a virtual reality "Holodome"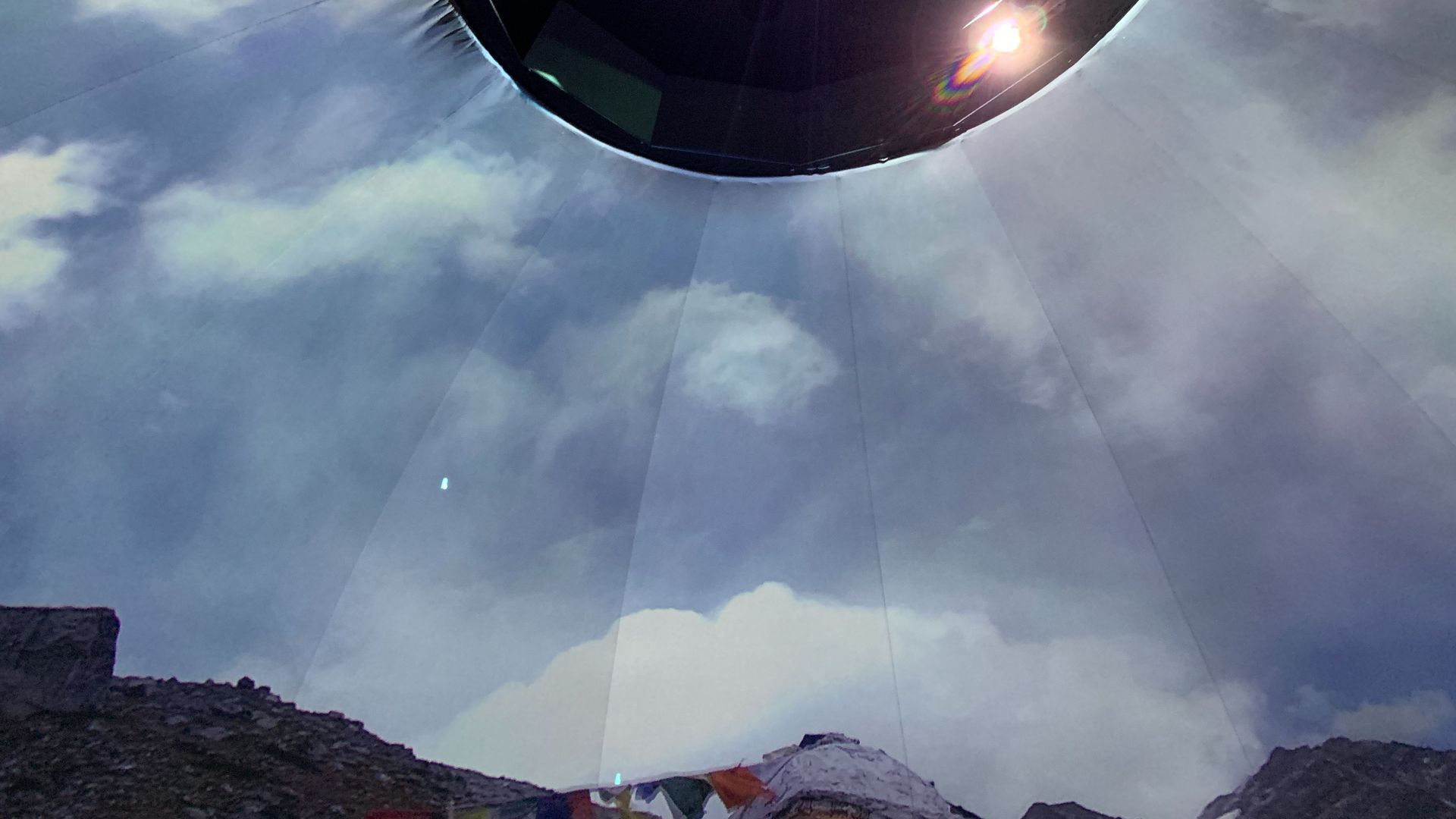 The TED conference often serves as a preview for where the virtual reality industry is going. This year, it's all about entering immersive VR domes rather than strapping on a headset.
Why it matters: Destination VR, despite its promise, has struggled financially, with IMAX closing many of the locations it had opened. Paul Allen's company Vulcan is seeking new partners as it debuts new experiences for its Holodome at TED.
The centerpiece of the dome movement is Holodome, which was a pet project of the late Microsoft co-founder.
At TED, Vulcan debuted 2 new experiences: one is a live-action film that takes you to the top of Mount Everest and another takes you inside the Impressionist works of Claude Monet as you step inside the artist's world.
The video is not just all around you, but also above you and at your feet.
My thought bubble: Both new exhibits do exactly what good VR should — that is, convincingly take you to a place you couldn't go, somewhere either inaccessible, like Everest, or unreal, as with Monet.
Details: The centerpiece of the technology is 4 very-high-resolution projectors.
There are 2 Holodomes already in the wild, one that was used for consumers at the Museum of Popular Culture (MoPop) in Seattle and another in Venice, California, where Vulcan has been showing the technology to creators.
At MoPop, 40,000 consumers have been through the Holodome since last May.
Pros: It's a more social experience — you don't have to strap anything on. Unlike VR, which is usually limited to those 13 and over, Holodome itself is suitable for all ages. Also, it's easily transformed to multiple experiences.
Cons: While immersive, you don't feel quite as transported as in goggles-style VR given the hole for the projector and the fact you see shadows on your shoes and clothes. Like other destination VRs, it's expensive, with units currently costing on the order of hundreds of thousands of dollars.
Meanwhile, Holodome also has a little cousin in the form of a cement dome used by TED sponsor DuPont.
While the resolution is less and the content is computer generated and more promotional, there are a couple things to note including its use of haptics as well as its smoother construction, eliminating the visible seams inside the larger Holodome.
The bottom line: Holodome is captivating, but translating such experiences to business success has proven tougher than expected. Vulcan is wise to be seeking partners to help it bring the technology to market.
Go deeper