Companies are attacking each other for antitrust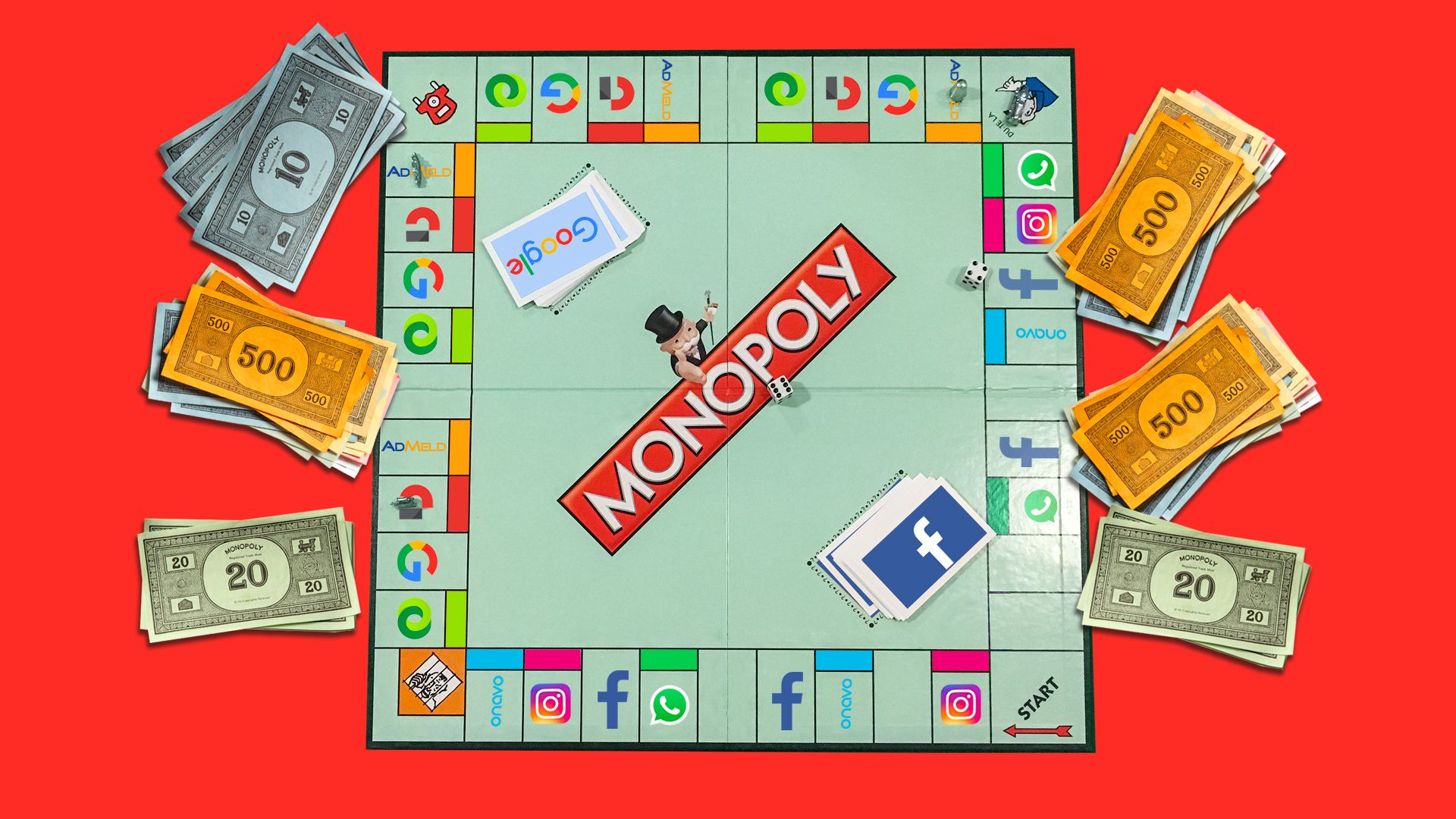 In a remarkable display of firepower, big companies are subjecting each other to charges of monopolistic behavior with a zest rivaling that of regulators.
What's happening: In both the U.S. and Europe, politicians and regulators are ratcheting up to curtail the market power of Big Tech and other industries. But even before they are fully engaged, market actors from college athletes to smartphone parts suppliers and newspaper publishers are taking matters into their own hands.
The backstory: In the U.S., antitrust litigation — along with other action meant to thwart perceived monopolistic behavior — has been around since the Sherman Act of 1890 first established major guardrails against market concentration.
But the current spate of threats and lawsuits are part of an anti-monopoly zeitgeist not seen on this scale since perhaps the 1930s.
What has attracted much less recognition is the scale on which businesses and organizations themselves are getting ahead of the government. Apple is on both sides in some of them. Here are two:
Apple-Qualcomm: In the highest-profile case, jury selection began today in San Diego in a suit in which Apple calls Qualcomm an unfair monopoly for the 5% royalty it charges on the sale price of Apple's iPhone. In a countersuit, Qualcomm says Apple owes it $7.5 billion in rightful royalties. (Qualcomm faces a separate antitrust suit by the FTC.)
Apple News Plus: The NYT and the Washington Post have rejected joining Apple's new news service, which offers a host of publications for a fixed price of $9.99 a month. This can be seen as a private antitrust action: An underlying factor is the 50% cut of the revenue demanded by Apple, which can charge that much because of its market power.
Qualcomm declined to comment. Apple did not respond to a request for comment.
In a twist, the media is asking Congress to allow it to use traditionally anti-competitive means to attack monopoly, writes Axios' Sara Fischer:
The News Media Alliance, a journalism trade group that includes the NYT and WP, last year urged Congress to pass an antitrust safe harbor that would allow media to collectively negotiate against Google and Facebook. The bill, under a GOP-led House, went nowhere. In April, Rep. David Cicilline re-introduced the bill, and the alliance is lobbying heavily to get it through.
An unusual, long-running case: Since 2014, a group of college football and basketball players have been suing the NCAA, which they accuse of colluding to unfairly limit how much money they can receive. The players argued that this practice restrains the market, and results in subpar teams, since colleges can't fully compete for athletes, nor athletes for the colleges.
Last month, a federal judge ruled for the athletes. She said the NCAA and 11 athletic conferences could offer more money for an educational purpose. "I believe the NCAA is a classic price fixing cartel and has long engaged in unlawful behavior under the antitrust laws," Jeffrey Kessler, a lead lawyer for the athletes, told Axios.
Antitrust experts broadly support the court's ruling. "They're going against the bedrock of antitrust law," said Marc Edelman, a professor at Baruch College. The NCAA did not respond to an email, but it has said it's appealing.
What's next: Jon Solomon, editorial director of the Sports & Society Program at the Aspen Institute, says pressure is building in Congress to allow college athletes to make money off their own names, images and likenesses. He said that athletes themselves could also one day boycott their sport.
"Doing so would certainly carry risk for the boycotting players and how they're viewed by some in the public," Solomon said. "But it also may show the power of the players. I'm of the opinion this will happen one day."
Go deeper: Reimagining athlete pay
Go deeper