Viral lies spread before Indian and Indonesian elections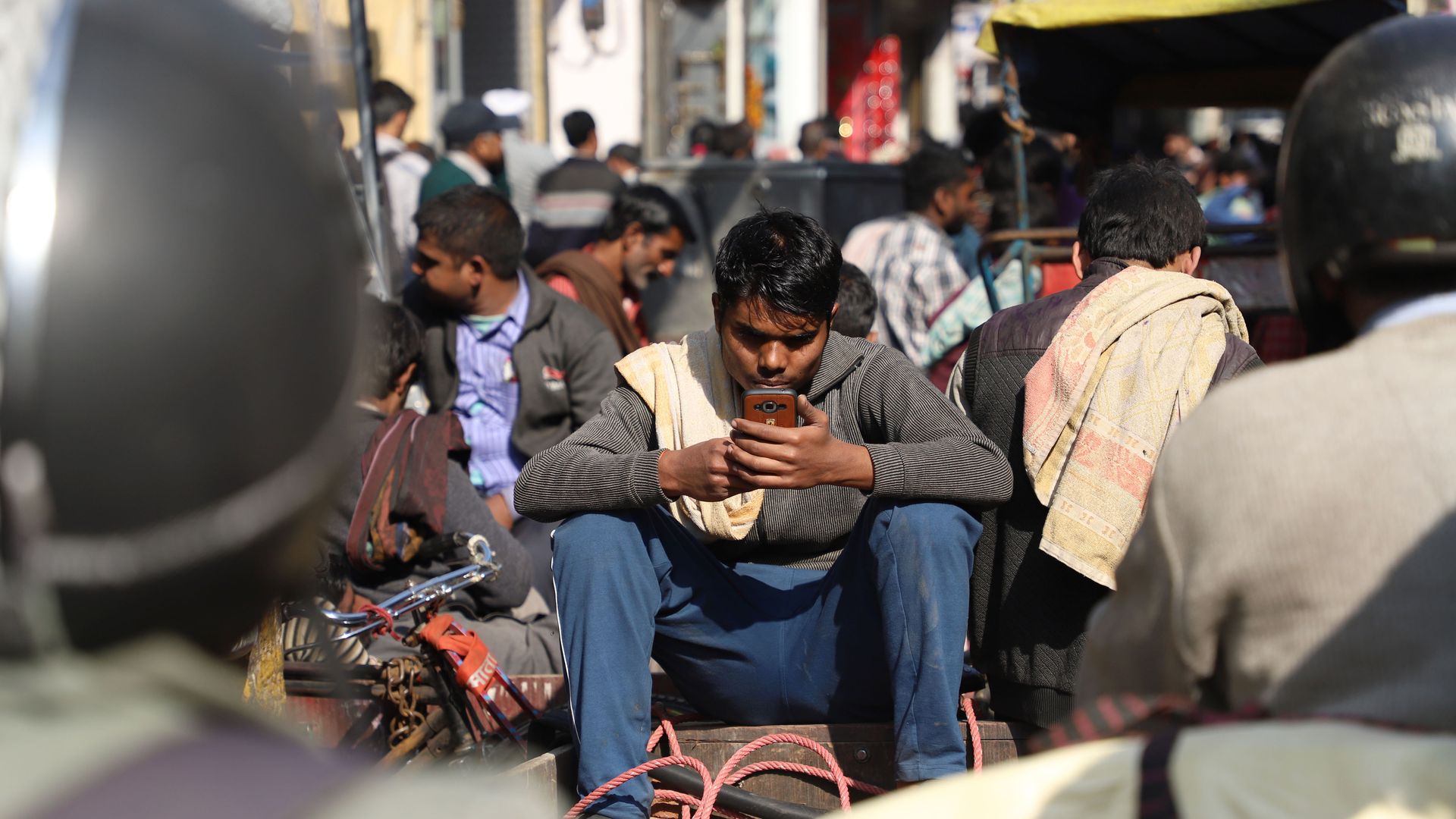 Swelling nationalism and religious tensions are coloring two of the world's largest democratic exercises, in India and Indonesia, thanks in part to incendiary misinformation proliferating on social media.
The big picture: Both countries have among the largest populations of social media users on the planet, and cheap smartphones mean more people are being connected every day. The propaganda and fearmongering we're seeing isn't new, but powerful tools are spreading it farther and more rapidly than ever before.
In both cases, some of the most effective misinformation plays on voters' suspicions. In Hindu-majority India, that often means portraying candidates or parties as pro-Muslim. In Muslim-majority Indonesia, meanwhile, President Joko Widodo (known as Jokowi) has been depicted as a closet Christian, or even a Chinese infiltrator.
In India, political parties including the ruling BJP have "nationwide cyberarmies" that traffic in "targeted misinformation… rooted in domestic divisions and prejudices," the Atlantic reports.
"The consequences… are extreme, from death threats to actual murders — in the past year, more than two dozen people have been lynched by mobs spurred by nothing more than rumors sent over WhatsApp."
In Indonesia, meanwhile, both leading presidential campaigns have been "funding sophisticated social media operations to spread propaganda and disinformation through fake accounts on behalf of the candidates," according to a Reuters investigation.
Challenger Prabowo Subianto has been both implicated and targeted in the spread of false stories. Reuters reports that he's been "depicted as both impious and planning to create a caliphate, while his running mate has been portrayed inaccurately as gay."
The big picture: The number of Indians with smartphones has more than doubled — to over 500 million — since the last national election in 2014.
Ravi Agrawal, author of "India Connected: How the Smartphone is Transforming the World's Largest Democracy," tells me that for millions of Indians, a smartphone is not only their first telephone. It's their first camera, their first computer, their first TV.
That has revolutionized the way Indians discuss politics and access news. Savvy users can now fact-check what they hear from candidates or partisan media, Agrawal says — but misinformation spreads quickly in a country with limited media and digital literacy.
Regulators and tech companies are scrambling to keep up. As Axios Media Trends reporter Sara Fischer puts it, "they're creating war rooms, but they're still losing the war."
Facebook has a task force on the ground in India. It also removed 234 Indonesian pages, accounts and groups last Friday "for spreading polarizing political messaging," according to the Atlantic Council's Digital Forensic Research Lab.
WhatsApp, which is owned by Facebook, placed limits last year on how many times a message can be forwarded in India after mob lynchings were linked to viral messages.
"Closed circuit messaging networks like WhatsApp and ShareChat make it harder to check and debunk fake news, and that magnifies any potential impact of fearmongering," Agrawal tells me.
What to watch: Experts worry policies nominally intended to weed out fake news could actually lead to restrictions on free speech, Sara writes. The problem of disinformation is growing much faster than our ability to combat it.
India's election began last week but will continue in stages through May 19. Indonesia goes to the polls on Wednesday.
Go deeper: World's largest-ever exercise in democracy underway in India
Go deeper