6 things you need to know about Netanyahu's election victory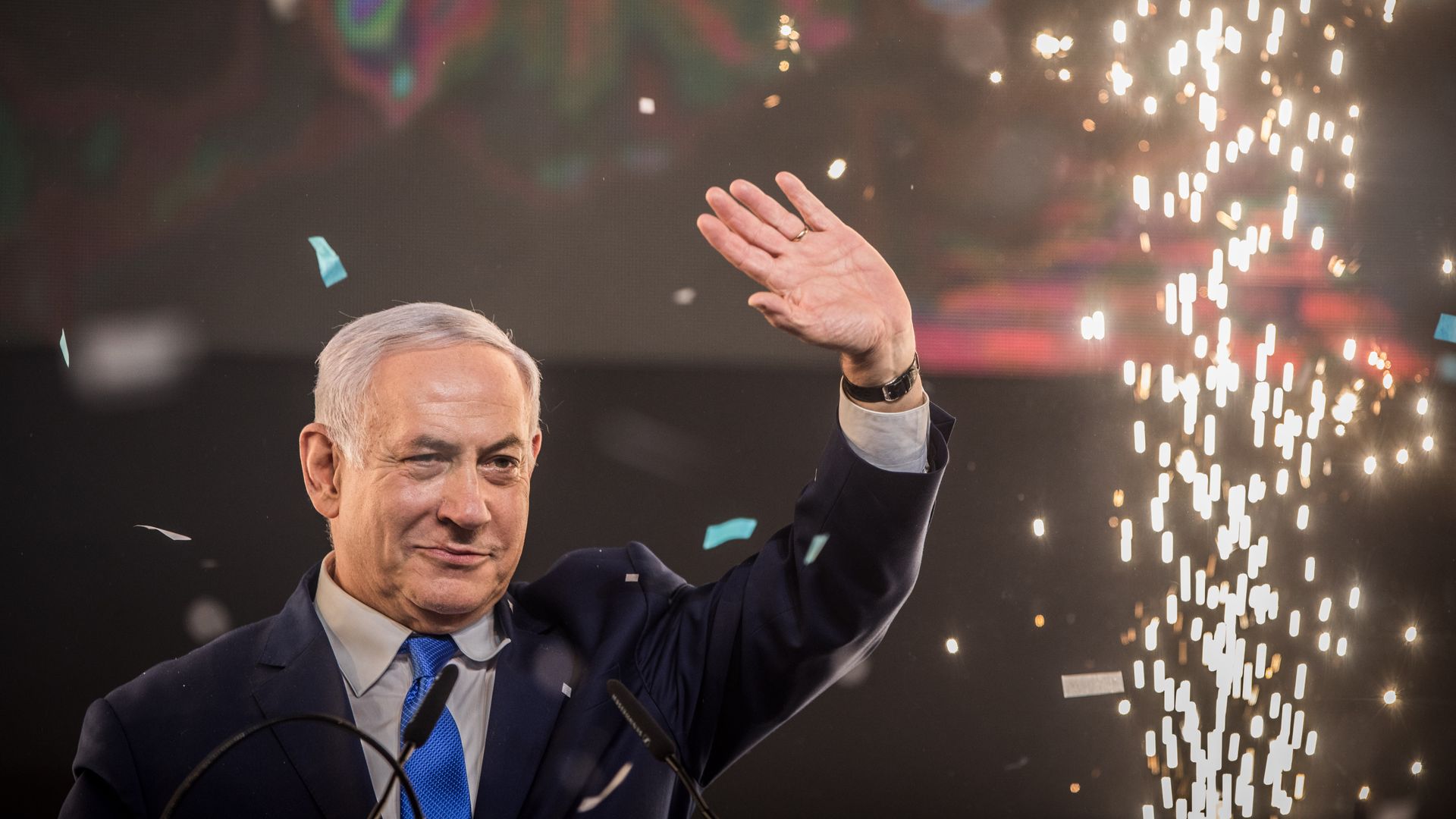 Israeli Prime Minister Benjamin Netanyahu scored a fifth term in office with his election win yesterday, declaring that he will be "prime minister for all" even as he faces a slew of corruption indictments.
The big picture: Netanyahu's victory showcased both his skill as a master politician — at home and abroad — and shifting trends in the Israeli electorate, which allowed him to score a win in one of his career's most closely fought elections.
Here are six big takeaways from Netanyahu's win:
1. Netanyahu won big.
The 35 seats he won are the best result for his party, the Likud, in the last 15 years. The result proves that Netanyahu has more political skill than any other politician in Israel. He is now set to become the longest serving prime minister in the country's history, eclipsing Israel's founding father David Ben-Gurion.
2. Netanyahu's opponent Benny Gantz still had a very impressive result.
Gantz's Blue and White Party won 35 seats — the same as the Likud. While Netanyahu heads a party that's been in control for most of the last three decades, Gantz is a political rookie who formed his party less than three months ago.
However, Gantz failed to move enough voters from the right to support his center-left bloc — and ended up cannibalizing his potential political allies.
3. Netanyahu won because of the size of the right-wing bloc.
There was massive turnout among the ultra-Orthodox community. Its two parties won eight seats each, which marked their best result in years.
4. The center-left bloc was weak because of low Arab turnout.
The Likud had run a long program to suppress Arab votes, exemplified by last year's controversial "nation state" bill and a secret campaign on election day that saw activists secretly film voters in majority-Arab towns in Israel, allegedly to combat voter fraud.
There was also big disappointment by Arab voters toward the Joint Arab Party, which split before the elections — as well as a reluctance by the Jewish center-left parties to embrace Arab voters.
If the turnout in the Arab community would have been the same as in previous elections, the right-wing and center-left blocs would be tied and Netanyahu would not be able to form a coalition. 
5. Netanyahu won 35 seats despite the three pending indictments against him.
He's facing indictments for bribery, breach of trust and fraud, but voters just didn't care.
His challenge now is to prevent the indictments from moving forward to trial. He will likely try to build a right-wing coalition that would commit to passing a bill that would freeze the indictments or allow a vote to let Netanyahu keep immunity in the cases.
Because this is Netanyahu's #1 goal, his coalition partners will be able to squeeze him dramatically during the coalition negotiations.
6. Netanyahu's close relationship with President Trump made a difference.
The fact that Netanyahu used Trump in his election ads and got Trump to recognize the Golan Heights as part of Israel less than two weeks before the elections influenced voters and helped him preserve support from his base. Netanyahu owes Trump a lot — and he might need to pay the president back soon if the White House finally releases its oft-discussed peace plan.
Go deeper: Kushner says Middle East peace plan focuses on "drawing the borders"
Go deeper