The problem with automation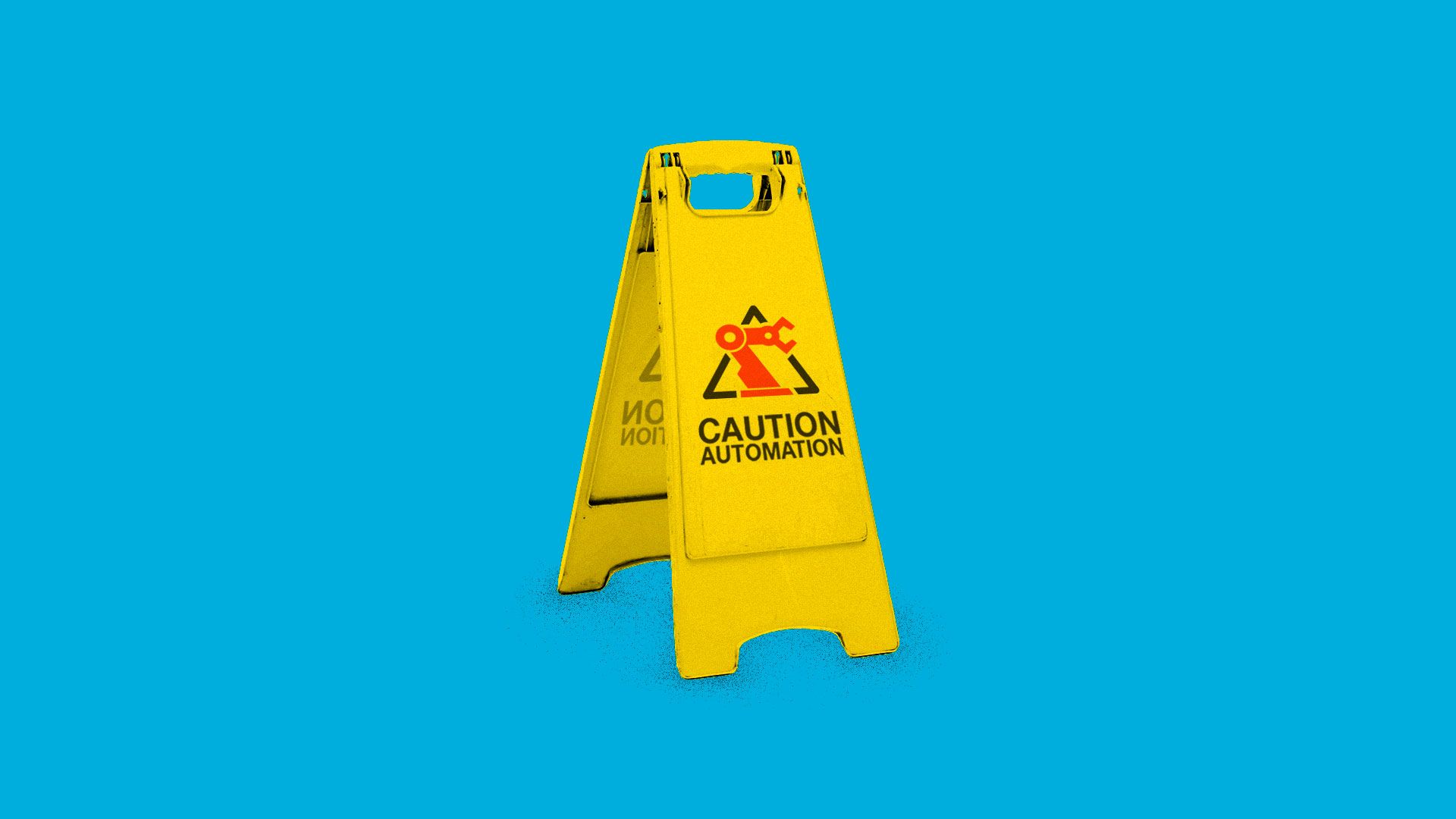 A drumbeat of studies has pushed back hard against concern over the accelerated automation of factories and other businesses, predicting that — just as industrial age advances have always done — robots will produce many more jobs than they destroy.
But in three new papers, two leading U.S. labor economists say that is not how automation has played out over the last three decades — nor will it in the future if left to its own devices.
Since the 1980s, automation has worsened inequality, stagnated the wages of workers, and struck at productivity, according to MIT's Daron Acemoglu and Boston University's Pascual Restrepo.
Coming from Acemoglu and Restrepo, two of the field's most respected scholars, the papers could seriously undercut a flood of corporate and non-profit think tank studies that have downplayed and even ridiculed alarm about the new age of automation.
In interviews with Axios, academic, think tank and corporate economists said the papers — published last month but little noticed outside the field — break new ground.
"You have from Acemoglu and Restrepo a total, theoretical grounding of how automation works in economic terms, how it both creates and destroys work, and also how its biases could well cut against good outcomes," Mark Muro, a senior fellow at Brookings, tells Axios.
The big picture: A vexing aspect of the long U.S. economic expansion has been persistently flat wages and sluggish productivity: semiconductors keep improving and digitalization spreading, yet fundamental economic measures of American well-being have lagged.
Acemoglu and Restrepo pin the blame on automation:
Over the last three decades, automation has destroyed more jobs than it has created, they say in one paper.
A primary reason is that the automation technology has not been good enough to create sufficient new work. That has led to stagnating productivity growth, a declining share of the economic pie for labor, and more inequality, according to a second paper.
An aging population is a leading indicator of more automation to come. The shift to robots will pick up in industries relying more on middle-aged workers, they say in the third paper.
In an interview, Acemoglu said that while prior technological cycles have killed a lot of jobs, businesses and government have taken other actions that have counter-balanced the loss. Primarily, towering new technologies have spawned a lot of new industries and jobs.
In the early 20th century, for instance, the spread of the assembly line created new jobs for line workers, engineers, machinists, financiers, and so on. These new tasks account for much of the rise in productivity at the time.
But automation in our age has been largely about killing jobs, and not about creating new tasks that would require lots of human labor.
Acemoglu and Restrepo call it "so-so automation."
"The important elements that I pulled out of the emerging work here is that there is going to need to be a policy response to technological unemployment in the near to medium term," says Joe Brusuelas, chief economist at RSM. "During that time span there is likely to be more technological displaced workers than there are jobs created from the integration of artificial intelligence."
The bottom line: "It's about choices," Acemoglu said. "So far, we've used our know-how singularly automating at the expense of labor. If we keep on doing that, we will keep on destroying more jobs without job gains. It's completely our decision."
Go deeper: The revolution need not be automated
Go deeper