Inside Mitch McConnell's rocky ride on the Trump Train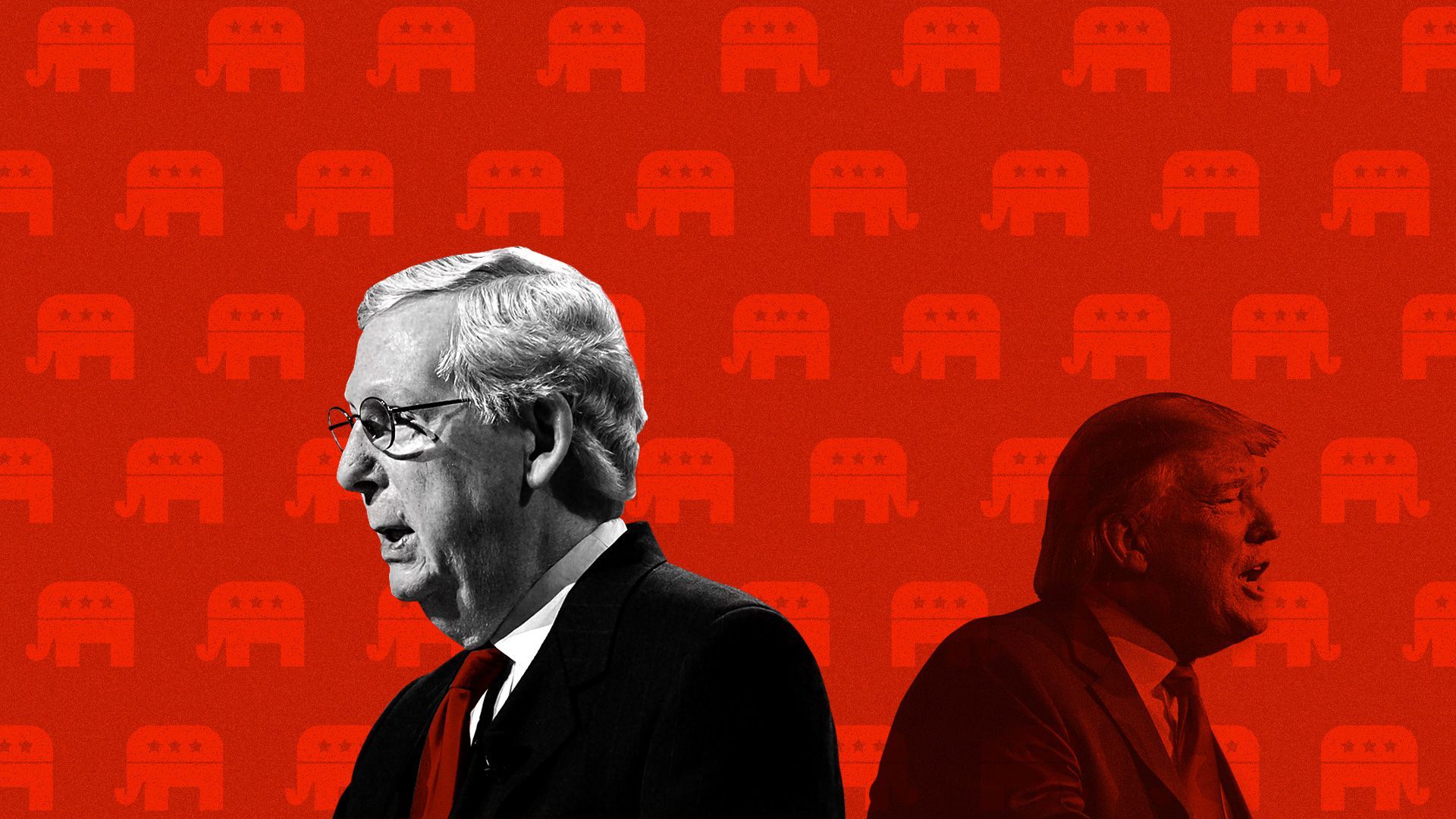 Speaking to Senate Republicans over lunch, Mitch McConnell dryly mimicked Gerald Ford's inaugural address after the disgrace of Richard Nixon.
Details: It was the afternoon in March when the conference had to take a divisive vote on whether to renounce President Trump's circumvention of Congress to fund the wall. "Well, colleagues," McConnell said, according to two sources in the room, "all I can say is our long national nightmare is over."
Between the lines: McConnell was trying to empathize with a Republican conference that had fretted for weeks about Trump's emergency decision. McConnell publicly supported the president's use of emergency powers, but his message was for the dozen Republicans who would defy Trump that day.
McConnell was showing them that he understood they had to do what they had to do, and he reiterated he wouldn't pressure them to stand by Trump on the vote, according to sources familiar with the leader's private comments over many weeks.
A senior administration official told me this had followed weeks of frustration with the White House's shutdown decision.
Two of McConnell's top White House allies — White House counsel Don McGahn and chief of staff Gen. John Kelly — had departed. And a tactical foe — White House acting chief of staff Mick Mulvaney — was ascendant.
"Mulvaney was a shutdown guy," said a senior administration official.
A source close to McConnell countered that McConnell has always dealt with Trump one-on-one, "and that's the way he wants it."
The big picture: Republican senators have noticed an evolution in McConnell's relationship with Trump. When Trump first became president, McConnell avoided any public disagreement with him. But in the past two weeks, McConnell has condemned two of Trump's ideas as politically disastrous:
Diving back into repealing and replacing the Affordable Care Act after the Republicans spectacularly failed to do so in 2017. In a Senate lunch two weeks ago, per a source in the room, McConnell said: "I called the president and I said 'Just so we don't have any misunderstandings, we are not going to vote on health care before 2020. Just so we're clear. And I'm not going to put together a working group. If you want a plan, it's going to have to be yours. But we're not going to vote on it.'"
Trump's threat to close the ports of entry at the southern border. McConnell warned of a "potentially catastrophic economic impact on our country."
Trump quickly backed off of both ideas, and he didn't show any annoyance with McConnell.
"Leader McConnell has an excellent working relationship with the president," says McConnell spokesman David Popp. "They will continue to work side by side for Kentucky and the American people."
The bottom line: Trump and McConnell have a businesslike relationship, and it works for McConnell. The past few months have nearly broken the Republican conference, but don't expect McConnell to become a regular Trump critic.
Go deeper