A jobs surge, then a technological disruption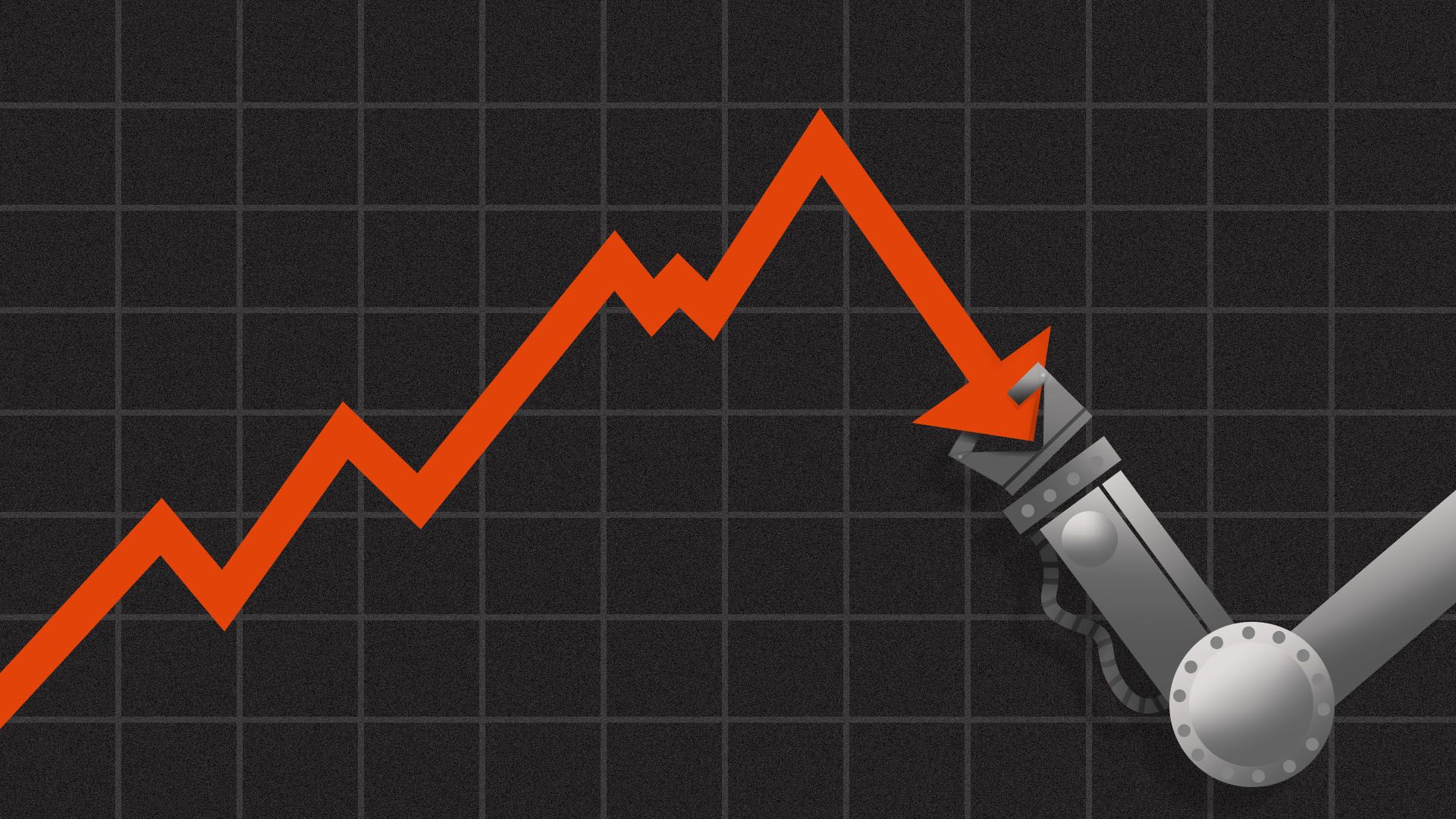 Economists expect the government to report yet another surge in new jobs and pay this morning — the 118th straight month of employment growth, and terrific news after decades of flat wages.
Why it matters: The exhilaration masks a stark, second reality, which is that some economists also are calling for the government to urgently prepare the labor force for a future wave of automation that seems likely to destroy jobs and roil communities across the country.
This coming technological disruption is currently invisible against the backdrop of robust jobs growth. But economists say that, without aggressive measures, the financial inequality that underlies current political turbulence will widen.
What's happening: In a new report, the Aspen Institute nudges policymakers away from any notion that the American economy will naturally adjust as robots are introduced at an accelerated pace over the coming two and three decades.
Already, Aspen's Alastair Fitzpayne tells Axios, workers displaced in prior technological cycles "have experienced profound downward mobility" in new jobs at much lower pay and benefits.
The big picture: The report departs from a flood of largely glossy major studies issued by non-profit and corporate think tanks over the last couple of years, nearly all of which have forecast that the current technological disruption will follow the historical script. That is, it will produce as many and probably more jobs than it destroys.
In an interview, Fitzpayne, a co-author of the Aspen report, said no one knows how many new jobs will be produced, where they will be created, or how much they will pay.
The points are important because most studies play down the real possibility that the automation age could go very wrong, for an extended period, for large swaths of workers and their communities.
Workers who lost their jobs in the wave of manufacturing layoffs in the early 1980s, for instance, were still earning 15%-20% less in their new work 20 years later, according to the Aspen report.
"The individuals impacted by automation in manufacturing over the last 40 years — they did not get the exact same job at the same pay," Fitzpayne said. "They experienced profound difficulty finding a new job. If they found one, they took lower pay and lower benefits."
Among its recommendations, Aspen suggests a renewal of pre-1980s policies that established an effective social contract between workers and their companies with benefits, protections and training.
Mark Hamrick, senior economist at Bankrate, notes the political paralysis in Washington. Historically speaking, some of the government's most aggressive social and economic action occurred during one of its darkest moments — the Great Depression.
"Hopefully it won't take another depression to foster real solutions for pressing problems," Hamrick tells Axios.
But given the tight, 3.8% jobless rate, some companies are already introducing training programs, says Adam Roston, CEO of BlueCrew, a staffing platform for workers. "It's in their best interest to grow and retain the best workers," he said.   
Go deeper