Humans must learn to tackle what robots can't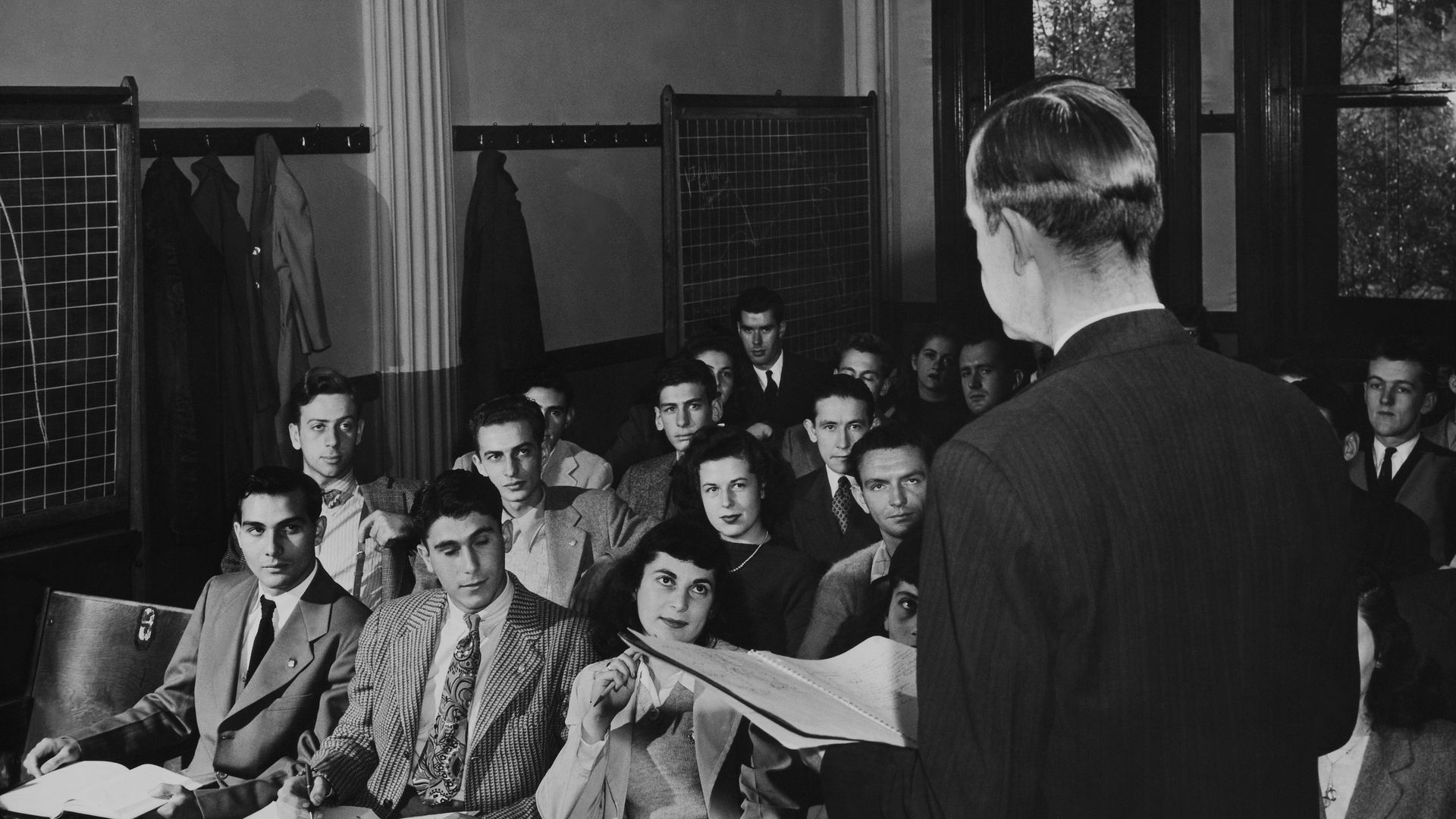 As powerful as artificial intelligence can be, its abilities are extremely narrow: An AI that beats a chess grandmaster can't recognize a face or drive a car. And a robot that carries out flawless eye surgery can't do so unless positioned precisely first.
Why it matters: It turns out that humans have a similar failing — put them in front of a problem they've never solved, and they often come up short. But in the future of work, when automation assumes responsibility for up to half or more of current jobs, such ability will be a huge human advantage — and possibly necessary.
What's happening: U.S. colleges, preparing students for future jobs that might not yet even exist — and to beat the robots — are starting to nudge them out of the familiar rhythm of class and teach them how to tackle unfamiliar problems. "That is the skill of the future," says David Hollander, a professor at NYU.
The big picture: One of the greatest anxieties experienced by today's college and high school students is how to game a very different future whose shape is still all-but imperceptible, but that will involve lots of automation across blue- and white-collar jobs.
The good news is that, according to the preliminary consensus, robots will have an extremely difficult time mimicking the very human ability to pivot both physically and mentally when confronted with something surprising.
So early preparation for the future revolves around developing, polishing and expanding on this adaptability.
Soft skills "are the hardest skills to get," says Marina Gorbis, executive director of the Institute for the Future. "It takes a lot of human contact; it takes a lot of reasoning."
Hollander designed and oversees a seminar at NYU that is meant to make this pivoting skill much more advanced. In the "Real World," as he calls the class, Hollander invites companies and government agencies into the classroom to confront students with problems they definitely will never have seen.
"You may be from the real estate world and working on a marketing problem. You may be from marketing and solving a human resources challenge. To me it's all the same thing," Hollander told me.
"You are developing the skills of taking on something you have never seen before, and you must do it collaboratively with other human beings."
"College prepares students for the first five minutes after graduation. But what about the next 50 years?"
I visited the class on Monday. Fifteen students gathered along with their professor — Jonathan Yi, a film director and cinematographer whom Hollander recruited to teach this semester — at the office of FCB, a fancy ad agency in Manhattan.
Their challenge: To design an anti-vaping ad campaign for the Center for Tobacco Products (CTP), an arm of the Food & Drug Administration, targeted at teens. CTP is one of the firm's clients.
"We want crazy ideas," Jared Shell, an FCB director who was co-teaching with Yi, told the students.
For his first pitch, Leon Zhang, a graduate marketing student, suggested an ad showing how much money teens spend on Juul and Juul pods. But Shell and another FCB director said it wouldn't work because CTP wants to avoid publicizing that teens are buying these products illegally.
"You learn the politics of it," said Maria Rychkova, one of Zhang's teammates.
Zhang and his teammates then honed in on ewaste, the electronic trash generated by vaping. Tossing used Juul pods is not the same as littering cigarette butts, they told me. The former has metal bits that could seriously harm a dog that eats it while on a walk. But the team is not yet sure if they'll settle on that.
Still, Shell was impressed. "If you guys don't want to use that environment thing, I'll take that to our creative team right now," he told them.
Shell said he "absolutely" expects to hire some of the students once they graduate.
Go deeper: Rebooting high school
Go deeper