2020 Democrats, establishment figures split over defense of Joe Biden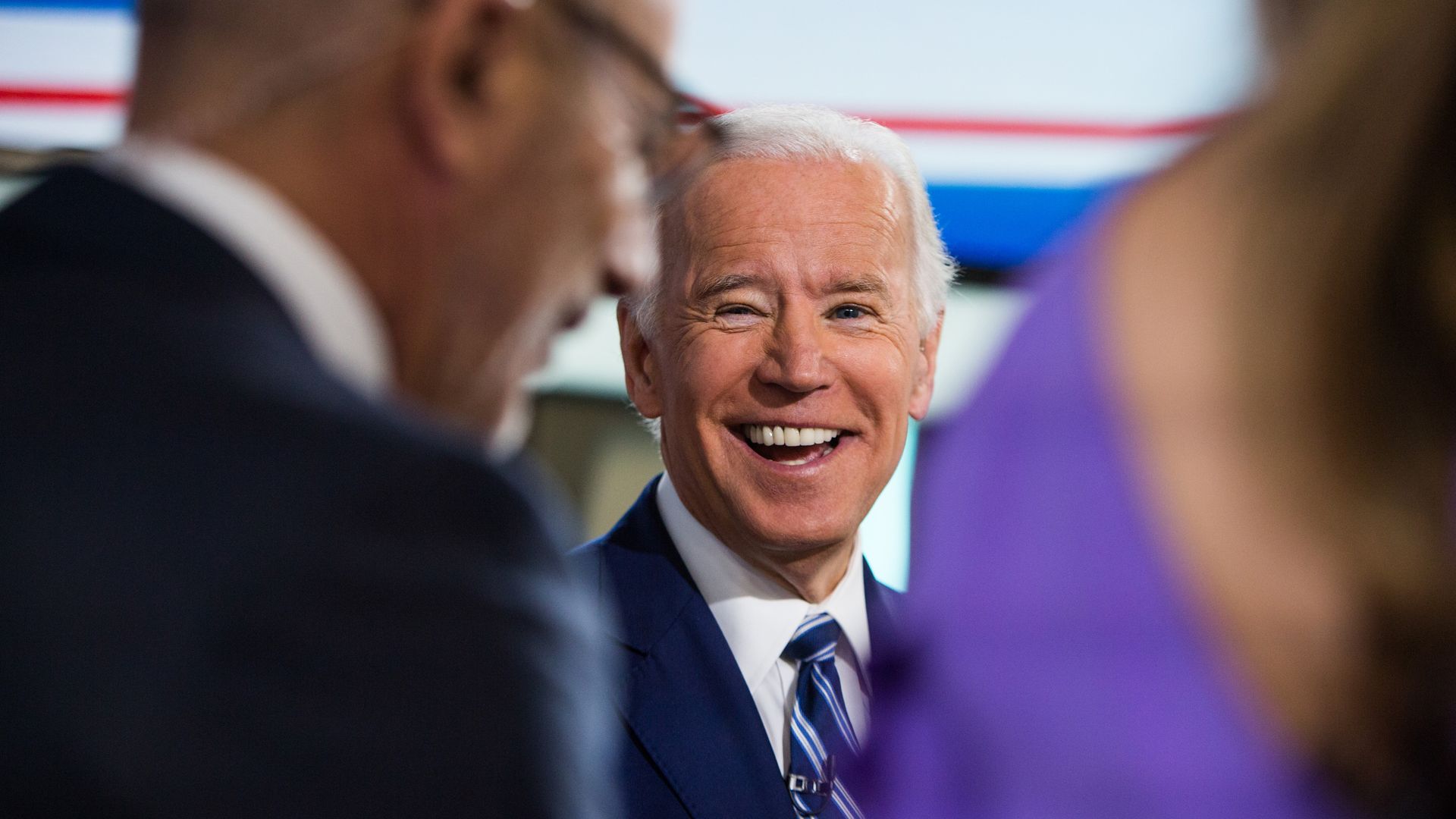 Following two accusations of inappropriate touching against Joe Biden, a number of Democrats — including those who worked with him in the Obama administration and before — are coming to the defense of the former vice president, describing him as a warm, grandfatherly figure who would never be intentionally malicious.
Why it matters: As Biden edges closer to announcing a 2020 presidential run, his alleged history of inappropriate behavior has come under scrutiny. Both of Biden's accusers have said Democrats cannot condone his behavior while condemning President Trump's treatment of women, and have urged the party to pick another candidate or risk losing to Trump in 2020.
What they're saying:
Biden: "In my many years on the campaign trail and in public life, I have offered countless handshakes, hugs, expressions of affection, support and comfort. And not once — never — did I believe I acted inappropriately. If it is suggested I did so, I will listen respectfully. But it was never my intention."
Former national security adviser Susan Rice: "I have worked closely with Joe Biden for many years. In my experience, he is warm and affectionate with women (and men). But never have I found his actions inappropriate or uncomfortable. I have always appreciated his kindness and warmth. Most importantly, I know Joe Biden to be a dedicated ally, champion and defender of women and all of our rights. There is no one I would rather be with in a foxhole. He is one of the most decent, honorable men I have been privileged to work with."
Sen. Tom Carper (D-Del.): "He's made it clear his intent was never to make people uncomfortable or any kind of harm. Delaware is a very friendly state. Delaware is a state where its leaders hug people, men, women young and old. We kiss babies. We do it in public. ... It's also important to always put ourselves in somebody else's shoes and ask how I would want to be treated."
Sen. Dick Durbin (D-Ill.): "Joe Biden is a friend and a seasoned veteran when it comes to political campaigns. I know nothing about the allegations that I also read this morning as well. I think all of us should take such allegations seriously and with respect. I took Joe Biden's statement to say just that exactly. ... Certainly one allegation is not disqualifying, but it should be taken seriously."
Sen. Chris Coons (D-Del.), on an infamous picture of Biden touching his daughter: "She did not think of it as anything. All three of my kids have known Joe their whole lives."
Sen. Dianne Feinstein (D-Calif.): "The Joe Biden that I have known for 25 years is a warm and friendly human being. He didn't mean it as anything other than that. And I guess, there has never been a problem before. ... He's a tactile person, he grabs you, he holds your arm — that kind of thing. ... I don't think they're disqualifying. I think obviously there are people that don't like it, and I think that's what's changed and what that message is, is hands off."
The other side: 2020 Democrats, who may face off against Biden in the primaries, have been seemingly less willing to give the former vice president the benefit of doubt.
Go deeper: Biden spokesman condemns mischaracterizations of former VP's behavior
Go deeper