Beto O'Rourke surfs a Texas blue wave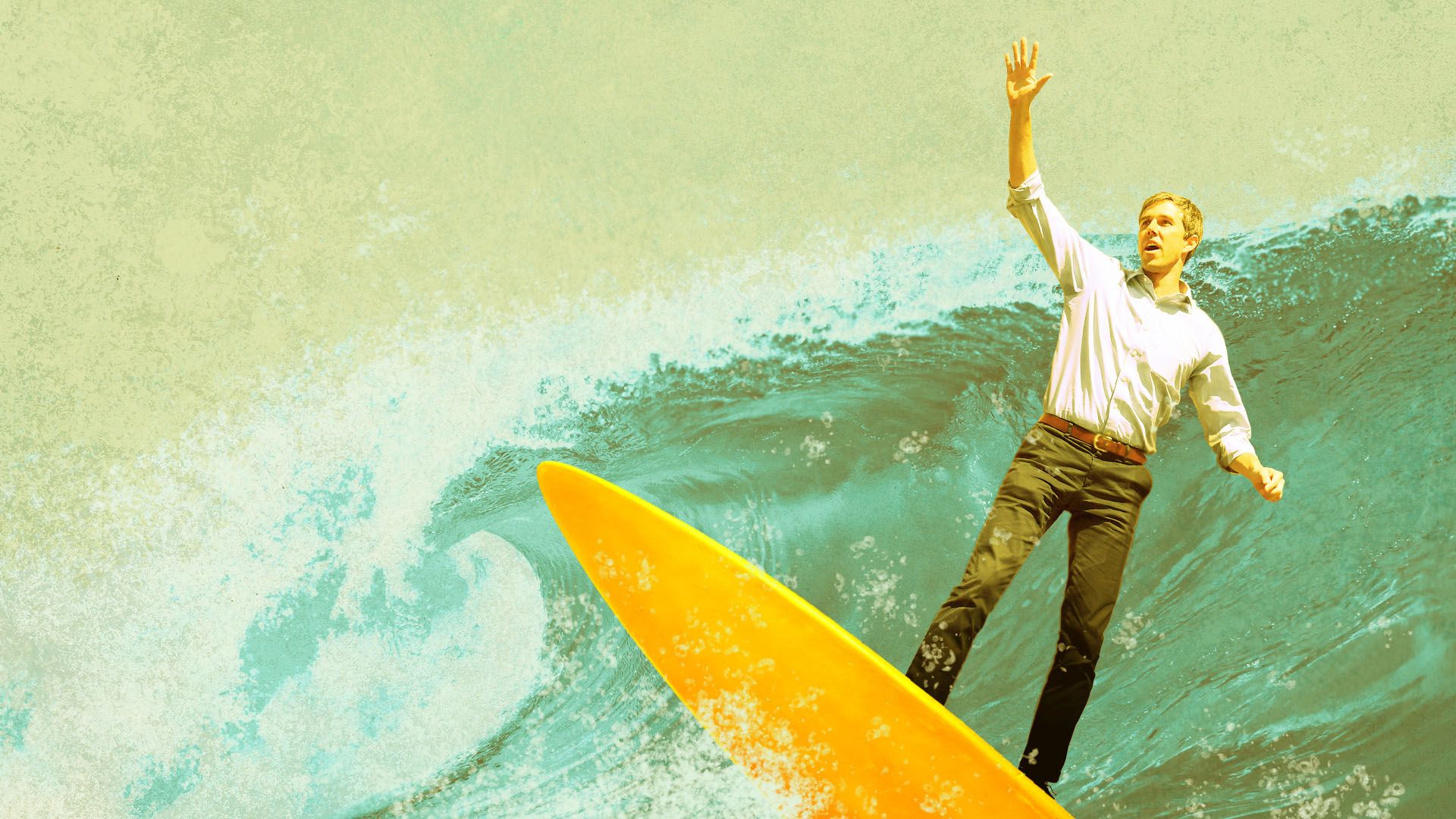 EL PASO — Beto O'Rourke, announcing for president Saturday with three rallies in Texas, is a sign of changing Lone Star politics: Republicans have started to lose their grip.
Catch up quick: Brendan Steinhouser, a GOP political consultant in Texas, says talk of the state turning blue started back in 2014 when he was Sen. John Cornyn's campaign manager — and now Republicans need to take it more seriously. "Even back then, we knew it was going to get harder and harder as the years went on," Steinhouser said. "Beto can give the president a run for his money."
Between the lines: Texas hasn't voted for a Democrat in a presidential election since Jimmy Carter in 1976, and earlier predictions that demographic trends would turn the state blue have fizzled. But now there's more evidence of change if you look at the marquee races in recent election cycles.
In 2012, Barack Obama lost to Mitt Romney by nearly 16 points. In 2014, Democrat Wendy Davis lost the gubernatorial race to Greg Abbott by 20 percentage points.
In 2016, Hillary Clinton lost by 9 points. In 2018, O'Rourke came within less than 3 points of beating Sen. Ted Cruz in his statewide race.
That Senate race made O'Rourke a star even though he didn't win. But some Democrats say he simply drew TV coverage and attention, while there was organization and hard work happening on the ground around the state for many different candidates not named Beto.
"The Beto effect was real, but you had broader demographic shifts and a national wave" that made things more blue around the U.S., said Jay Aiyer, a Texas Southern University political analyst.
Voter turnout increased by 18 percentage points in the 2018 midterms. "The problem with Texas has always been that participation rates are abysmally low," said Aiyer.
Democrats ran in all of the state's 36 congressional districts in 2018 for the first time in 25 years. "We believe Texas is the biggest battleground state in the country now," Manny Garcia, executive director of the Texas Democratic Party, said.
Texas Democrats point to congressional wins that they weren't expecting in 2018, like Collin Allred and Lizzie Fletcher, who both defeated Republican incumbents. GOP Rep. Will Hurd won re-election by less than 1 percentage point against his Democratic challenger.
Democrats picked up two U.S. House seats, 12 Texas House seats and 2 Texas Senate seats in the 2018 elections.
Suburban, college-educated voters moved away from Republicans and supported Democrats, especially along the state's Interstate 35 from Loredo (south) to the border of Oklahoma.
"The two demographic trends with the largest impact in that region are increased diversity and a more educated populace," reports the Houston Chronicle.
O'Rourke would force Trump's campaign to spend heavily in Texas, which they otherwise don't want to do.
The other side: But James Henson, director of the Texas Politics Project at the University of Texas at Austin, thinks O'Rourke's decision to run for president "actually slows down that transition [toward Democrats] than speeds it up," compared to if he ran for Senate in 2020 against Cornyn.
"Beto is part of that constellation [of factors]. He benefitted from it and fed into it further and amplified it," but he didn't create "any significant institutional reversals."
The bottom line: There's a lot more going on in Texas politics than just O'Rourke — but "the map changes dramatically if O'Rourke is the nominee," said Aiyer. "If a Democrat can win Texas, then the presidential race is effectively over."
Go deeper