Trump: FBI officials committed treason in Russia probe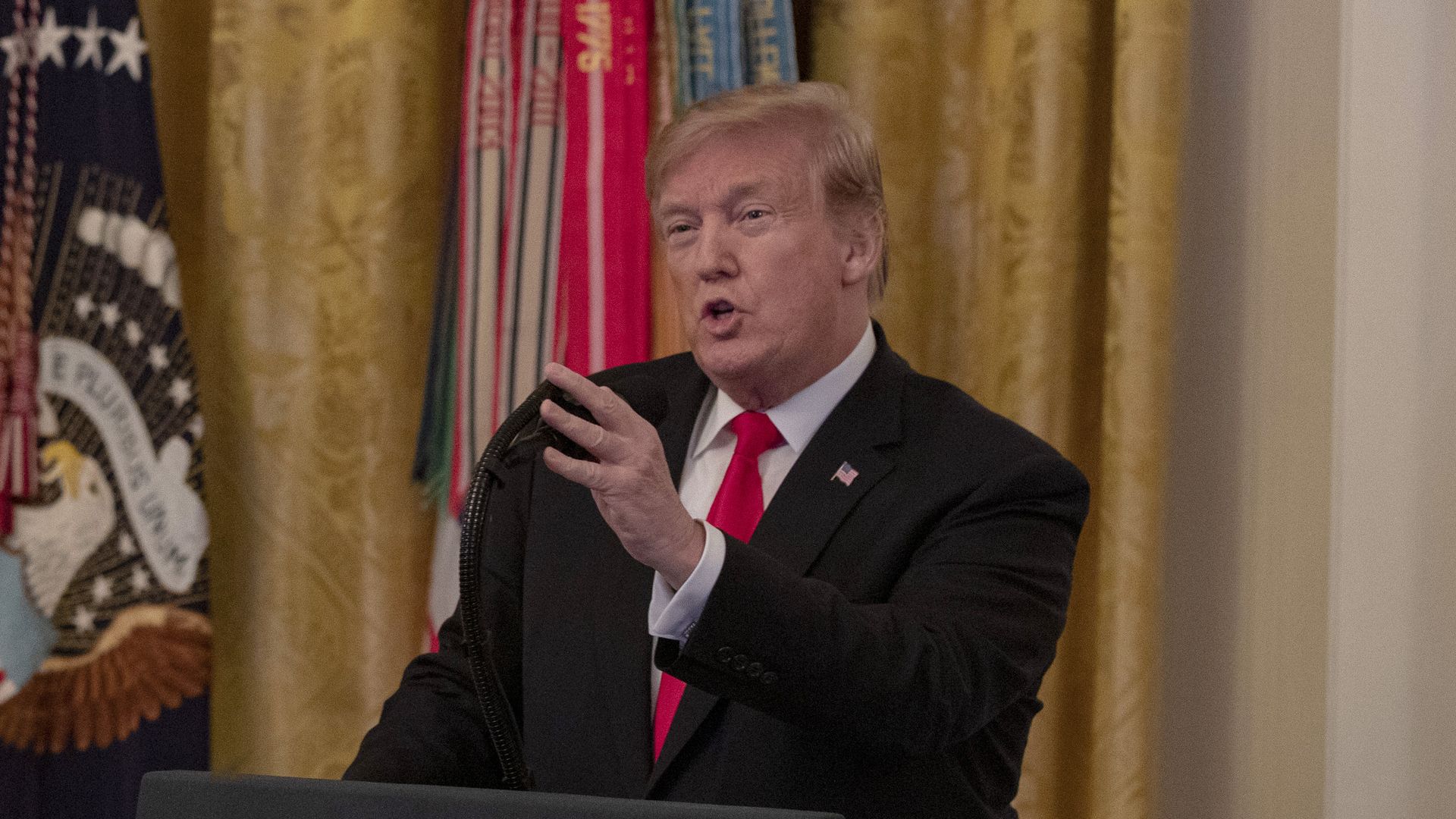 President Trump told Fox News' "Hannity" Wednesday FBI officials investigating possible Russia links to his campaign had "committed treason."
What he's saying: "They wanted an insurance policy against me," he told Fox News host Sean Hannity, referring to former FBI officials Lisa Page and Peter Strzok, who upset him previously over anti-Trump campaign texts. "And what we were playing out until just recently was the insurance policy. They wanted to do a subversion. It was treason ... We can never allow these treasonous acts happen to another president."
The big picture: Strzok was fired from the FBI in 2018 because of his anti-Trump texts with his then-colleague Page in the lead-up to the 2016 presidential election. He had worked on the Hillary Clinton email server investigation and joined Special Counsel Robert Mueller's investigation but was kicked off the team and demoted when the texts surfaced.
Why it matters: This is Trump's first interview since Special Counsel Robert Mueller's investigation concluded, and he didn't hold back in the wide-ranging phone interview.
On the Foreign Intelligence Surveillance Act: Trump said he would release the FISA warrants and related documents used by the FBI to investigate his campaign in full and unredacted. He told Hannity he wanted to "get to the bottom" of how the long-running Russia collusion narrative began.
On the Mueller investigation: Trump called it "an attempted takeover of our government, of our country, an illegal takeover."
On William Barr: Trump said it would never have happened were Attorney General William Barr in the position from the start of his presidency. Barr said in a summary of the Mueller report Sunday that the investigation did not establish that members of the Trump campaign engaged in a conspiracy with Russia. On obstruction of justice, Barr said the report "does not conclude that the President committed a crime, it also does not exonerate him."
On Russia: Trump said Russia would've "much rather" had Hillary Clinton as president than himself. "I will tell you this about Russia; if they had anything on me, it would have come out a long time ago," he said. "You look at all of the different things."
On the Green New Deal, spearheaded by Rep. Alexandria Ocasio-Cortez: "I really do want to campaign against it," Trump said. "It's ridiculous. The new green deal is going nowhere."
Editor's note: The section on William Barr has been corrected to show Barr said the Mueller investigation did not establish that members of the Trump campaign conspired with Russia.
Go deeper