The Brexit Day that wasn't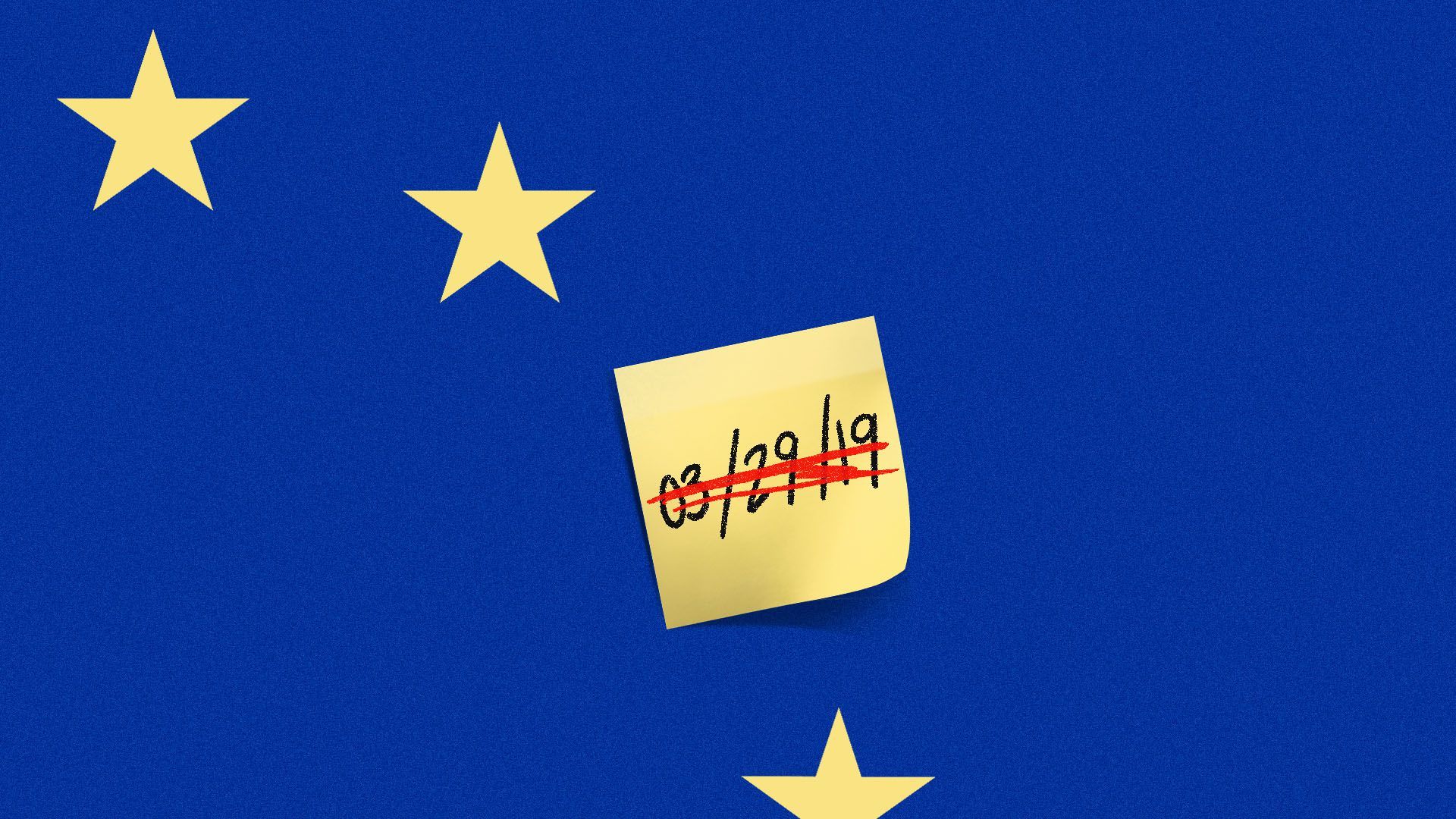 For nearly two years, tomorrow was supposed to be the day that the United Kingdom officially left the European Union and made good on its 2016 decision to Brexit.
Why it matters: Due to the political stalemate, some of the world's largest economies remain in a state of flux with no end in sight. It's still not clear when the U.K. will actually leave the EU — or what its exit will even look like. As we approach the end of a week that was supposed to bring clarity to the process, things are more unsettled than ever.
Yesterday, Prime Minister Theresa May promised to step down should her Brexit deal, which has already suffered two historic defeats in the House of Commons, get passed.
Her announcement was followed by a series of "indicative votes" on alternative Brexit options — meant to gauge support for strategies other than her deal after the Commons wrested control from the government. Of course, none of the eight options achieved a majority.
A second Brexit referendum, commonly referred to as a "People's Vote," and a plan to stay in the EU's customs union both got more votes than May's deal did during its two defeats.
What's next: The way forward is still unclear, though tomorrow promises high drama. May wanted to bring her deal back for a third vote, but Speaker John Bercow ruled earlier that there would have to be substantial changes to do so.
The government's Bercow-approved alternative is to separate the deal's two components — the withdrawal agreement, a legal document setting out the terms of Brexit, and the political declaration, a roadmap for the future EU-U.K. relationship — and have a vote just on the former tomorrow.
But that's not a meaningful vote that would officially approve May's deal. That would have to come later — or require some legally questionable political maneuvering instead, as outlined by The Guardian's Andrew Sparrow. Approving the withdrawal agreement would also lengthen the EU's Brexit extension from April 12 to May 22, giving the U.K. more breathing room to avoid having to take part in European elections on May 23.
So, as the BBC's Laura Kuenssberg notes, it all comes down to optics: With this vote, May is daring Brexit-supporting MPs across the Commons — many of whom don't support the terms of her deal — to vote against a form of Brexit on what was supposed to be Brexit Day.
The big question: So, uh, when exactly is Brexit going to happen now?
April 12? Assuming tomorrow's withdrawal agreement vote fails, that remains the exit date.
May 22? That'd require the withdrawal agreement vote to succeed — triggering an extra month under the EU's extension — and assumes May then figures out a way to pass her deal.
Next year? A long-term extension from the EU would require political upheaval, like an early general election, and it would also force the country to participate in European elections.
Never? It would take a series of unforeseen events to get to that point, but it's still a possibility.
Go deeper: The deeply sourced tick-tock "How the UK lost Brexit battle" from Politico's Tom McTague highlights how the process' international diplomacy went off the rails in slow motion.
Go deeper