Apple unveils media strategy with fanfare but few details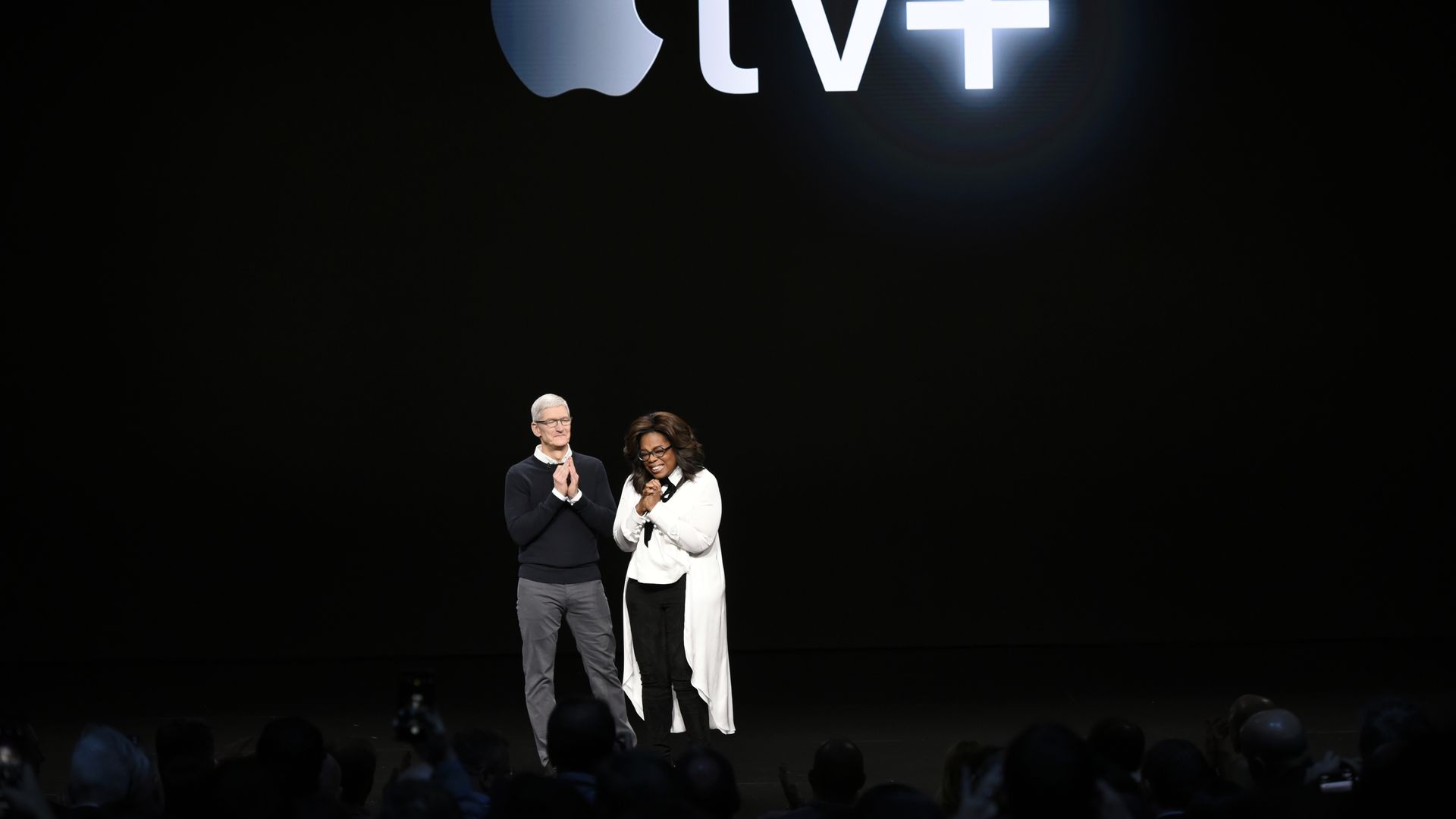 Apple paraded some of Hollywood's biggest stars on stage Monday to unveil its master plan to take on the media business. But for what was supposed to be Apple's big coming-out party, the company left some basic questions unanswered.
The bottom line: Apple made it clear that in order to build a big media business, it will need to lean heavily into the billions of Apple devices already in customers' hands. But it hedged on spelling out what all of those services would look like, which ultimately softened its big pitch to take on Hollywood.
Details: What was supposed to be the cornerstone of Apple's big media reveal — Apple TV — ended up being the least fleshed out of all the products that were debuted at Apple's special event Monday.
Apple never revealed any details about what its highly-anticipated Apple TV app will actually cost. Reports had previously suggested that it would sell subscriptions to cable channels, like HBO, Starz, Cinemax, etc. for $9.99 monthly. Apple confirmed those efforts, and elaborated about which companies it would partner with, but pricing around individual channels or bundles is still unclear.
Apple said it would offer a slew of exclusive original content to consumers through a new product called Apple TV+. The company invited Hollywood A-listers like Oprah Winfrey and Steven Spielberg to tout their upcoming projects with Apple, but details and video clips of the content were scant.
Apple also unveiled a new subscription gaming service called Arcade, which it said will be available in 150 countries and regions in the fall. But prices, again, were not disclosed.
Yes, but: Apple did provide a lot more details around Apple News+, its news service that was built on the back of "Texture," an app it acquired last year that's been dubbed the "Netflix of magazines."
Apple confirmed that Apple News+ will cost $9.99 monthly, with family sharing. It will be free for the first month, and will be available in the U.S. and Canada.
It also announced partnerships with a handful of news publishers, including theSkimm, The Wall Street Journal, Vox, Vulture, The Cut, TechCrunch, and Grub Street, and said that 300 magazine publishers are on board with the service.
The product will include advertising, but Apple highlighted that the service won't let advertisers track its users to target ads. Apple will let publishers keep 100% of the ad revenue for ads they sell against their content, or a large portion of the ad revenue against its content from the ads Apple sells.
Apple said it will rely on editors to evaluate news sources and articles. It will program algorithms to prioritize real engagement — like time spent with pieces — over clickbait headlines that lure people in but don't leave them better informed.
The big question: There's still a lot of confusion about what incentive media companies have to be a part of Apple's subscription services, since Apple takes a cut of revenue that those companies would make selling subscriptions on their own.
For some media companies, like magazines and cable channels, the answer is easy: it's hard to sell subscriptions on your own. For others, like big national news companies, the calculation is trickier.
The Wall Street Journal, for example, which charges much more for subscriptions, is seemingly giving away its content for much less via this partnership, though Apple execs described the deal as a way to widen the outlet's audience. (The Journal later reported that News+ subscribers will only have access to three days of its content archive.)
The big picture: Apple is entering the media business at a particularly crowded and vulnerable time. There are more original shows being produced than ever before, and there seems to be a new streaming service popping up constantly. To stand out and attract viewers, the company touted three main principles:
Reach: Apple constantly reminded the audience Monday that it reaches over 1 billion people on mobile, and millions more on desktop, TV and iPads. It also announced new partnerships to put its apps on other companies' hardware, like LG, Vizio and Samsung smart TVs, as well as on Roku devices and Amazon FireTVs. Even Oprah said on stage that iPhones are "in a billion pockets, y'all."
Family: Almost all of the subscription services Apple announced were accessible to more than one person. This is presumably helpful in reducing subscription churn, stabilizing an audience for creators to reach.
Privacy: Apple's announcements emphasized privacy so repetitively that by the end the audience could nearly recite the privacy pitch.
Go deeper: Live blog: Apple's big media event
Go deeper