Live: Apple's big media event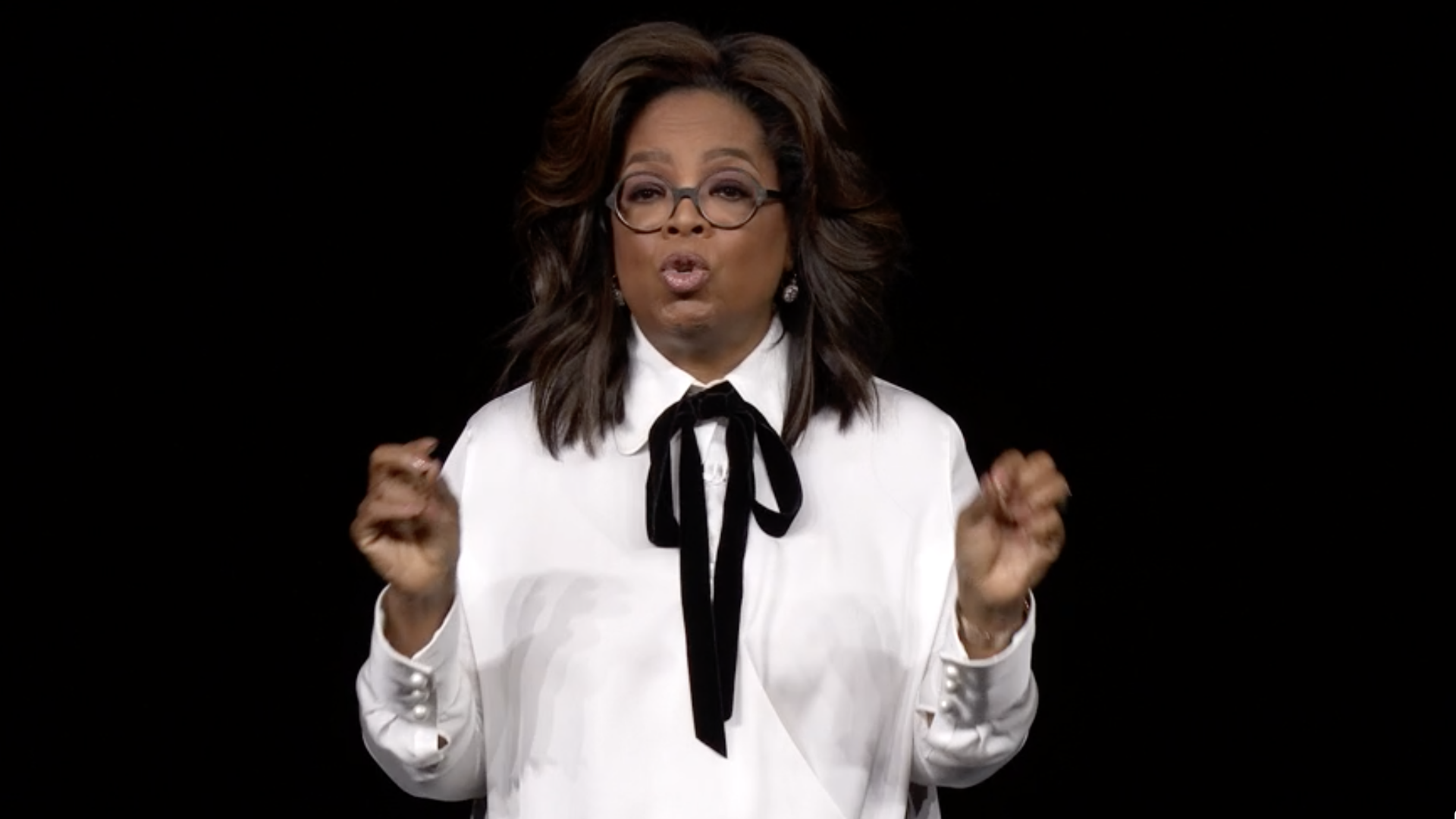 Apple unveiled a slew of media-focused products and services from its Cupertino, Calif. headquarters.
The big picture: The company is going all-in on its services, introducing new media apps and services like Apple News+ and Apple Arcade, and bolstering others like its payment options with a credit card.
TV:
Apple unveiled a new TV app, highlighting a large catalog of movies and shows, with human editor and machine learning-based recommendations for users. It will also include live sports and notifications for games.
The company is also introducing "skinny bundles" of cable network subscriptions.
The new Apple TV app will be available on iOS devices, Macs and on non-Apple smart TV devices, including Roku and Amazon FireTV.
Apple also unveiled TV+, a slew of original content exclusive to its platform. Producers, directors, and actors involved in the various projects include Steven Spielberg, Reese Witherspoon, Alfre Woodard, and Kumail Nanjiani.
Oprah appeared at the event to debut two new documentaries, stressing the impact that Apple has on shaping the conversation around issues related to humanity. "They're in a billion pockets, y'all, a billion pockets," she said in reference to Apple's active devices.
Apple News:
Apple is adding a new service called News+ to its existing news app, which will include magazines. The company is making use of its acquisition last year of Texture, an app that lets users access its catalog of magazines for a monthly subscription.
Similarly to the News app's treatment of news articles, News+ will make recommendations of individual magazine articles and issues to the user based on personalized interests and curated featured content.
Apple also announced partnerships with a handful of other news partners, including theSkimm, The Wall Street Journal, Vox, Vulture, The Cut, TechCrunch, Grub Street
Notably, Apple highlighted that the service won't let advertisers to track its users, meaning that what they read on News+ won't follow them around the internet. (This was met with big applause from the audience.)
Apple News+ will cost $9.99 per month, with free family sharing, the first month free, and will be available in the U.S. and Canada.
Apple Pay:
The company unveiled Apple Card, a new credit card service, which users can apply for via their iPhone. Apple partnered with Goldman Sachs and Mastercard for this, and says that the former will not sell or share user data to third-party marketers and advertisers.
The card comes with a rewards program, which collects rewards in the form of cash instead of points. Users can also get 2% of their spending via Apple Pay back on a daily basis, and 3% on purchases from Apple. Users that get the corresponding physical card will also get 1% cash back on purchases made with it.
The card has no fees, and comes with low interest rates. It will be available this summer.
Apple Pay also announced it's adding public transit payments for its first U.S. cities—Portland, Chicago, and New York. It's already available in a number of cities in other countries.
Games:
Apple unveiled Arcade, its new subscription service for iOS-based video games. Users will have all-inclusive and unlimited access to more than 100 games, which will all be available offline across any Apple device.
Apple Arcade will be available in 150 countries and regions in the fall, with prices to be disclosed at a later time.
Go deeper