Where top 2020 candidates stand on climate policy and the Green New Deal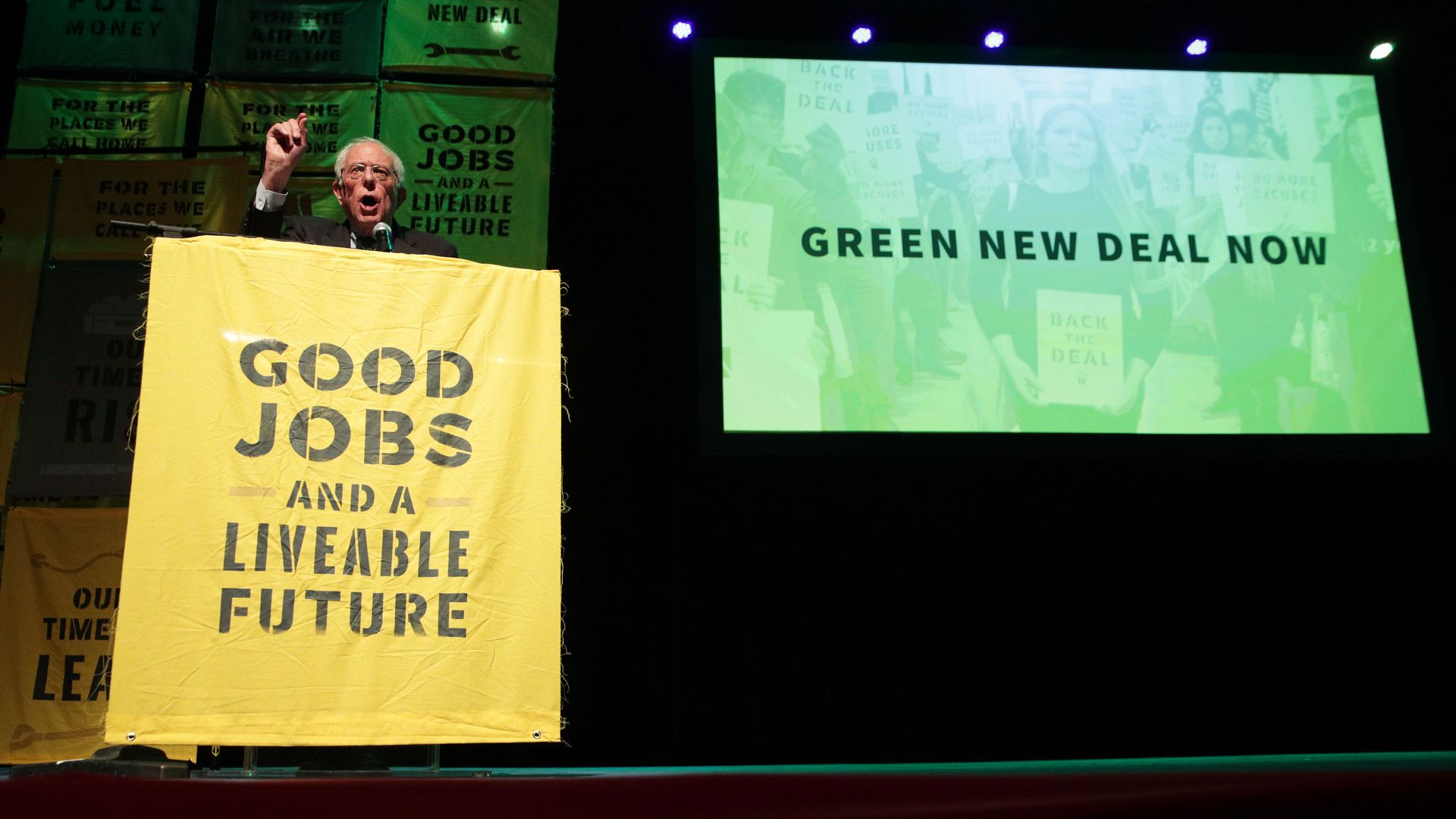 The Green New Deal resolution, introduced in February by Rep. Alexandria Ocasio-Cortez (D-N.Y.) and Sen. Ed Markey (D-Mass.), has helped cement climate change as a real topic in the 2020 presidential race.
What's happening: More Democratic candidates have pitched climate change policy that goes beyond the Green New Deal, largely to prepare for events like CNN's "climate crisis" town hall. The GND — which is more of a call to arms than a strict policy proposal — outlines a 10-year mobilization plan to move the country toward a 100% carbon-free power system and a decarbonized economy.
Climate policy from GND co-sponsors
Sen. Bernie Sanders: His $16.3 trillion plan to tackle climate change frequently touts the Green New Deal as the driving force behind restructuring how the U.S. consumes energy. His plan references the GND more than other co-sponsors' plans.

Sanders wants to invest $200 billion in the United Nation's Green Climate Fund for developing countries and create a $40 billion Climate Justice Resiliency fund.

Sen. Elizabeth Warren: She has multiple climate plans, the latest of which pledges $3 trillion to purchase clean energy products for federal buildings and to invest in zero-emission vehicles and decarbonize other means of transit.

She endorsed a carbon tax at CNN "climate crisis" town hall.

Sen. Amy Klobuchar: Her plan includes a $1 trillion investment to upgrade the U.S. energy infrastructure and promote "green economy" jobs, with a focus on rural areas. She also wants to strengthen tax incentives for climate research.
Climate policy from GND supporters
Buttigieg would also put $200 billion toward job training for workers displaced from fossil fuel companies.
Climate policy from GND opposers:
President Trump: His administration has completed 58 environmental policy roll backs, per the NYT, including: lowering regulation requirements of major industrial polluters via the Clean Air Act and loosening offshore drilling safety regulations implemented after the Deepwater Horizon oil spill.
Former New York City Mayor Michael Bloomberg: His plan calls for 80% of electricity-generation in the U.S. to come from clean sources, allocating $25 billion per year to research clean energy, reversing Trump's policy rollbacks, and banning new fossil fuel leases on federal lands.

Bloomberg does not support the Green New Deal, deeming the cost too great. He does not believe it would pass the Senate in the next two years, a campaign spokesperson confirmed to Axios. "His focus is on plans that are practical and achievable," they said.
Go deeper:
Editor's note: This story has been updated with more policy information. Cory Booker, Kamala Harris, Beto O'Rourke, Julián Castro, Kirsten Gillibrand, Marianne Williamson and Jay Inslee have been removed after dropping out of the 2020 race.
Go deeper