Experts: Eliminating TB is possible this generation, but funding is paramount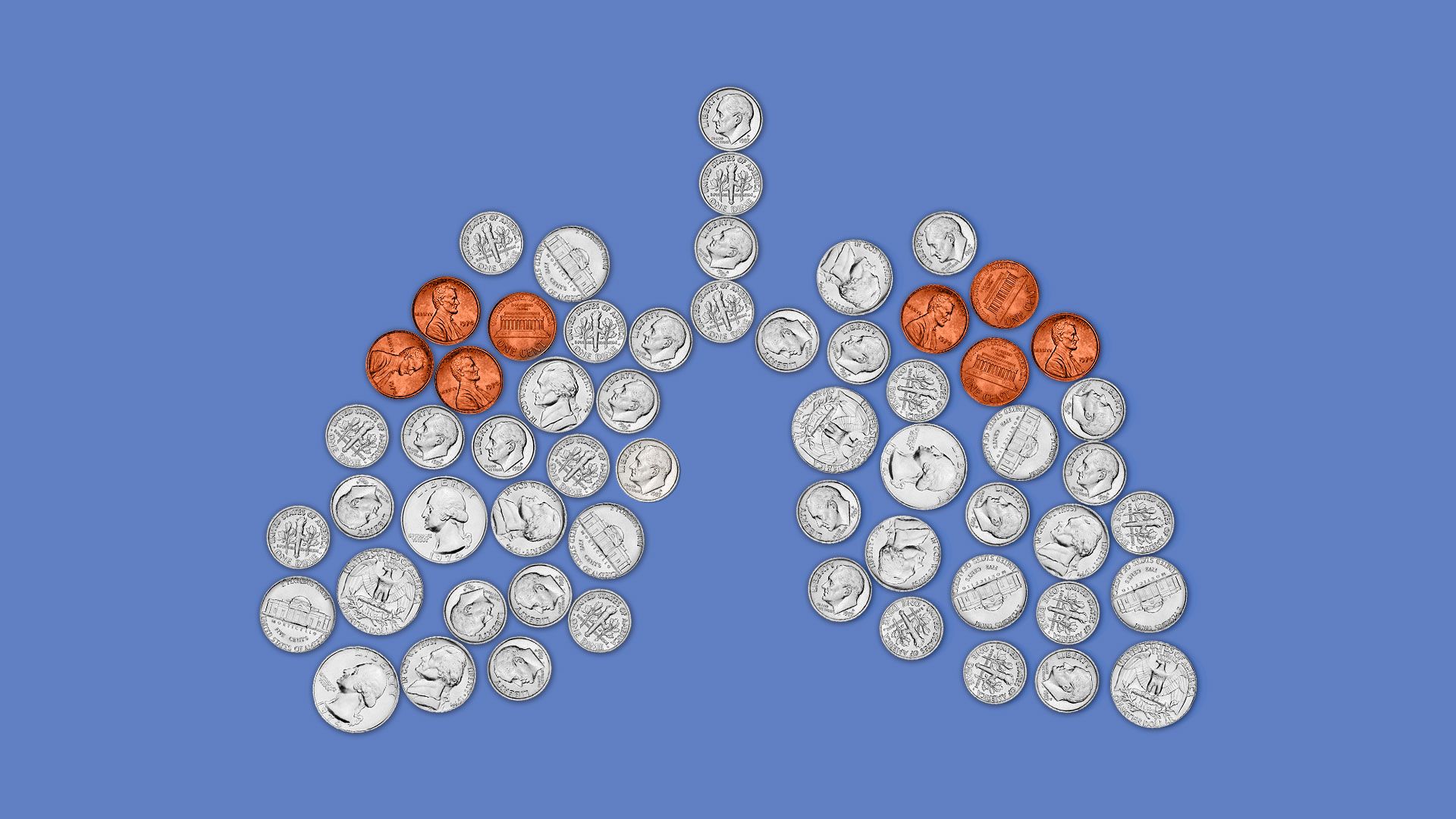 Global health leaders around the world are sharpening their goals of eliminating tuberculosis within this generation, but at the same time they are facing the threat of the U.S. — the biggest contributor to the fight — cutting back its support.
Why it matters: Today is World Tuberculosis Day. Most cases of tuberculosis (TB) can be treated and cured, yet the disease continues to infect 10 million and kill 1.6 million people a year — more than any other infectious disease. And if the U.S. cuts its funding for international programs, despite having the tools to get rid of it, it's likely to stay the course.
Background: President Trump's proposed budget for fiscal year 2020 includes major slashes to global health spending, including...
A 29% reduction in FY20 for the Global Fund, an international nonprofit that fights AIDS, Malaria and TB. There's also a $1 billion cut to the 3-year commitment by the U.S. to the Global Fund in the next "replenishment period."
A 22% drop in funds to PEPFAR, the President's Emergency Plan For AIDS Relief, which is a government initiative to fight the global AIDS epidemic.
Of note: Congress appropriates funding for the budget and it's not expected to agree to these particular reductions, but the proposal shows the administration's current priorities.
In response, multiple organizations, including PATH, sent letters asking Congress to reject the proposed reductions.
The Center for Strategic and International Studies invited Axios to its private roundtable discussing the launch of a report last week by the Lancet Commission that gave a roadmap to eradicate TB in less than 30 years — which it said could be done if funding is increased to pave the way for better diagnostics, treatments and public awareness programs.
The roundtable included several members of the commission, including the UN special envoy on tuberculosis.
Details:
Nick Herbert, U.K. member of Parliament, says, "Words are not enough." He notes the importance of the commission's recommendation of accountability mechanisms like independent observations in report cards to evaluate efforts of individual countries or NGOs.
Irene Koek, deputy assistant administrator in the USAID Global Health Bureau, agrees with the commission that countries need to acknowledge a shared responsibility to fund TB programs. To help countries meet this goal, the agency has developed a global accelerator, which is a new business model to empower local entities to generate performance-based measurement systems to tackle TB.
Mark Dybul, of Georgetown University Medical Center, praises the commitments voiced by African Union leaders and says their example could set a pattern for Asia to follow. China and India in particular need to increase their domestic funding to tackle the disease, he adds, suggesting a cigarette tax could be one mechanism.
In honor of World Tuberculosis Day, multiple public health agencies have issued statements over the past week.
The World Health Organization issued recommendations that included new guidance to help address the threat of drug-resistant TB.
The Centers for Disease Control and Prevention published in its MMWR Weekly preliminary 2018 surveillance data showing the U.S. has the lowest number of TB cases ever reported, but is also demonstrating a slowing in progress. "At the current rate of progress, TB will not be eliminated in the U.S. this century."
The European Centre for Disease Prevention and Control said that in order to reach the target, "new intersectoral approaches are required, current tools need to be used more effectively and a people-centred approach to care is paramount."
The big picture: Stephen Morrison, SVP and director of CSIS Health Policy Center, tells Axios...
"The picture is mixed and uncertain."
"On the positive side: Across the leadership ranks at NIH, USAID, CDC, HHS, DOD, NSC, there is rising awareness of TB as the largest infectious disease killer, the source of dangerous resistant forms, the need to accelerate R&D of vaccines, diagnostics, therapies."
"Our cooperation with South Africa and India on TB [is] pretty solid and robust. Health cooperation with China has quietly endured despite the proliferating strains. With Russia not much ground for cooperation left. Our mounting strategic confrontation with China and Russia suggests diminishing will and space into the future for cooperation on TB."
"Our real influence is however limited to PEPFAR, USAID TB account, the Global Fund, and the NIH R&D account. Trump's proposed budget cuts suggest [there's no] serious commitment to protect the major accounts."
Meanwhile, research continues for a better vaccine and new drug treatments, including a novel treatment that the FDA is reviewing, as well as those using precision medicine for antibiotic-resistant strains. PLOS Medicine is releasing a special collection of novel TB treatment studies now and over the next several weeks.
Go deeper: WHO report: TB remains "public health crisis" despite decline
Go deeper