China's beachhead in Europe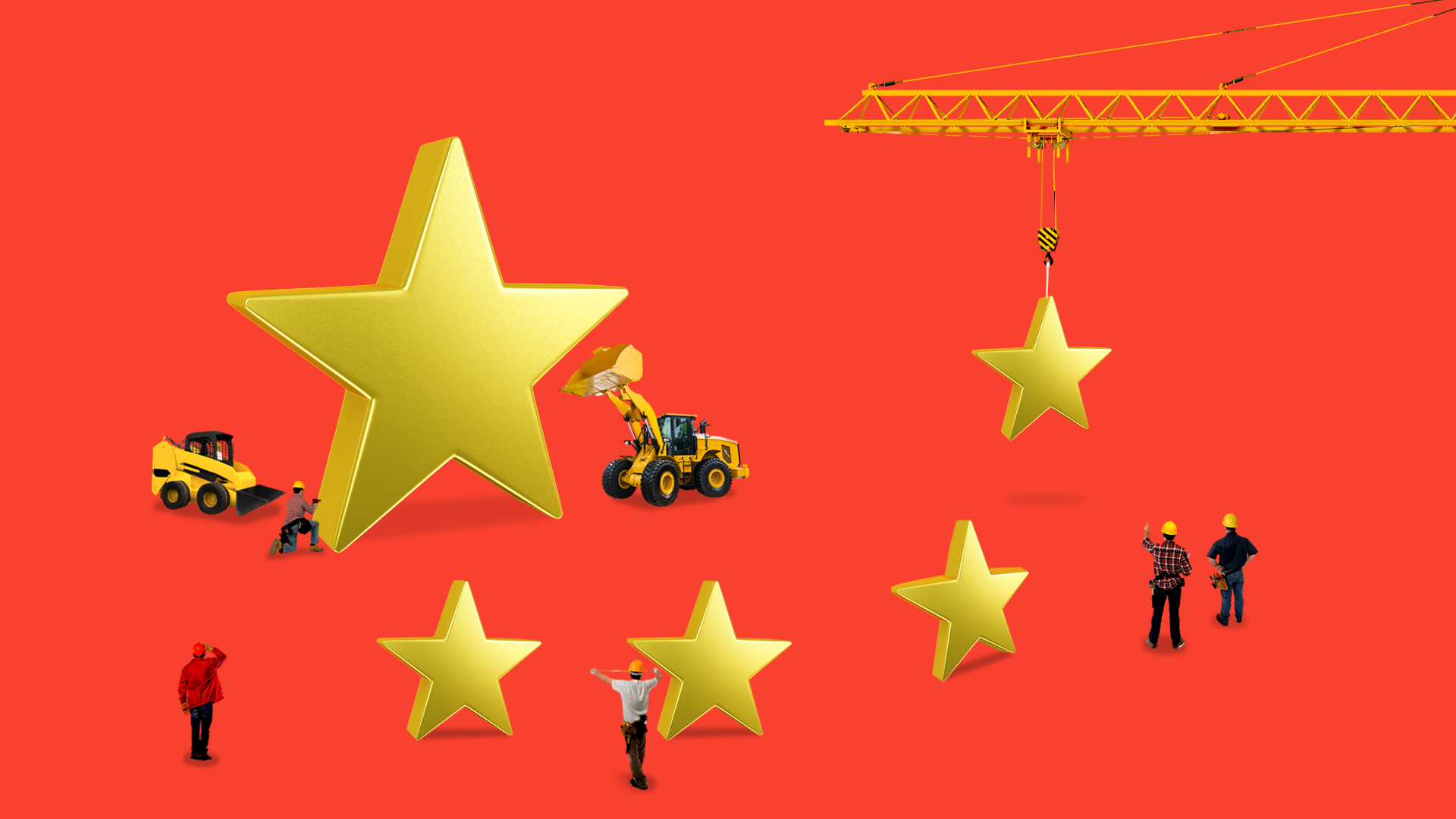 For six years, the U.S. and Europe have been fixated on Russia as their gravest geopolitical threat — all while China has been building up its massive global infrastructure project known as One Belt, One Road. Now, Beijing and its commercial aims seem much more of a menace.
Driving the news: China today obtained the commercial equivalent of a beachhead in the heart of Europe, when Chinese President Xi Jinping and Italian Prime Minister Giuseppe Conte signed a Belt and Road accord in Rome.
Their agreement makes Italy the first G7 country to join Belt and Road, a network of highways, ports, railroads, and energy pipelines that are quickly setting commercial terms around the world.
With the accord, Beijing obtains access to the ports of Trieste and Genoa, which will be the staging point for Chinese products to go by railroad and truck across the continent.
"The EU has been so focused on Russia for so long that it's now waking up to the reality that China poses a more serious challenge," says Jonathan Hillman, a senior fellow at the Center for Strategic and International Studies. "Part of the delay is that Russia has posed a military threat, while China is exercising economic power."
The U.S. has responded furiously in recent days, suggesting that Italy is a traitor to the West. Europe's largest countries, too, have expressed alarm.
What worries China critics: Thus far in China's four-decade economic surge, Beijing has largely called the shots. Its businesses have enjoyed a relative open door to western economies while it has constrained access to its own markets, and displayed little respect for Western intellectual property.
While President Trump, with his trade war, is attempting to break down some of the barriers, the Italian breach in Europe could weaken the solid western front.
"Along with China's growing involvement in Europe's telecom industry, we are seeing deepening economic links between Europe and China that will have long-term geopolitical implications," said Charles Kupchan, a senior fellow at the Council on Foreign Relations.
Italy itself suggests that its allies are overreacting: While it may not seem so, the deal does not come out of nowhere — Italy has been negotiating it for months, and says Washington said nothing until now.
In an op-ed yesterday in the FT, Michele Garaci, Italy's undersecretary of state at the Ministry of Economic Development, who has conducted the negotiations with Beijing, suggests that his country is being unfairly singled out.
Chinese investment in European ports is nothing new, he says: China has put money in ports in Spain, France, the Netherlands, Malta and Greece (where it has a controlling stake in the port of Piraeus). Why the fuss over Italy?
Italy, he says, is only "protecting our national interests and strategic assets" by getting onto the new Silk Road. While doing so, Italy is establishing best practices. He urges the rest of the big European nations to follow suit.
This view appears to have broad local support: "Italy is part of the NATO Alliance, a founder of the European Union, and it has been a trusted ally for decades: it supported sanctions on Russia, and never [challenged] the Trans-Atlantic pact," Andrea Montanino, chief economist at Confindustria, tells Axios.
What's next: Both Montanino and CSIS's Hillman suggest that, in the coming months, Europe will respond by forming a united front for a new trade agreement setting a more level playing field with China. "It's hard to imagine with all the Brexit distractions right now, but a response is coming," Hillman tells Axios.
Editor's note: This story has been updated to show that the accord was signed on March 23, 2019.
Go deeper