In AT&T and Viacom spat, cable customers lose out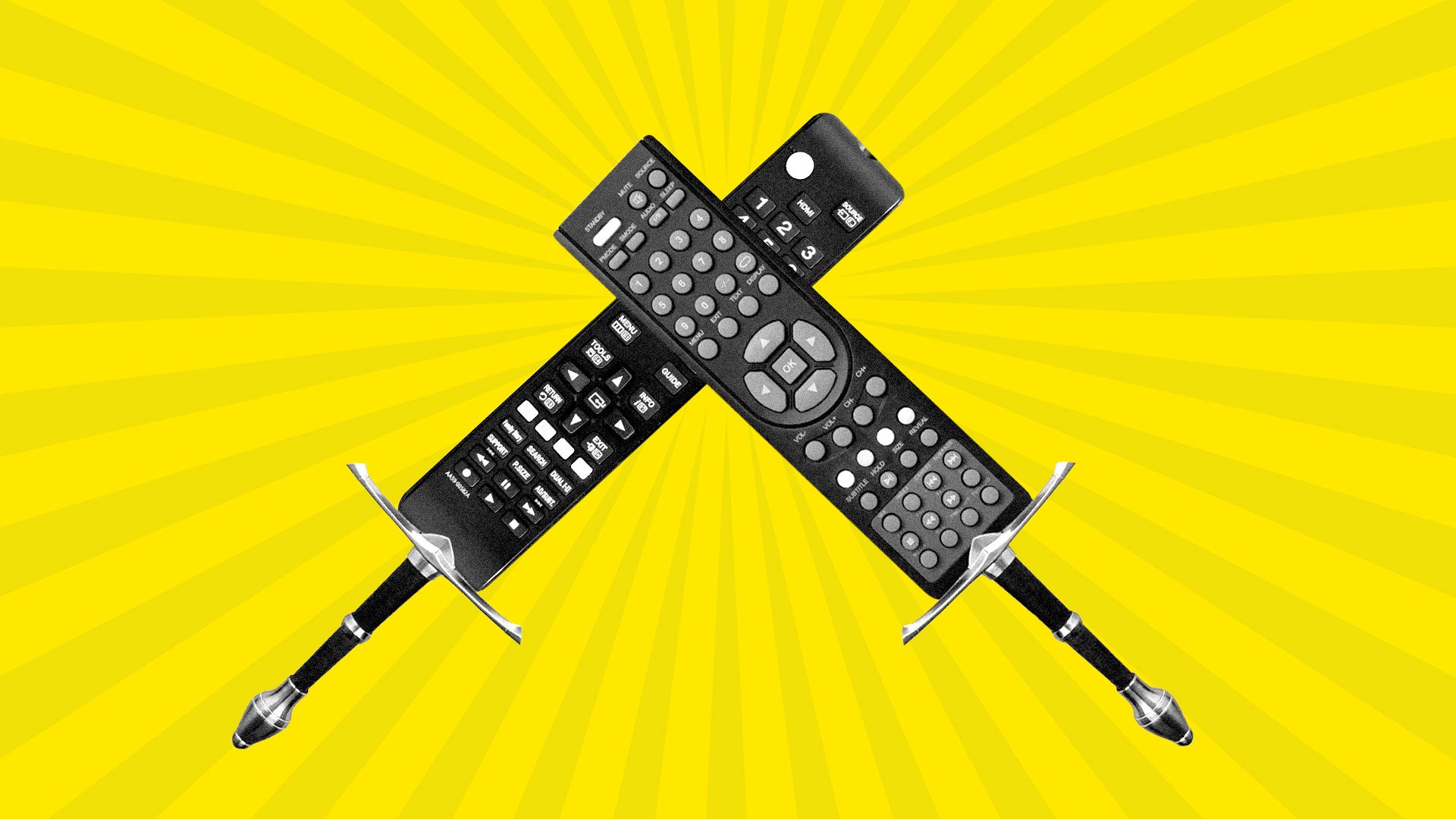 Barring a last-minute deal, millions of DirecTV customers will lose access to roughly two dozen Viacom channels like Nickelodeon, Comedy Central and VH1 at midnight Friday night because of a distribution dispute between DirecTV's parent company AT&T and Viacom.
Why it matters: Disputes like this one, driven by a shrinking traditional TV market, are leading to more programming blackouts for consumers, and could force some smaller, niche cable channels out of business altogether.
Driving the news: AT&T and Viacom are struggling to reach a deal over how much AT&T should have to pay for Viacom's channels. Their current deal expires at midnight Friday. Viacom is also charging that AT&T is unfairly favoring the channels it owns.
The details: Viacom argues that AT&T is using its newfound market dominance, which resulted from its multi-billion merger with Time Warner last summer, as leverage to drive consumers to the content it owns.
"Having recently acquired Time Warner, AT&T appears intent on using its new market power to prioritize its own content," Viacom CEO Bob Bakish wrote to staff.
AT&T said it's "on the side of customer choice" and that it "want(s) to keep Viacom's channels in our customers' lineups."
Analysts are split on what's best for AT&T's business. AT&T's stock has risen over the past few days, while Viacom's stock was down 5.5% as of late Thursday.
Flashback: Analysts that are bearish on the idea of AT&T dropping Viacom have been pointing to a similar situation from 2012.
"DirecTV dropped Viacom networks back in 2012 and it did not end well for DirecTV, with competitors seizing on the opportunity to capture market share at DirecTV's expense," BTIG media analyst Rich Greenfield wrote in a note to clients.
The big picture: Critics argue that AT&T's aggressive business behavior since its acquisition of Time Warner last summer breaks promises it made during the merger trial to not abuse its market dominance to harm consumers, either directly or by harming competitors.
One fun thing: Part of what's making this dispute so public is the outpouring of support for Viacom from its TV stars.
Actors and show hosts like RuPaul, Trevor Noah and even Lindsay Lohan have urged customers over the last few days to call AT&T and urge them to "keep Viacom" as part of a larger #keepviacom advocacy campaign.
The bottom line: Both companies are in a difficult position.
AT&T reported record subscriber losses late in 2018 and is at risk of losing more if this conflict angers consumers or gives them less reason to stick with its services.
Viacom risks a ratings hit ahead of the upfronts ad-buying season, the most lucrative calendar period for ad sales.
Consumers lose out most of all, as market dynamics deteriorate and they have to navigate the fallout from fights like this one.
Go deeper