Trump and Republicans are isolated on climate change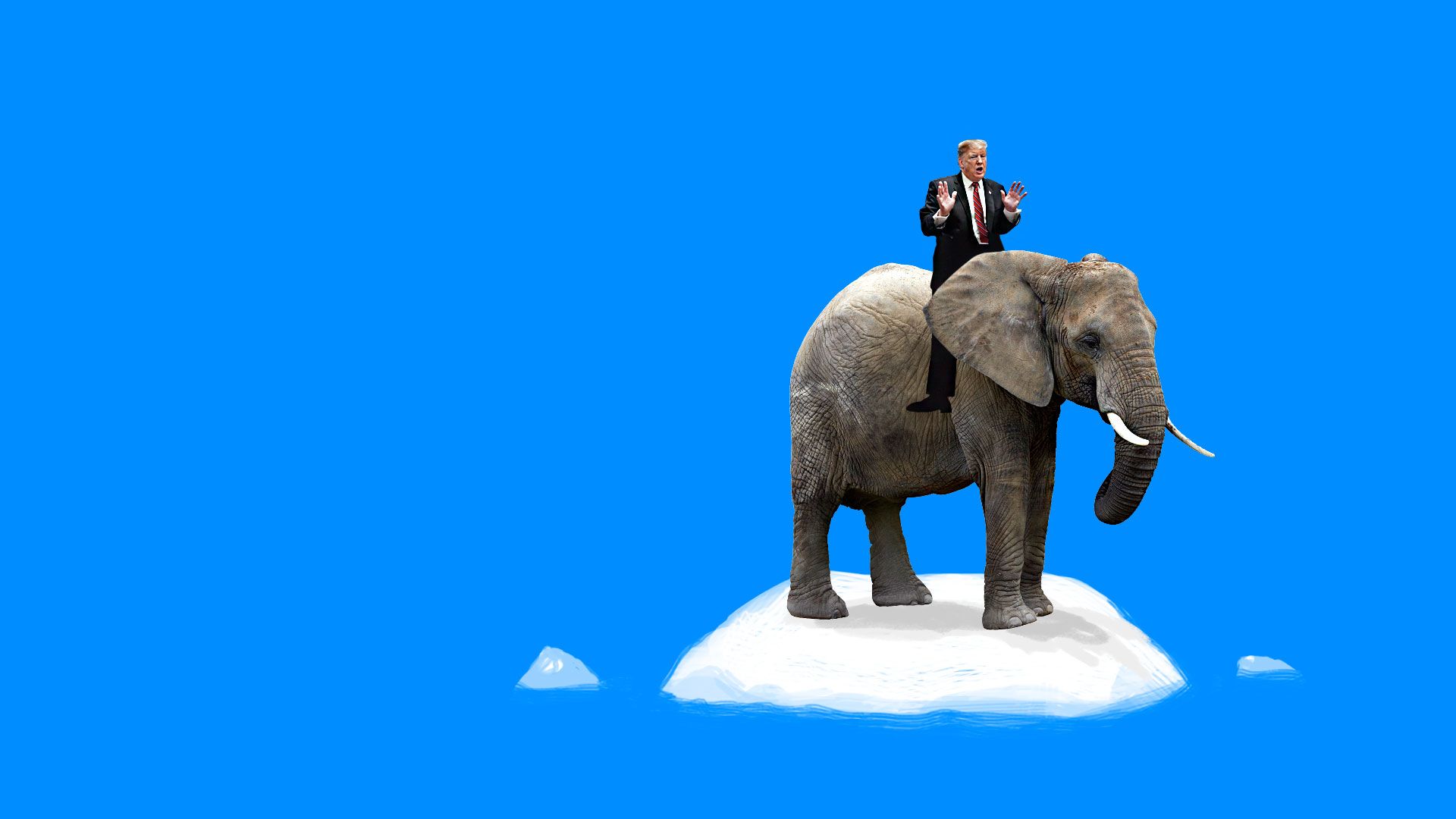 President Trump and congressional Republicans are increasingly outliers in an otherwise emerging consensus across America that climate change is a problem and that the government should pass new laws to address it.
The big picture: The shift has been underway for the last couple of years, driven by investor pressure, growing public concern and mounting scientific urgency. In the last several months, the fervor around the Green New Deal is accelerating this shift and accentuating Republicans' isolation and their internal divisions — as a handful of Republicans break ranks and acknowledge the problem is real.
The intrigue: The juxtaposition was on stark display last week.
I spent the first half of last week at a major oil and gas conference in Houston (CERAWeek by IHS Markit), where virtually all executives acknowledged climate change as a pressing issue and a few, including CEOs of major oil companies like BP and Equinor, implored the industry to do more and embrace big policy changes.
The second part of the week I was back in Washington, D.C., where Republican leaders of House committees held a press conference to criticize the Green New Deal but didn't discuss policies they would pursue instead of it.
Where it stands: After a decade of either questioning or ignoring climate change, some Republicans are slowly beginning to discuss the issue. But for now it's mostly rhetoric and it's not enough to convince the majority of the party, and especially Trump, to change their views.
Trump is considering creating a controversial panel questioning federal climate reports. A senior administration official said the government takes "seriously the issue of climate change and it is important that policies and decision-making be based on transparent and defensible science."
The loudest voices in the Republican congressional caucus are those who make inflammatory or bizarre statements, such as likening the Green New Deal to genocide and responding to a question about climate change by explaining photosynthesis.
Between the lines: Those remarks aside, a fundamental difference persists between what most Republicans say should be done about climate change versus almost all other leaders: mostly status quo with incremental bills versus more sweeping policy changes.
Republicans say what they're supporting now — relatively narrow bills on topics like carbon-capture technology, hydropower and nuclear power — is sufficient.
Zack Roday, spokesperson for Republicans on the House Energy and Commerce Committee, said: "I disagree that those are minor bills — solutions that reduce emissions while expanding America's renewable energy options matter."
Bigger policies that could more substantially reduce emissions are unpopular with most conservative lawmakers: a price on carbon emissions, regulations or subsidies.
Matt Sparks, spokesperson for House Minority Leader Kevin McCarthy, said: "Conservatives are leaning into the debate on our future. ... But whether it is a carbon tax or Green New Deal, the conventional conversation in Washington today has impacts that hurt working Americans."
Almost everyone else says far broader policy changes are needed — including most oil and gas executives, other parts of corporate America, scientists, the United Nations, Democrats, economists, environmentalists and youth activists.
There's big disagreement about what that policy should be and how to ensure a big reduction in greenhouse gas emissions doesn't cost too much. Energy costs are traditionally regressive: hitting poorer people more.
There's certainly no consensus that it needs to be the Green New Deal, which shows how far some Democrats have shifted to the left. The proposal is a non-binding resolution calling on Congress to pass a 10-year plan drastically reducing emissions and creating government-run health care and job guarantee programs.
At the Houston conference, energy executives and other experts, including Ernest Moniz, President Obama's former energy secretary, said the proposal is unrealistic. Yet amid the criticism, there was widespread agreement the government should be acting more.
"I think there is a general acceptance in the energy industry that there should be some kind of pricing on carbon emissions," Charif Souki, a pioneer in the natural-gas industry and founder of Tellurian Inc., a Houston-based gas export company, told me on the sidelines of the conference.
On the Green New Deal, Souki said: "This is a bunch of aspirations. Tell me how we're going to get there and tell me how also we're going to provide electricity to a billion people who don't have it." Yet he said the debate around it is healthy: "That's part of democracy."
Rep. Garret Graves (R-La.), who is the top Republican on the new select committee Democrats created to discuss climate change, is looking for new bipartisan policies, according to spokesperson Kevin Roig.
One includes making changes to the Climate Change Technology Program to focus on "technologies we can truly commercialize that will result in" lower energy costs and emissions, Roig said.
That program dates to 2002 and is led by the Energy Department. Its website isn't working, and among the only information I could find about it is this 2006 report.
What we're watching: whether Republicans support new, more substantive policy, including a price on carbon emissions.
Two House Republicans, Francis Rooney of Florida and Brian Fitzpatrick of Pennsylvania, support a carbon tax — out of nearly 200 GOP House members.
The Climate Leadership Council, a group backed by former Republican politicians and oil companies, has a plan to tax carbon emissions and send the money back to consumers. The leader of that group, Ted Halstead, predicts the Senate will introduce a bill on that policy later this year — with Republican support.
Go deeper