Wisconsin swing voters tire of Trump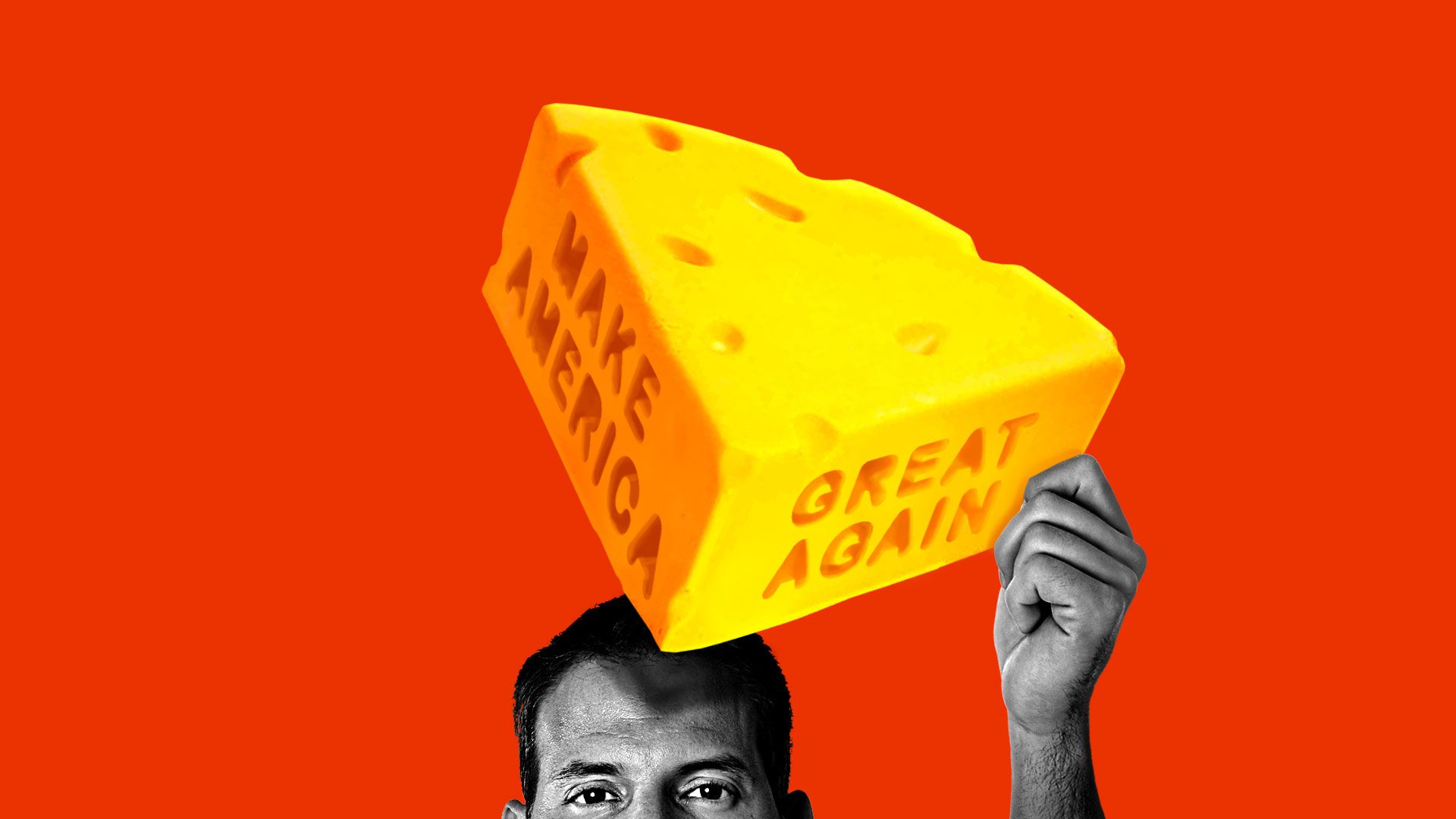 APPLETON, Wis. — Voters who supported Barack Obama in 2012 and then Donald Trump in 2016 are sick of Trump, saying in a focus group here that they're getting tired of his "lies" and the way he treats people.
Why it matters: Trump barely won Wisconsin, where he got roughly 22,000 more votes than Hillary Clinton, and these swing voters were decisive. If he's losing them, it will be harder to win the state again with just his base supporters.
This was the biggest takeaway from the focus group of swing voters I watched last week, conducted by the research firms Engagious and Focus Pointe Global.
The group included eight Obama/Trump voters and four Mitt Romney/Hillary Clinton voters.
Be smart: Their unhappiness with Trump reveals a larger re-election problem for him: touting a strong economy and low unemployment numbers isn't cutting it anymore. It's not necessarily his politics that will be his downfall with these Obama/Trump and Romney/Clinton voters; it's his personality.
What they're saying: "I think he's a dirty crook that lies, cheats, and steals when he can," said George Engelmann, a 49-year-old Obama/Trump voter. "There's just a plethora of things that are still coming out."
Although Engelmann said there's nothing Trump has done politically that he disagrees with, "I will definitely take a chance [on a Democrat]" in 2020. "I don't think I'll vote for Trump again. I don't think he'll make it."
Adam K., a 47-year-old Obama/Trump voter, said he wishes Trump would own the things he's lied about. "He's been caught in a lot of lies. ... You know, just admit that you made a mistake and say 'I'm sorry, I shouldn't have said that.'"
Amanda S., a 39-year-old Obama/Trump voter, said: "He's getting stuff done, but he lies. I don't think he's a very good person, but he's getting stuff done, so it's hard."
He also hasn't convinced Lisa White, a 38-year-old Romney/Clinton voter, to come back to the GOP.
"He's done a lot for jobs and the economy, but I'm all about the way people treat people," White said. "And if you're going to be a jerk, then you kinda don't need to be the face of America."
The backstory: These folks voted for Trump because they didn't like Clinton, they were single-issue voters in 2016 — on things like abortion — or they liked and believed in Trump's campaign promises.
Adam K. said he thinks Trump has accomplished a lot of good things politically, but it's harder to support him now because "there's more negativity, more solid evidence of a negative personality. I really wish we had a stronger third party that could actually have their hat in the ring."
"I didn't like Trump, like his TV shows and all that. I never liked him, but I just did really get the sense that he's going to get things done and I just like the straightforward approach that he had and still has."
— Allison B., a 36-year-old Obama/Trump voter
Between the lines: While many of these voters are completely disenchanted with Trump, they're not excited about any of the Democratic candidates. The only Democrat they are excited about is Michelle Obama, and she's not running.
But the things they like about her highlight the qualities they're not seeing in Trump.
"She's honest. She has good morals. Her family has been raised properly. There's no hiding with them. You're not going to uncover some funny secret in the past. She is who she is and this is what you get," said White.
Others mentioned her values, and said she's optimistic and dynamic.
The bottom line: While politics certainly plays a role for these swing voters, Trump's personality seems to be getting in his own way — and they're less inclined to look the other way again in 2020.
Go deeper: Trump's 2020 map from hell
Go deeper