Historic floods cause widespread damage in Nebraska, Iowa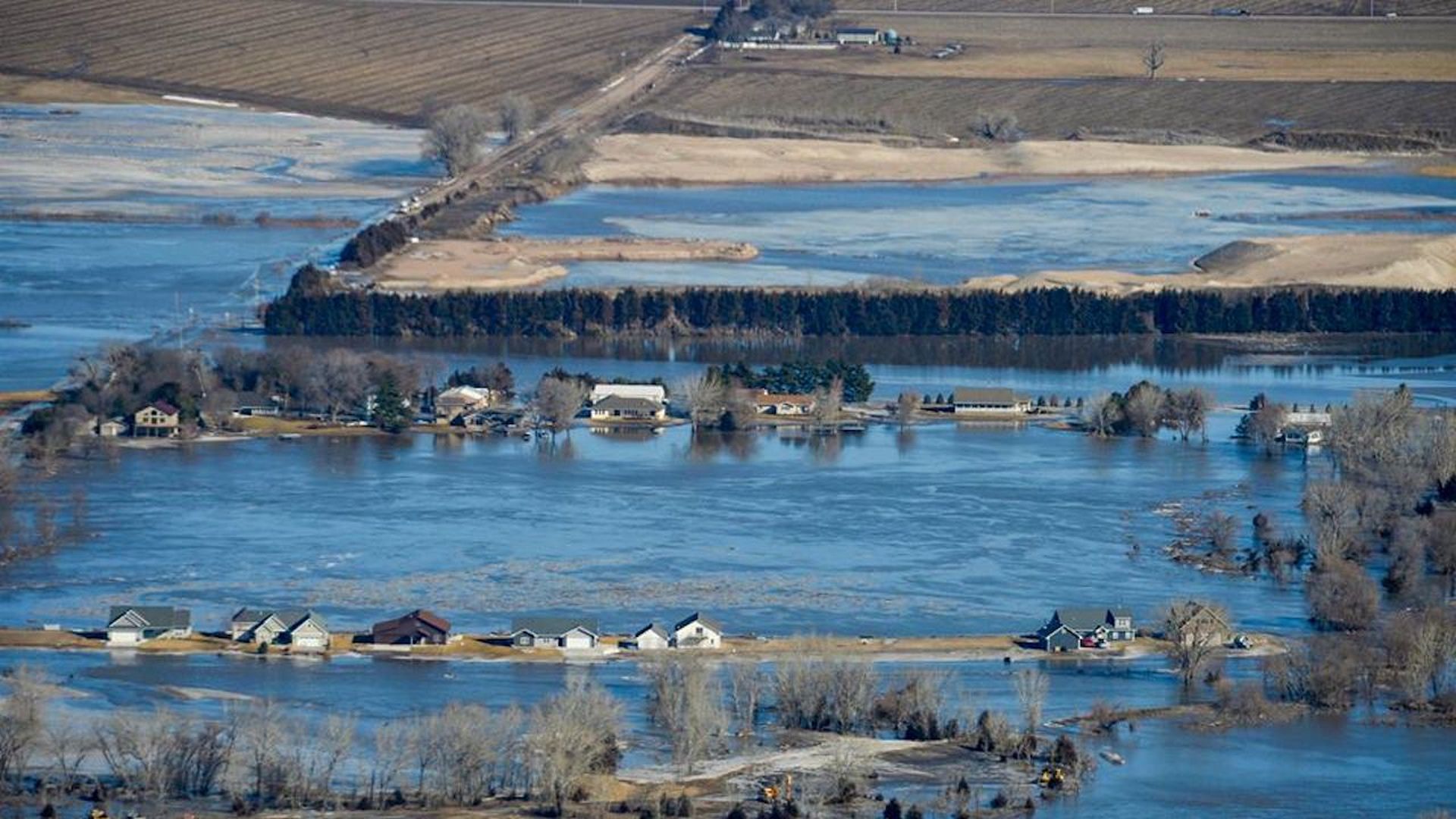 At least three people have died after a "bomb cyclone" dumped rain on the frozen Plains late last week, causing record flooding from ice jams and snowmelt along the Missouri and Platte rivers. Dams have been virtually obliterated, levees have failed and entire communities marooned.
The latest: Flood warnings remained in place Sunday evening across eastern Nebraska, parts of Iowa and southern Wisconsin. The National Weather Service forecast the areas would be subjected to major flooding possibly until Wednesday. The National Guard warned had earlier told Nebraskans the flooding could last for "quite some time."
Details: Nebraska Gov. Pete Ricketts said it was the worst flooding in Nebraska for at least 50 years. The National Weather Service warned hazardous flooding would likely last throughout the weekend in the state, as well as in south and west central Iowa. The worst affected area would be around the Platte and Missouri rivers.
The big picture: Throughout Nebraska, rivers were breaking record highs with heavy rain on top of significant snowpack, suddenly thawing ground and a surge of snowmelt traveling from upstream. Ice on rivers were causing ice jams that have exacerbated flooding in some areas.
In many areas, rivers are hitting levels that are historically unprecedented, and the old records are being exceeded by several feet, which is an unusually high margin for such milestones.
"We're just smashing some records on the big boys, the Missouri and the Platte," National Weather Service meteorologist Jeremy Wesely told the Omaha World-Herald.
Details: Nebraska Emergency Management Agency spokesman Mike Wight told Reuters one man died trying to tow a trapped car with his tractor when waters swept him away. Another man who died had failed to evacuate, though authorities have yet to determine the cause of death, he said. Another man was trying to tow a trapped car with his tractor when waters swept him away. A third man died when he became submerged in floodwaters in the town of Riverton, the Fremont County Sheriff's Office said, according to NBC News.
Air Force personnel have been trying to contain flooding at Offutt Air Force Base, home to Strategic Command as well as the fleet of E-4B airborne command aircraft and RC-135 reconnaissance aircraft.
Aerial photos on Saturday showed water lapping up against the base's single runway, with some aircraft still parked on the base. Offutt is now the second major U.S air force base to be hit by a weather-related disaster in less than a year, after Hurricane Michael tore through Tyndall Air Force Base in Florida. It said Sunday evening the water had remained at the same level for hours and was not expected to rise.
In Fremont, Nebraska, roadways flooded and 2 levees were breached on Saturday morning, according to the Fremont Tribune, requiring mandatory evacuations.
There were evacuations along the rising Missouri River and in the town of Brownville, Nebraska.
A spokesman for the state's Public Power District told the Omaha World-Herald if the river rises to 45.5 feet, the Cooper Nuclear Power Station — which produces 35 percent of NPPD's power — would be shut down.
Our thought bubble, from Axios science editor Andrew Freedman: These floods are, in parts of Nebraska in particular, worse than longtime residents have experienced and in many cases are downright unprecedented in historical records. This will be a slow-rolling disaster unfolding for the next week as floodwaters move downstream to affect other states in the Mississippi River Valley.
The unprecedented flooding has affected up to 74 million Americans from the Rocky Mountains to the East Coast.
Wisconsin Gov. Tony Evers deployed the state National Guard after declaring an emergency as flooding was magnified by "rapid snowmelt." Columbus, Wisconsin, opened shelters for people who had been evacuated.
In Kansas, Gov. Laura Kelly issued a state of emergency for Doniphan County as flash floods wreaked havoc on the community.
Iowa Gov. Kim Reynolds also issued a disaster proclamation on Friday.
Go deeper: In photos: Staggering destruction from historic flooding in the Plains
Go deeper