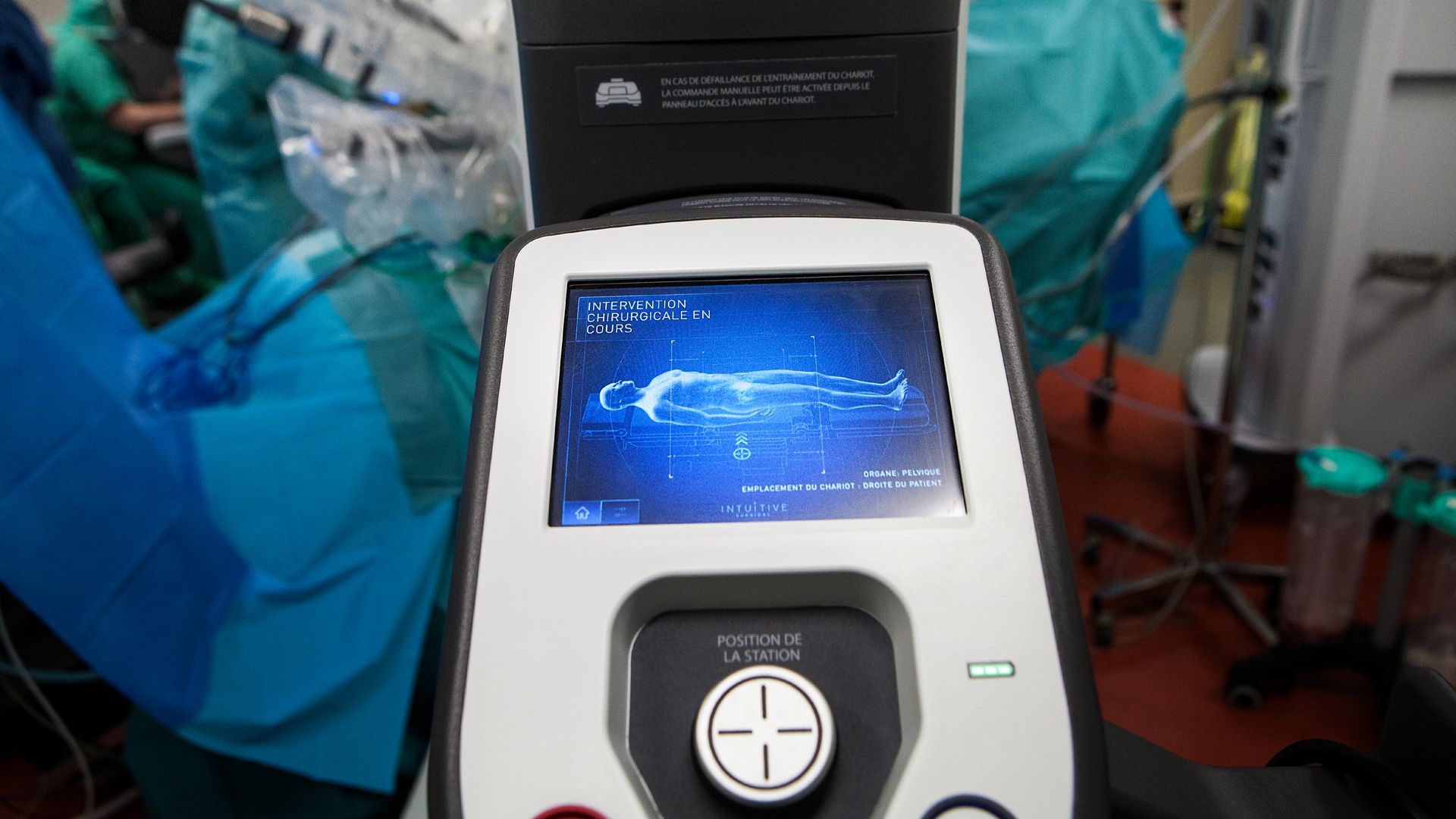 In two years observing surgeons in teaching hospitals, social scientist Matthew Beane noticed something troubling: doctors were finishing their residencies licensed to use robots in the operating room, but most were barely trained to do so.
The big picture: At fault, Beane reported, is how hospitals have introduced machines and artificial intelligence to the workplace — a way that has left a large part of the new generation of doctors lacking crucial surgery skills.
Driving the news: In new research, Beane found that across high-skill occupations — in law enforcement, banking and more — the early age of applied AI and robots is leaving young professionals unprepared for their new jobs.
Beane's results, though perhaps reflecting the type of growing pains experienced by most major new technologies, are a cautionary tale to companies as they tinker with robots and AI that some experts believe will fundamentally disrupt society.
The background: In surgery, you need four hands — the surgeon's own, plus those of a resident to pull and hold once an incision is made. Even six hands may be required — a second resident.
But with DaVinci, the standard operating room robot, surgeons can manage procedures alone with hand and foot controls — and Beane found they typically do, mostly with the objective of efficiency and reducing mistakes.
"So the resident gets 10 to 20 times less practice," said Beane, a professor at the University of California, Santa Barbara. "Most residents by and large leave without knowing how to use this tool. They are licensed to use it, but not practiced."
Benjamin Shestakofsky, a professor at the University of Pennsylvania, tells Axios that he found a similar dynamic in software development.
For his dissertation, Shestakofsky spent 19 months with a San Francisco startup that, while creating a jobs website, outsourced contact with customers. Thus, no one at the company learned the core competency of using personal diplomacy to bring a blockbuster product to market.
"When you are creating something, customers using it are likely to have all sorts of reactions that the designers didn't anticipate," Shestakofsky said. "It's a real skill in large part learned on the job — how to interact with people."
The same thing is happening in low-skill occupations. Over the coming years, robots could take the jobs of tens of thousands of warehouse and other workers. But so far at least, few such workers have been trained as specialists to be teamed with the robots.
Jeffrey Brown, head of AI and future of work at the Bertelsmann Foundation, cited the example of Riverside County, California, a logistics hub for southern California that has more than a dozen "mega-warehouses" measuring more than 1 million square feet.
These warehouses in total employ roughly 15,000 people. But the introduction of robots will reduce that over the next decade or two to about 3,000 robot technicians and maintenance workers, Brown said.
"There is concern about skill atrophy. People are being shunted into work not requiring human competencies like working with clients."
Go deeper