Paul Manafort sentenced to total of 7.5 years in prison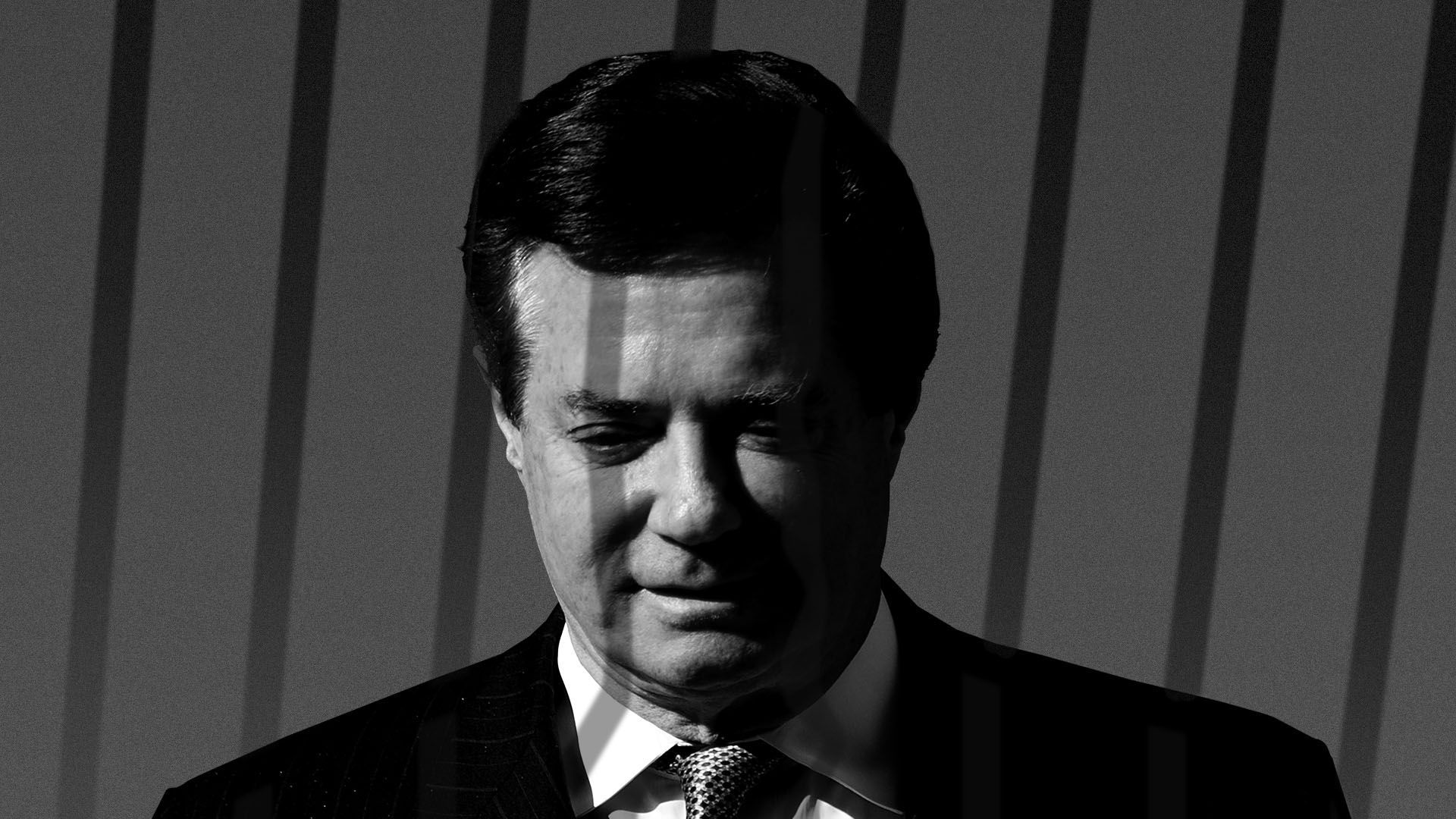 After being sentenced in Virginia last week to 47 months in prison for bank and tax fraud, Paul Manafort was sentenced in D.C. to 73 months for crimes related to his work as a political consultant in Ukraine. 30 months of the sentence will overlap with the previous sentence.
"It is hard to overstate the number of lies and the amount of fraud and the extraordinary amount of money involved in this case."
— Judge Amy Berman Jackson
Why it matters: President Trump's 69-year-old former campaign chairman has been sentenced to a total of 90 months, or 7.5 years in prison. Manafort pleaded guilty to two counts of conspiracy last September, but violated his cooperation agreement with special counsel Robert Mueller by lying to investigators — eliminating any chance he had of receiving leniency from D.C. Judge Amy Berman Jackson.
The big picture: Manafort is the fifth person to be sentenced in the Mueller investigation. Once a renowned political consultant who made a fortune lobbying for foreign dictators, Manafort's fall from grace was exacerbated by his chronic aversion to telling the truth. He lied to his accountants, his banks, his own lawyers and most importantly to the special counsel.
Unlike the Virginia trial, Manafort's D.C. case — which resulted in more than 500 court filings and a final sentencing memo that totaled more than 800 pages — revealed several key insights about Mueller's investigation into the Trump campaign's ties to Russia.
Specifically, prosecutors called attention to Manafort's lies about his contacts with suspected Russian intelligence operative Konstantin Kilimnik — a topic Mueller's team said at a hearing goes "very much to the heart of what the special counsel's office is investigating."
A poorly redacted court filing by Manafort's lawyers revealed that he lied about sharing 2016 internal campaign polling data with Kilimnik and about their discussions about a secret Ukrainian peace plan. Manafort's longtime deputy Rick Gates, who is cooperating with Mueller and has a status hearing on Friday, reportedly provided information about these episodes to investigators.
The bottom line: Trump and his defenders have consistently argued that Manafort's crimes have nothing to do with the president or collusion with Russia. But as Jackson said at the sentencing: "Any conspiracy, collusion was not presented in this case, therefore it was not resolved by this case."
Manafort is now heading to prison in part, as Jackson noted in an earlier hearing, because he repeatedly lied in an effort to "shield his Russian conspirator from liability."
Questions about why the former Trump campaign chairman was willing to risk the rest of his life in prison to hide his Russian contacts remain unanswered.
Go deeper:
Go deeper