In major shift, NASA may use commercial rockets for next moon mission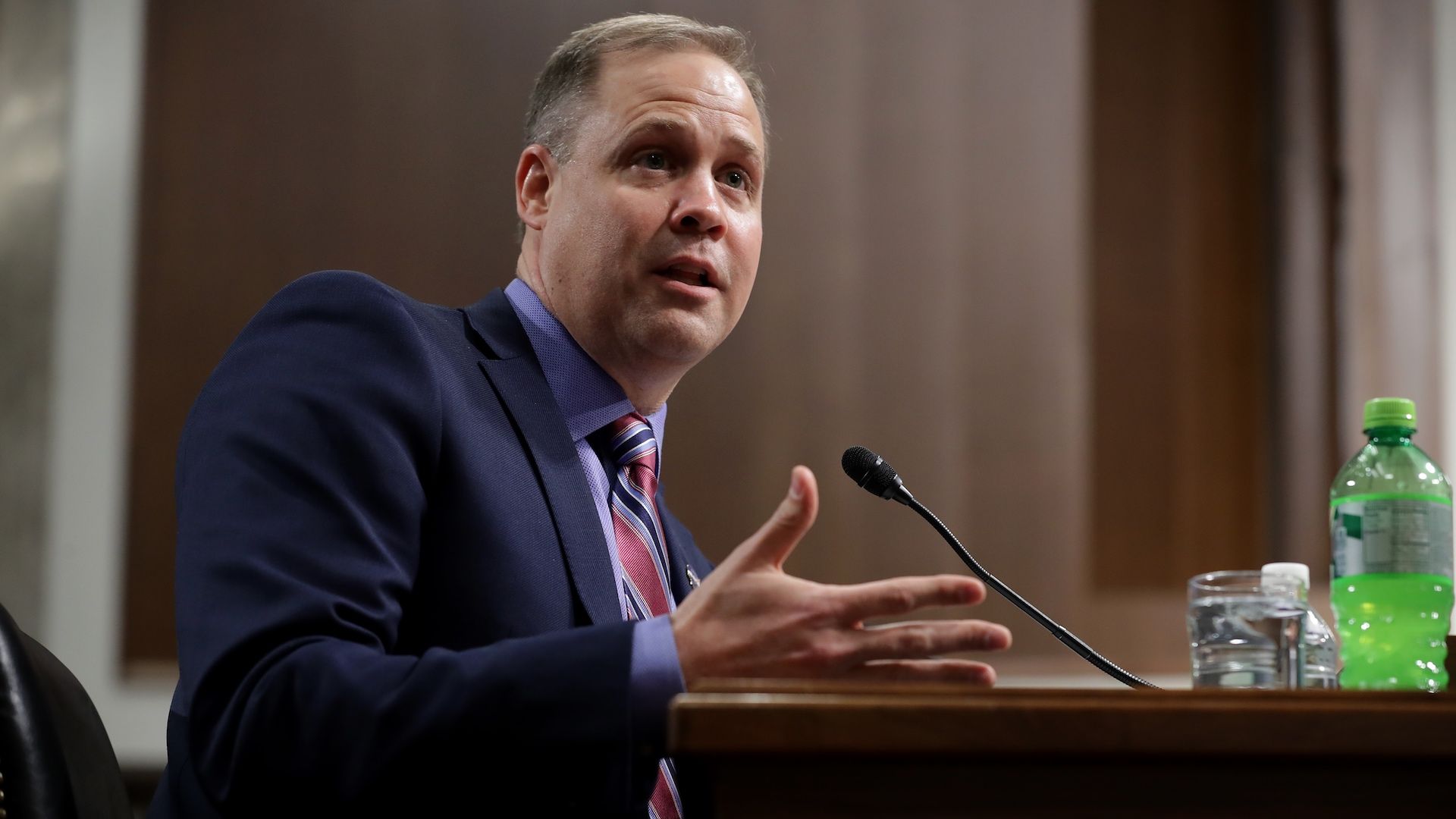 NASA administrator Jim Bridenstine told members of the Senate Commerce, Science and Transportation Committee on Wednesday that NASA is considering launching the first mission of its Orion crew capsule in 2020 using commercial rockets rather than the agency's Space Launch System (SLS). The mission, which won't carry crew, will test the capsule in deep space during its three weeks around the moon.
Why it matters: The admission that the long-delayed SLS may not be ready in time to launch the first Orion mission in 2020 comes in the wake of development delays and cost overruns of what would be NASA's most powerful rocket ever developed. It also delivers a blow to Boeing, which is one of the main contractors for the SLS, and a potential boost to another private sector launch company, like United Launch Alliance or Elon Musk's SpaceX.
Details: NASA has been planning to conduct its first Orion mission, known as Exploration Mission 1, or EM-1, in 2020, but problems with the development of its most powerful rocket ever designed have put that timeline in doubt, Bridenstine said.
Bridenstine said NASA is considering using two commercial rocket launches to send Orion into orbit around the moon. The first is aimed at getting the capsule and its supporting European Service Module into low Earth orbit, while the second aims to deliver a second-stage rocket that would power the spacecraft away from our home planet.
NASA first signaled that it might not be fully committed to the SLS in its budget proposal, released Monday, which puts forward a $375 million cut to the SLS for a total funding of about $1.8 billion in fiscal year 2020.
The budget, which Congress must approve, recommends delaying a planned upgrade to the SLS that would make it even more powerful.
"SLS is struggling to meet its schedule," Bridenstine said. "I think we as an agency need to stick to our commitments. Sir, if we tell you, and others, that we're going to launch in June of 2020 around the Moon, which is what EM-1 is, I think we should launch around the Moon in June of 2020. And I think it can be done."
"We need to consider, as an agency, all options to accomplish that objective," Bridenstine said. "Some of those options would include launching the Orion crew capsule and the European Service Module on a commercial rocket."
Yes, but: Making a commercial launch of the Orion capsule and its supporting European Service Module work would require adding docking capability to Orion, since it has been designed to launch from the more powerful SLS, which would not require docking in low Earth orbit.
The bottom line: Bridenstine says the decision on whether to use a commercial provider to launch Orion will be made in the next few weeks. He nonetheless endorsed the SLS' continued development for future missions.
Go deeper