Bomb cyclone breaks records, brings blizzard conditions to the Plains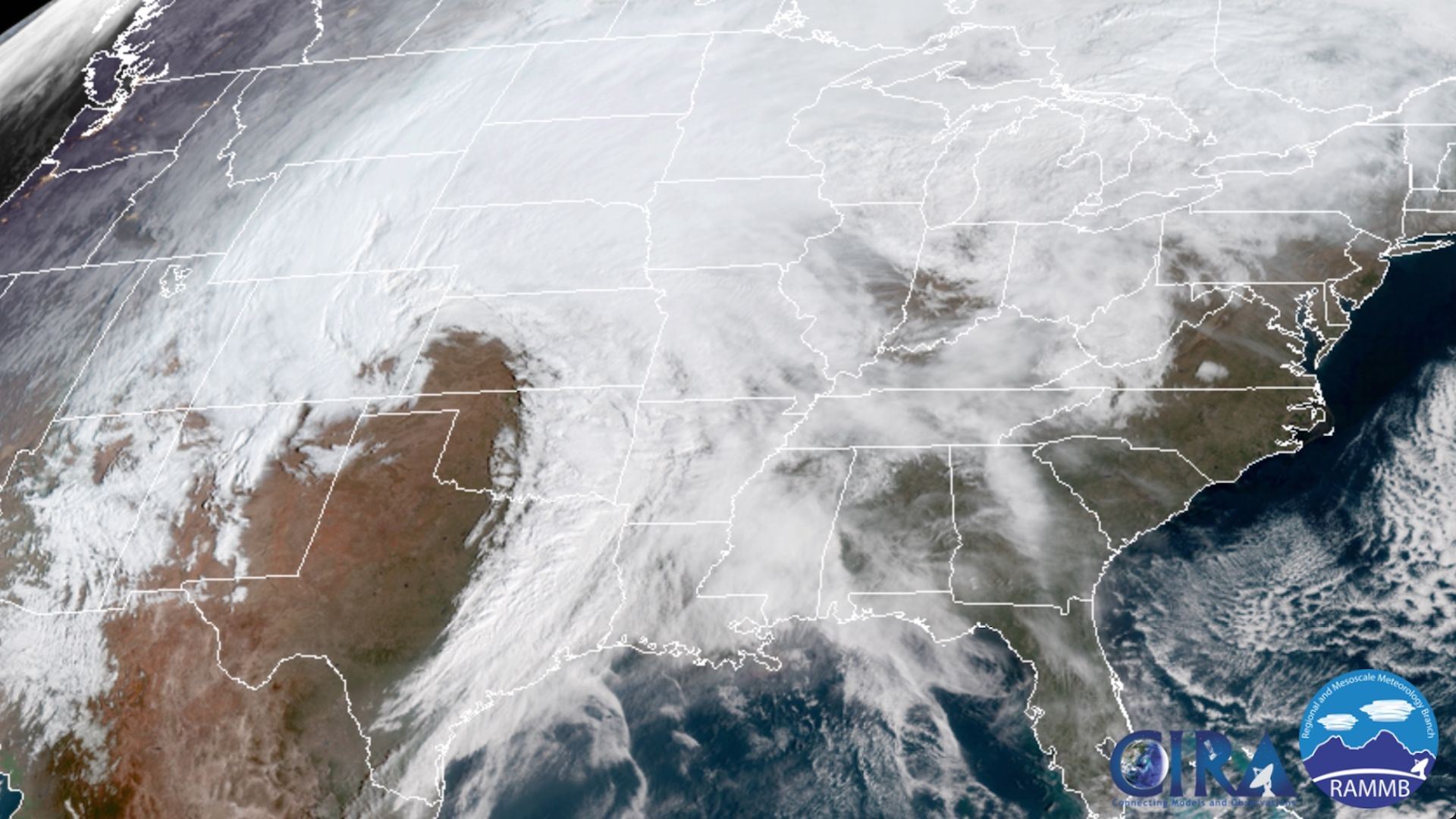 A powerful storm the National Weather Service says is "of historic proportions" stranded hundreds of people and left thousands without power Wednesday night after it intensified into a raging blizzard across the Plains. It brought with it hurricane-force wind gusts, widespread flooding and white-out conditions to multiple states from Colorado to the Dakotas.
Why it matters: This storm's strength and rate of intensification is unusual for the Plains states, with low pressure records likely to be challenged or broken in multiple locations. In general, the lower the air pressure, the stronger the storm.
The minimal central pressure may hit the low 970s or upper 960s millibars Wednesday when it peaks in eastern Colorado or western Kansas, threatening March and all-time state records. So far, the minimum pressure of 971 millibars recorded in Colorado would be a new state record if it is confirmed.
The storm brought air and road travel to a screeching halt from Dallas to North Dakota, with blizzard conditions and winds gusting upwards of 80 mph forecast for a vast stretch of real estate.
Xcel Energy said about 10 p.m. 121,270 customers remained without power in Colorado after 2,214 separate outages, according to The Denver Post.
Major airline hubs, including Denver, Dallas and Chicago, felt impacts from this storm, leading to delays and cancellations. In Denver, visibility was reduced to essentially zero in heavy snow along with winds gusting to 75 mph, effectively shutting down the airport.
At least one person has died in an incident related to the storm. Colorado State Patrol trooper died during a blizzard after being hit by a car while helping another driver whose car had slid off Interstate 76 near Denver.
The big picture: This particular storm has intensified so rapidly that it qualifies as a "bomb cyclone," a non-technical moniker applied to storms that undergo a process known as bombogenesis, through which their minimum central air pressure drops by at least 24 millibars in 24 hours.
Typically, rapidly deepening, non-tropical storms such as this tend to occur over oceans, where the contrast between air masses and availability of moisture is maximized.
That, plus how low the air pressure is forecast to go, is what makes this one unique.
It's the result of the combination of two jet stream disturbances into one, as detailed by meteorologist Philippe Papin on Twitter.
At least one all-time low pressure record was set Wednesday, in Pueblo, Colorado.
The impact: The Denver metro area was deep in snow after being hit by a severe a blizzard and strong winds on Wednesday afternoon. The ferocity of storm had eased by Wednesday night. East of there, in the Colorado Plains, winds were stronger, with snowfall of a foot or more.
Portions of I-25, I-70 and other roadways in Wyoming, Colorado and Nebraska were closed due to the combination of wind, snow and low visibility. Heavy snow, with snowfall rates of greater than 2 inches per hour at times, fell in Colorado, Wyoming and Nebraska, with heavy snow forecast to spread to North and South Dakota as the evening goes on.
The winds have been ferocious, with a gust to 97 mph clocked in Colorado Springs, and an 80-mph gust at Denver International Airport. Widespread high winds have also caused damage in northern Texas.
There's also a wet side to this storm, which caused problems in many regions.
The storm has dumped heavy rain on top of a deep snowpack across the Midwest and Upper Midwest, leading to a threat of severe river flooding, ice jams and roof collapses from the weight of water-laden snow.
The National Weather Service said late Wednesday widespread flooding had been reported in eastern Nebraska, which would continue through the night. Significant flooding impacts were likely in parts of eastern South Dakota, southwest Minnesota
and northwest Iowa, the forecaster said.
Severe thunderstorms, including possible tornadoes, exist where the low pressure area is drawing warm air from the Gulf of Mexico, threatening Arkansas, Mississippi and Tennessee, in particular, on Wednesday afternoon.
Early in the day a squall line moved through Texas, bringing 80-mph wind gusts to the Dallas metro region.
What's next: By Thursday, the storm was moving northward into Canada and weaken, leaving floodwaters, wind damage and extensive snow cover in its wake.
Go deeper