Unusually strong storm to grow into raging blizzard across U.S. Plains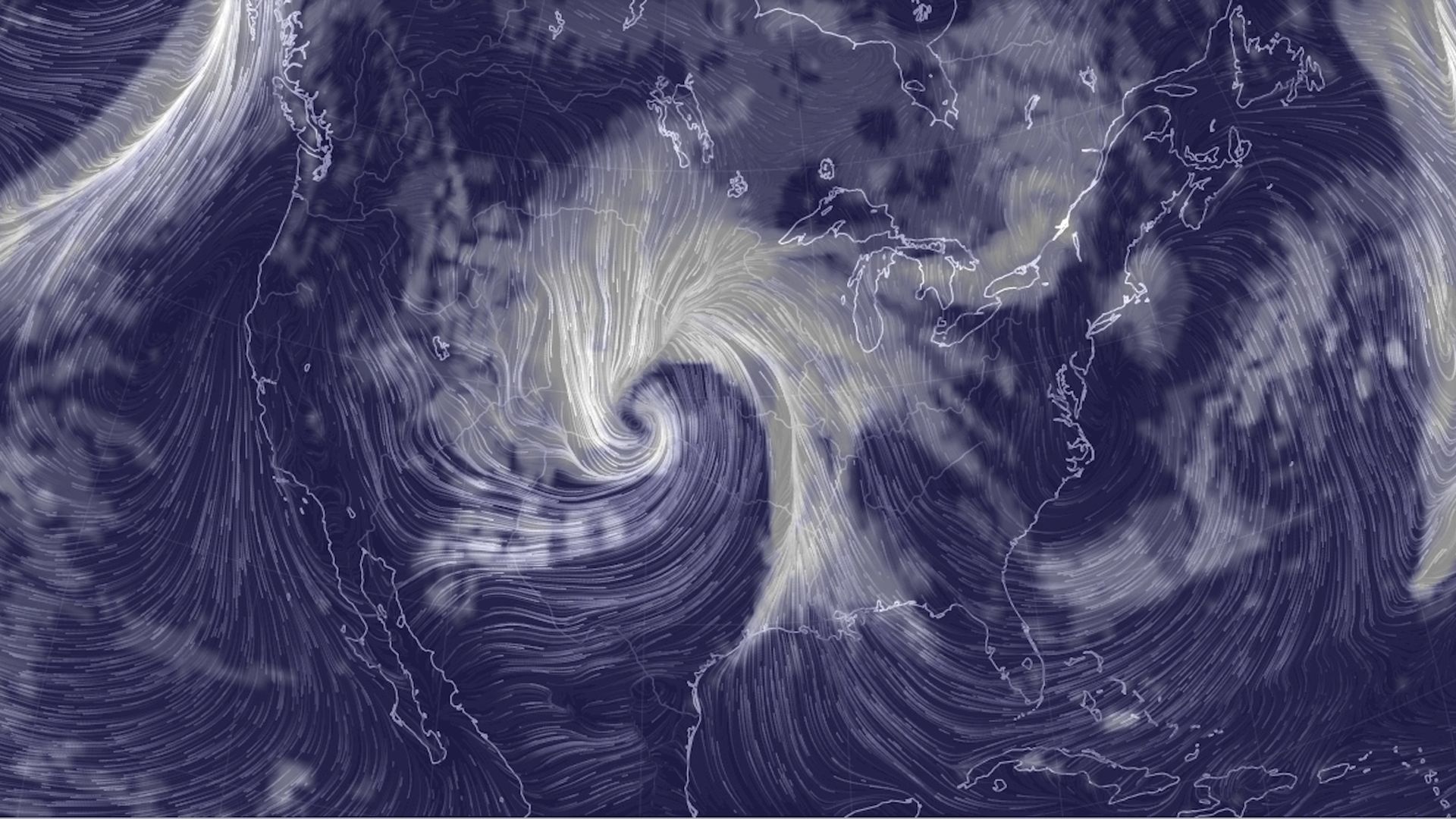 A storm is forecast to move out of the Southwest and rapidly intensify over the plains of Colorado, Oklahoma and Kansas on Wednesday, bringing a wide array of life-threatening weather hazards for a large part of the country.
Why it matters: The storm is likely to intensify at a rate that will qualify it as a meteorological "bomb" — short for bombogenesis, which describes non-tropical storms whose central pressure drops by at least 24 millibars in 24 hours. In fact, this storm is likely to rival some of the most intense weather systems on record in parts of the Plains, as measured by its minimum central air pressure.
In general, the lower the pressure, the stronger the storm. While it isn't tropical in origin, this storm could have a minimum central air pressure that's typically found in a Category 2 hurricane.
The big picture: The storm is likely to bring nearly every weather hazard possible at once. In a swath of land from south Texas to eastern Nebraska, a severe thunderstorm outbreak is predicted to take place on Wednesday, which includes the potential for tornadoes. The region at risk for severe thunderstorms will push eastward on Thursday as warm, humid air is drawn northward from the Gulf of Mexico.
Meanwhile, in the plains of eastern Colorado and parts of Nebraska and Kansas, rain, freezing rain, sleet and heavy snow are forecast as the storm intensifies. Some areas may pick up more than a foot of snow as wind gusts to 70 mph lead to blizzard conditions. The closures of entire interstates, including I-70 in Colorado, are possible.
Blizzard warnings have been posted from Colorado (including Denver and Colorado Springs) into southeastern Wyoming, as well as Nebraska and southwest South Dakota.
As the storm spins northeastward, it's predicted to bring heavy rain on top of a deep snowpack in the Upper Midwest, with the potential for severe flooding in some areas.
Because of the storm's low air pressure, it will generate a huge and powerful wind field as air rushes toward the storm center. High wind watches cover a vast region from South Texas to Iowa, and wind gusts of up to 70 mph are possible in the hardest-hit regions, the National Weather Service warns.
The bottom line: The storm system is going to affect the entirety of the Central states, from the U.S.-Mexico border to the U.S.-Canadian border. It's unusual to see a low pressure area intensify so rapidly over land, since this is more common over the oceans, where the contrast between air masses tends to be sharper along with added potential energy from the oceans.
Go deeper