Power outages across Venezuela have left Maduro wobbling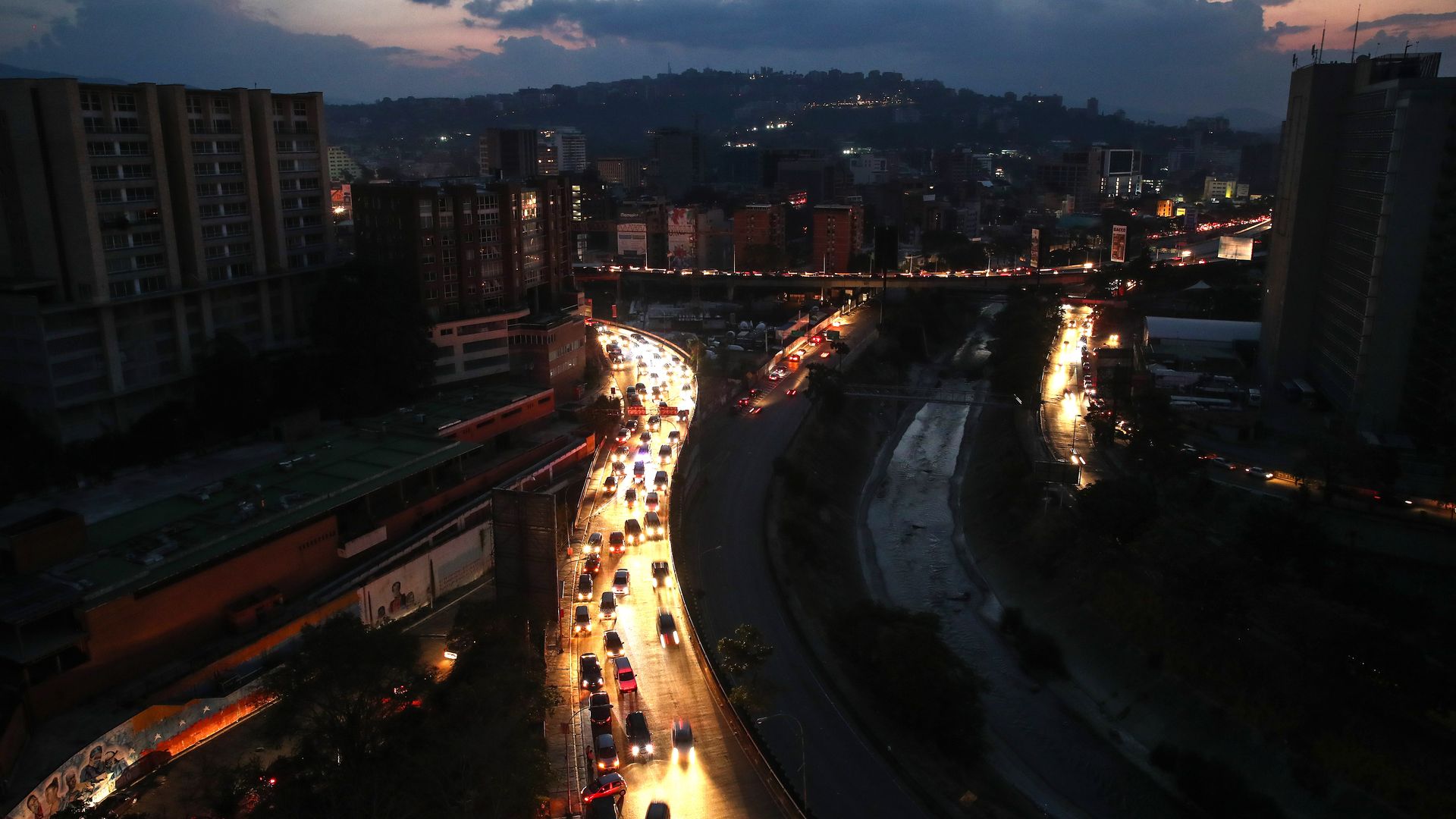 Venezuela's Nicolás Maduro is struggling to restore power to the country's electricity grid after a devastating 96-hour nationwide blackout knocked out cellular, internet, and water services, resulting in at least 21 preventable deaths at hospitals.
The big picture: Tottering from crisis to crisis has taken a heavy toll on Maduro. His regime hasn't yet reached a burnout point, but with social unrest erupting into lootings as the crisis-stricken country gradually regains power, he will likely face a reckoning for his failure to protect the grid.
Details: Without evidence, Maduro blamed the power outage on the U.S., as the Chavista regime has since rolling blackouts began in 2009. The high command of the military, as well as the party hierarchy, have offered support, but Maduro has yet to convene his cabinet and top political lieutenants in public.
The opposition-controlled National Assembly declared a "state of alarm" and drew attention to Maduro's subsidized oil sales to Cuba to underscore the regime's criminal neglect of basic goods and services.
Juan Guaidó, named interim president by the Assembly, doubled down on his plan to oust Maduro, calling for street demonstrations and international humanitarian aid. That strategy has yet to break the regime, raising questions about whether the resistance could develop into an armed insurrection.
What to watch: Venezuelans will take the next steps, but if clashes continue yielding a stalemate, both sides may soon turn to their international backers for renewed support.
President Trump's commitment to regime change in Venezuela seems stronger than ever, and secondary sanctions to expand the scope of unilateral oil sanctions are being prepared. Support for the Guaidó government is having material impact, with a new board appointed at Venezuela-owned CITGO — a step that sets up a key legal battle over republic assets.
For now, the U.S. strategy has stiffened China and Russia's resistance, with the countries vetoing U.S.–proposed resolutions at the UN Security Council, and expressing willingness to provide Maduro a degree of financial flexibility.
Venezuela's neighbors have continued to work via the Lima Group, heightening the rhetoric about the security implications of the crisis but thus far rejecting military intervention.
Michael McCarthy is a research fellow at American University's CLALS, an adjunct professor at George Washington University's Elliott School for International Affairs, and the founder and CEO of Caracas Wire.
Go deeper