Journalists cash in on Trump's Washington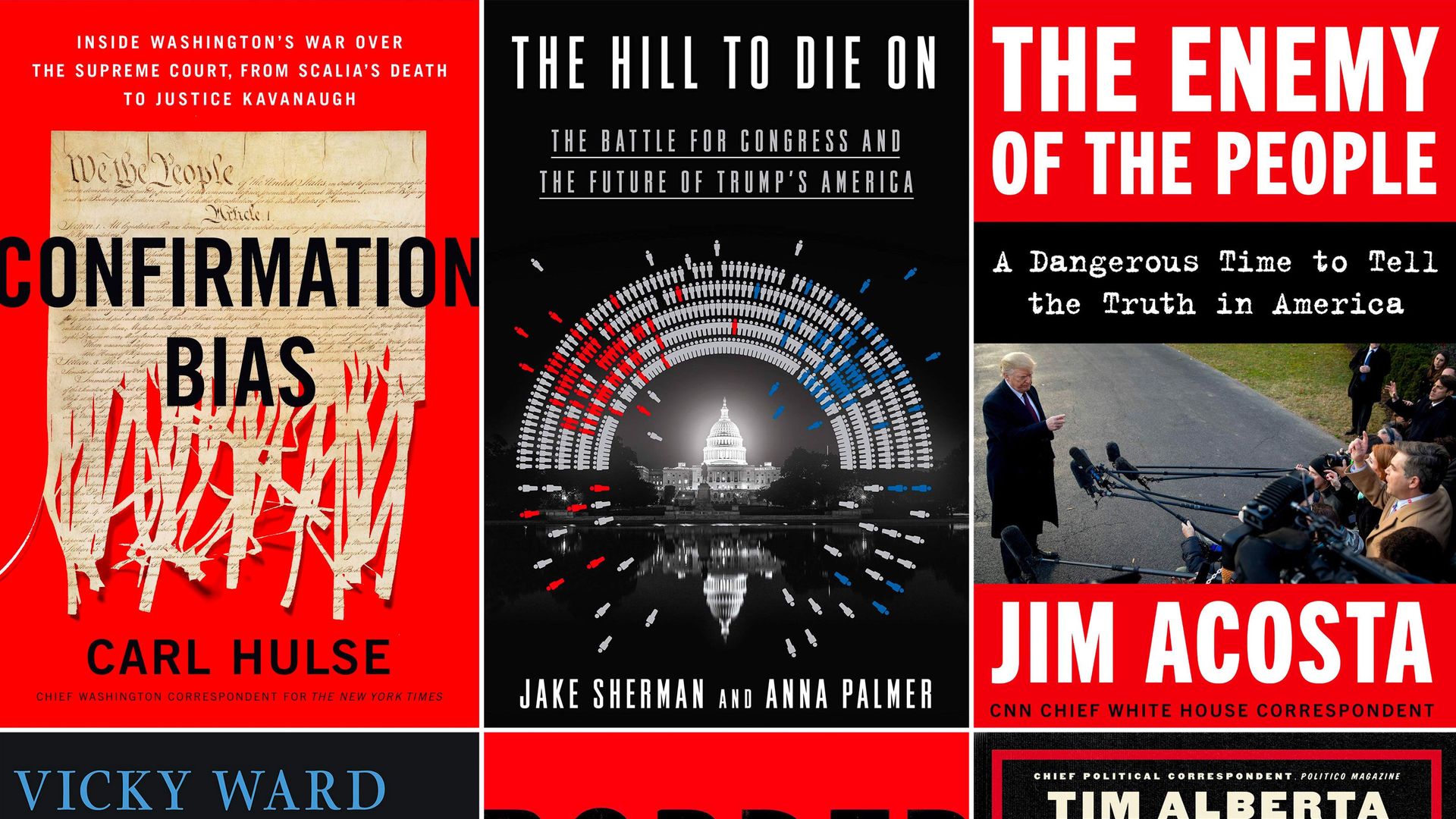 More than a dozen books about Trump's Washington are on the way from prominent journalists who signed lucrative deals, with a subgenre of five major books that are entirely or partly about Supreme Court Justice Brett Kavanaugh.
The big picture: One reason for the burst of books — money. Publishers are paying big advances, for some nearing or topping $1 million. "Trump has dominated everything else, so it only makes sense that that would include the publishing industry," said Matt Latimer of Javelin, a literary agency that has handled James Comey, Cliff Sims and other hot names.
There's a tight pack promising the real story on Kavanaugh:
First will be "The Hill to Die On" — April 9 from Politico's Jake Sherman and Anna Palmer — covering Congress from Election Day '16 to the shutdown. Jake says: "Every page — literally — has something new. ... But since you mentioned Kavanaugh — we have the definitive story about how he got confirmed."
The N.Y. Times' Carl Hulse will be out June 25 with "Confirmation Bias," which "goes all the way through Kavanaugh and the midterms into this year."
Ruth Marcus, a Harvard Law graduate who's a Washington Post columnist and the deputy editorial page editor, is on book leave for a Kavanaugh project that covers "who he is, what happened, what it means." Ruth told me: "I'm going back to my first love, which is reporting, not opinionizing."
The Times' Kate Kelly and Robin Pogrebin will cover Kavanaugh's early years in "The Education of Brett Kavanaugh." They wrote: "Already the ugly tweets have started coming in, an indication of the polarized world in which we're operating. 'Grats on the money grab,' wrote one person ... Others have suggested we title the book 'The Smear' or 'The Crucible.'"
Jackie Calmes, L.A. Times White House editor, is writing "The Fifth Man," about Kavanaugh's confirmation and "how the Republican Party transformed through successive revolutions."
Also imminent:
"Kushner, Inc.," from investigative reporter Vicky Ward on March 19, takes in New York, New Jersey, D.C., Saudi Arabia, China, Israel, Qatar and Russia.
"The Enemy of the People," coming June 11 from CNN's Jim Acosta, details his interactions with Sean Spicer, Sarah Sanders and other top officials, and reflects on how the nation's press should be treated.
"American Carnage," out July 23 from Politico's Tim Alberta, looks inside the GOP and how it evolved from Bush to Trump — with, I'm told, good juice on what GOP leaders really think of Trump.
"Border Wars," coming Oct. 8 from the N.Y. Times' Julie Davis and Mike Shear, draws on more than 100 interviews to tell how Trump stoked public fear and anger about immigrants to propel himself to the presidency, then battled bureaucrats, Congress and the courts in the quest to enact his agenda.
Also in the works:
USA Today's Susan Page, who will be out April 2 with "Matriarch," about Barbara Bush, has already made reporting trips to Baltimore and California for "Madam Speaker: Nancy Pelosi and the Arc of Power."
The N.Y. Times' Jeremy Peters is writing "Insurgency" for Crown (early next year) with the same editor, Kevin Doughten, who just edited Jake and Anna. Peters will cover Steve Bannon and the establishment Republicans, Christian conservatives and right-wing media figures whose civil war gave us Trump.
The WashPost's Phil Rucker (White House bureau chief) and Carol Leonnig (an investigative reporter covering the Trump probes) are planning a book as well.
What's next ... Two whole new categories: Mueller books and 2020 books.
What'd we miss? If you know about another Washington book deal, drop me a line:

[email protected]

, or just reply to this email.
Go deeper