Where the major sports leagues stand on weed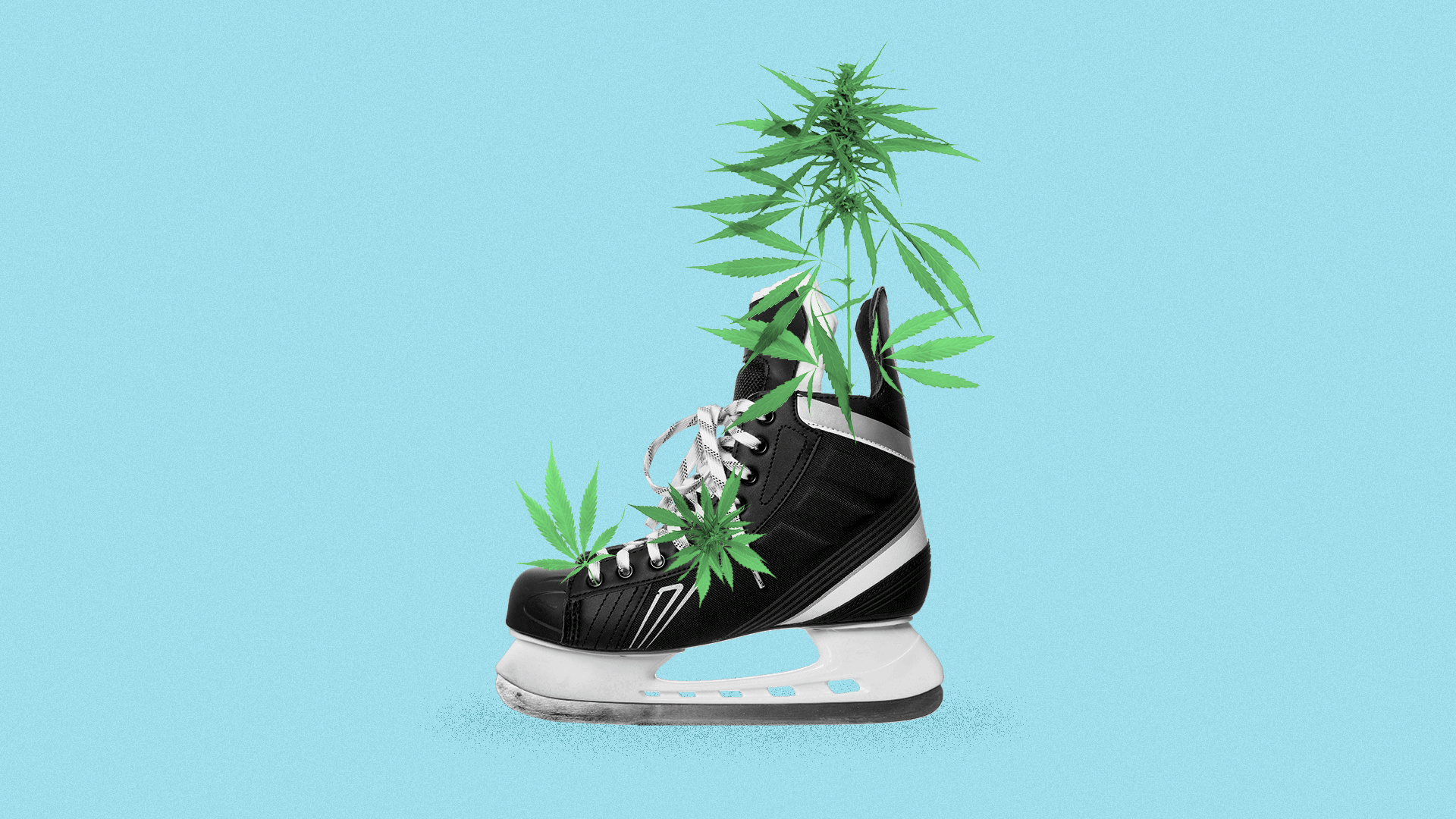 The public perception of marijuana is changing, and with more and more athletes accepting the idea of cannabis as medicine, professional sports leagues — and their drug policies — are being put under the microscope.
Why it matters: Of the 123 teams across the four major sports, 45 play in states or provinces where recreational marijuana is legal (36.6%), and another 56 play in jurisdictions where medical marijuana is legal (45.5%), per ESPN.
That's 82% of teams (101 of 123) that play in areas where players can legally buy pot — and that number will only increase as more states move forward with legalization.
What's happening: In the the face of this dramatic shift, some leagues — worried about what "endorsing weed" might do to their image — are hesitant to change their marijuana policies. Others, like the NHL, are completely rethinking their approach.
NFL policy: Players with no previous violations are tested just once in the offseason. During the regular season, 10 players per team are randomly selected each week.
Punishment: 1st positive test: Enter substance abuse program. 2nd: Fined two game checks. 3rd: Fined four game checks. 4th: Four-game suspension. 5th: 10-game suspension. 6th: Banned for a year.
NBA policy: No offseason tests. During the regular season, players are subject to four random tests.
Punishment: 1st positive test: Enter substance abuse program. 2nd: $25,000 fine. 3rd: Five-game suspension, and five more games are added to each ensuing positive test.
MLB policy: Use of marijuana is prohibited, but the league only tests for it if they have "reasonable cause" to do so.
Punishment: "If a player tests positive, he might be subject to a treatment plan that can include progressive fines of up to $35,000 for one test," writes ESPN's Emily Kaplan.
And then theres' the NHL, which doesn't punish players who test positive for marijuana (which it no longer classifies as a banned substance). Instead, the league focuses on identifying those who need help and ensuring that they get it.
If a player has "abnormally high levels" of THC, league physicians will flag it and recommend treatment. But again, there's no punishment — and neither the NHL nor the NHLPA needs to know about it.
What they're saying:
"We are elite athletes and as long as it's not performance-enhancing or illegal, we know what's best for our own bodies. I find that a couple hits of weed at night is good for me. It's legal, it's natural, I don't see anything wrong with it."
— Anonymous NHL player (
via ESPN
)
What's next: "The NFL's CBA expires after the 2020 season, and it's believed the drug policy will be a major discussion point," writes Kaplan.
"The NFLPA probably will argue for something similar to the NHL's policy — test for marijuana, but don't punish it — and it will be worth monitoring if the NFL agrees."
P.S. ... Suspended Cowboys DT David Irving quit the NFL yesterday — while smoking a blunt.
Go deeper