Pompeo to visit Israel amid difficult election campaign for Netanyahu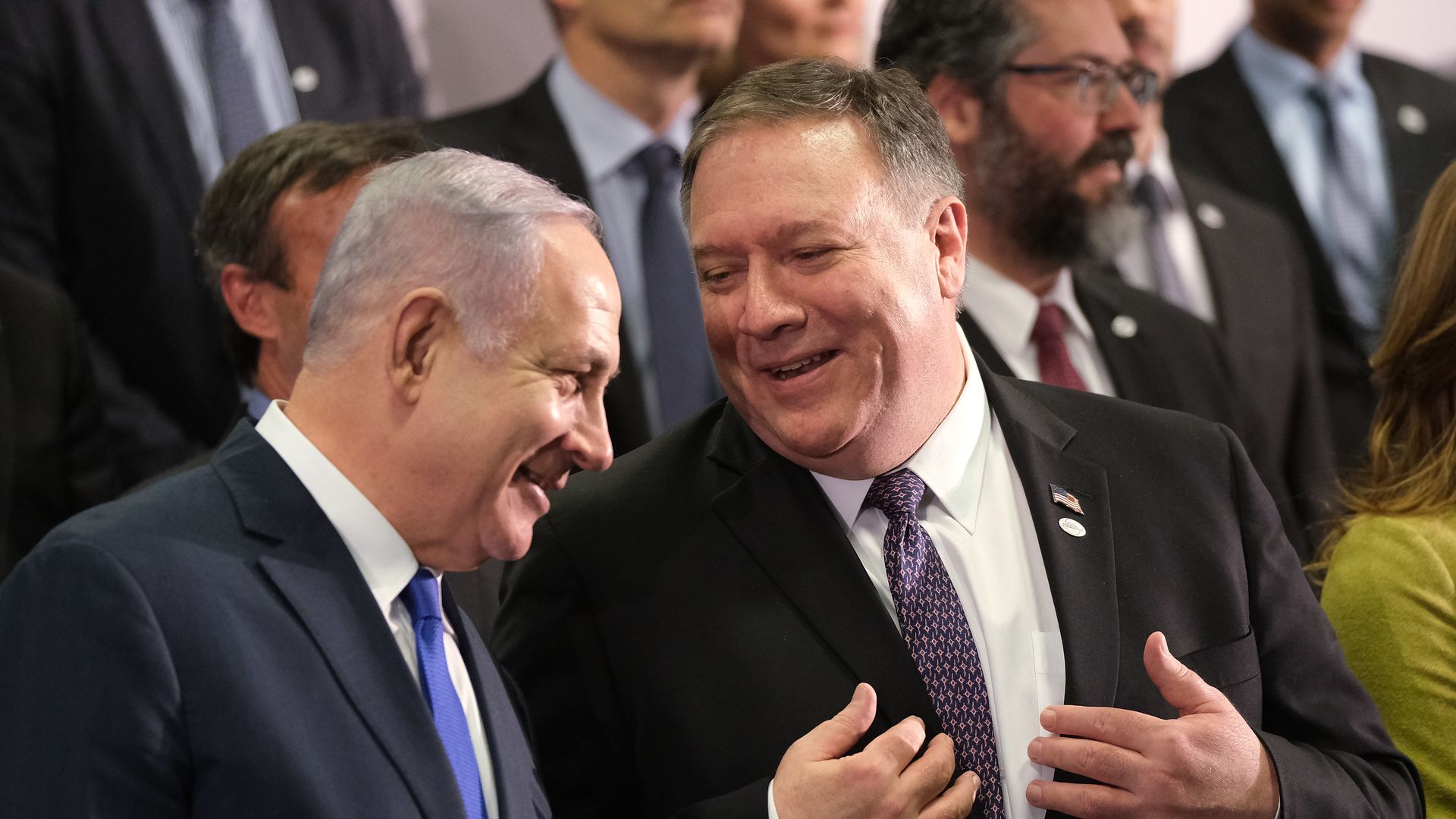 Secretary of State Mike Pompeo will visit Israel two weeks from now, as the campaign for the country's April 9 election enters its final stages. Pompeo's visit will be part of a regional trip that will include Lebanon and Kuwait.
Why it matters: A visit by the secretary of state in a country during an election campaign is a bit unusual. Pompeo is expected to be in Jerusalem for a summit between Israel, Greece and Cyprus to be held on March 20 — three weeks before the election. The visit is unusual also because Prime Minister Netanyahu will visit Washington four days later and meet President Trump at the White House.
State Department deputy spokesperson Robert Palladino said in the press briefing today that Pompeo's visit is not a message of support for one of the political parties in Israel. He added: "Israel is an ally. We're not gonna get involved in the domestic politics of another country."
In a CNN interview with Jake Tapper a few days ago, Pompeo was asked about the deal Netanyahu cooked with the far-right, ultranationalist "Jewish Power" party. Pompeo answered: "The United States is not going to get involved in an election, to interfere in an election of a democracy, and we will allow the Israeli people to sort this out."
Pompeo is expected to meet Netanyahu during his visit to Jerusalem, but it's unclear if he is going to meet Netanyahu's main political rival — retired Gen. Benny Gantz, who is leading in the polls. Unlike previous secretaries of state, Pompeo has not met any members of the opposition during his trips to Israel.
The big picture: Pompeo will arrive in Israel against the backdrop of three indictments against Netanyahu for bribery, fraud and breach of trust. The State Department refrained from commenting on Netanyahu's indictments.
But one senior U.S. official did comment on Netanyahu's indictments — President Trump. He was asked about it by an Israeli reporter during his press conference in Hanoi after the summit with Kim Jong-un, and responded:
"I just think he's been a great prime minister, and I don't know about his difficulty, but you're telling me something that, you know, people have been hearing about. But I don't know about that. I can say this, that he's done a great job as prime minister. He's tough, he's smart, he's strong. He is very defensive. His military has been built up a lot."
Many in Israel saw Trump's remarks as an endorsement of Netanyahu. U.S. officials told me that was not the case and that Trump was only describing his appreciation to Netanyahu in response to a question. In any case, Netanyahu was quick to use Trump's remarks in his election ads.
Go deeper:
Go deeper