Long-term measles vaccine study shows no link with autism — again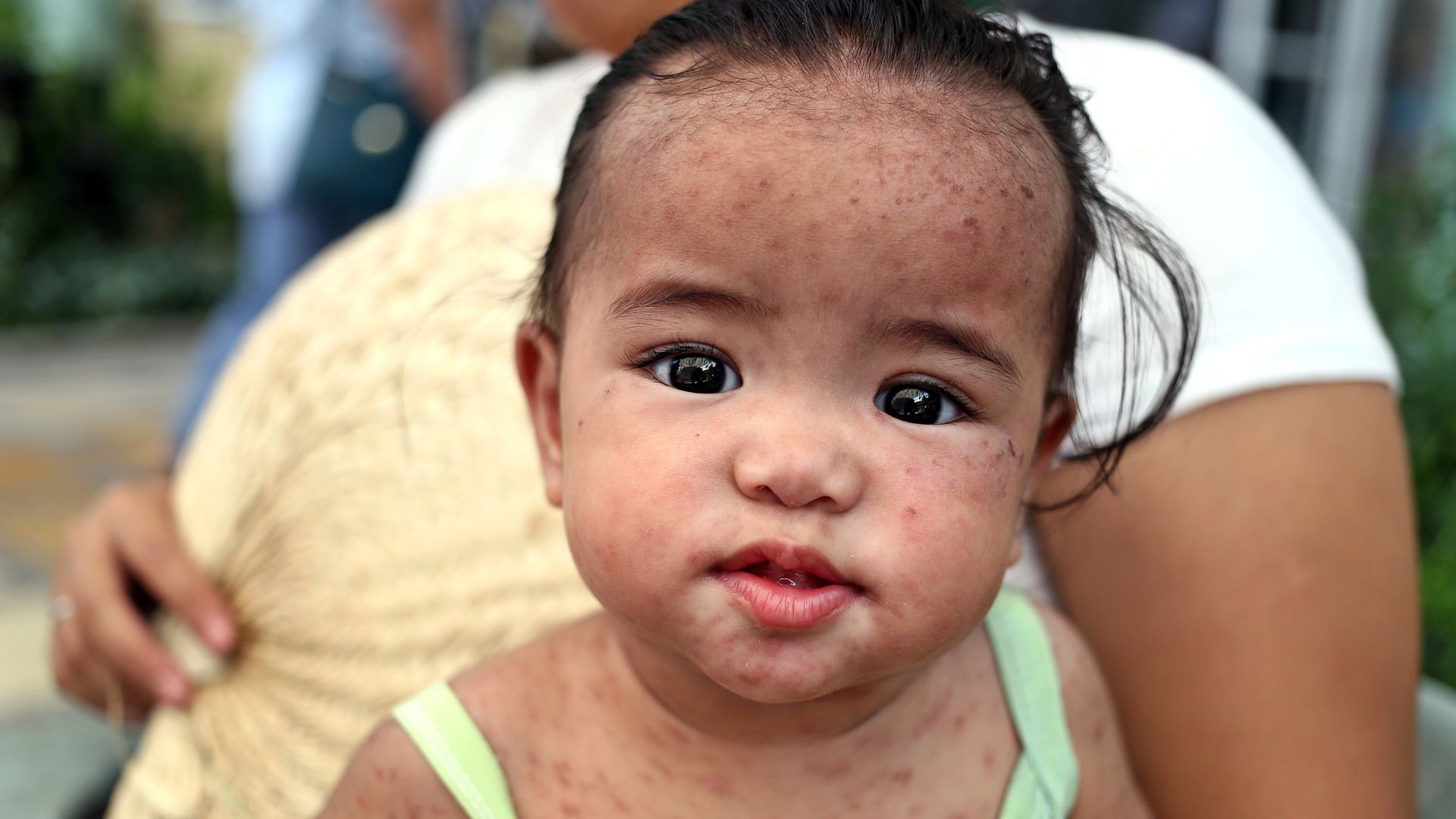 Children considered by some to be at a higher risk of autism did not have a higher incidence of getting autism when they received the measles, mumps and rubella vaccine, according to one of the largest and longest studies on this topic, published in the Annals of Internal Medicine Monday.
Why it matters: This study is designed to address concerns held by some people that certain groups of children are at higher risk of autism from the MMR vaccine. Scientists are hopeful this will promote the higher vaccination rate needed to stem outbreaks spiking around the globe and rising in the U.S., where there were 206 confirmed cases in 11 states during the first 2 months of 2019.
The study also comes at a time of heightened interest in the topic from Capitol Hill, with a House hearing last week and a Senate Health Committee hearing on Tuesday.
Background: There was a super-small, 12-person study published in 1998 that is one of the reasons some people continue to believe there's a link between the MMR vaccine and autism — even though that study was found fraudulent, retracted by the journal, and caused its author to be stripped of his medical license.
Multiple studies since then, including a large population-based study of all children born in Denmark from January 1991 through December 1998, demonstrated no link between MMR and autism.
However, some questioned whether those studies looked closely enough at subgroups of children thought by some to be at a higher risk of getting autism after getting vaccinated. These include children with an autistic sibling, with a regressive phenotype of autism spectrum disorder, and those who received other childhood vaccines.
This study was designed to help address that concern.
What they did, per the study's abstract:
The team examined 657,461 children born in Denmark from 1999 through 2010, with a follow-up from one year of age through Aug. 31, 2013.
They followed the subgroups of children considered by some to be at a greater risk of autism and watched specified time periods after vaccination to see if that played a role in greater autism incidence.
What they found:
Of the more than half a million children studied, 6,517 developed autism. But there was no increase in rate among the children who had or hadn't received the MMR vaccine.
The research team also found no increased link for those deemed at greater risk of autism or during specified periods of time after vaccination.
"The study strongly supports that MMR vaccination does not increase the risk for autism, does not trigger autism in susceptible children, and is not associated with clustering of autism cases after vaccination. It adds to previous studies through significant additional statistical power and by addressing hypotheses of susceptible subgroups and clustering of cases," the study says.
Go deeper:
Go deeper