The pre-impeachment, public Trump trial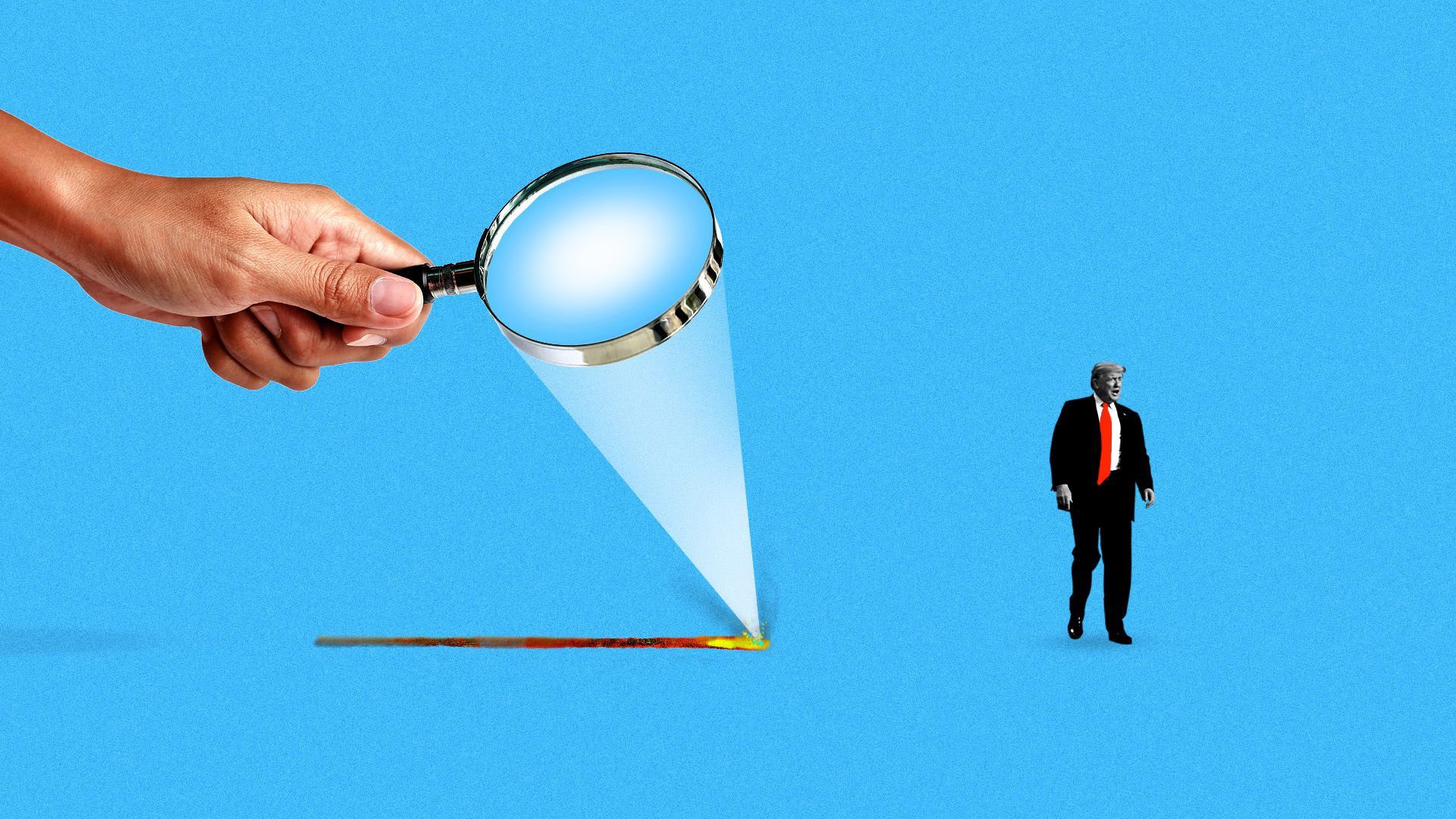 House Democratic leaders worry impeachment proceedings against President Trump could backfire if they move too fast.
The state of play: They plan to pursue a slow-bleed strategy with lengthy public hearings and scores of witnesses to methodically pick apart Trump's finances and presidency.
What's new: In an investigation being coordinated among 6–8 House committees, Trump will essentially be on public trial for months to come, with topics that include abuse of power, obstruction of justice, conflicts of interest (including profit from the Trump International Hotel on Pennsylvania Avenue) and money laundering.
Why it matters: Democrats want to create a large, damning public record of testimony, documents and investigative reports. 
Speaker Pelosi and other top Democrats don't want to take up impeachment if it's going to go nowhere in the Republican-controlled Senate.
So with huge energy in the party pushing for impeachment, leaders are using the congressional investigation to buy time.
A source close to the House leadership told me: "Many in leadership believe impeachment could help Trump get re-elected," and instead will try to "pivot the anger to defeating him on the campaign side next year. ... The last thing they want to do is help Trump like it eventually helped Clinton."
Top Democrats say an opening area of attention is Trump's attacks on the FBI and intelligence agencies, and the long-term ramifications for national security.
House Judiciary chair Jerry Nadler told George Stephanopoulos yesterday on ABC's "This Week" that the committee will issue document requests today to more than 60 people, including White House and Justice officials, Don Jr., and Trump Organization CFO Allen Weisselberg.
Nadler said the mission is "to present the case to the American people about obstruction of justice, corruption and abuse of power."
Nadler said that "to sabotage a fair election would be an impeachable offense," but added: "Impeachment is a long way down the road."
A key part of the House strategy is to engage the public on all those hot topics.
So expect lots of public hearings and aggressive pushes for the release of documents, most especially the Mueller report and all the investigative materials that went into it.
Be smart: Garrett M. Graff of WIRED told me the House strategy reflects the fact that what's most likely to move public opinion isn't any single crime or bombshell, but "when a pattern of behavior is so clear it becomes un-defensible."
Go deeper:
Go deeper