SpaceX launch brings the U.S. closer to restoring passenger flights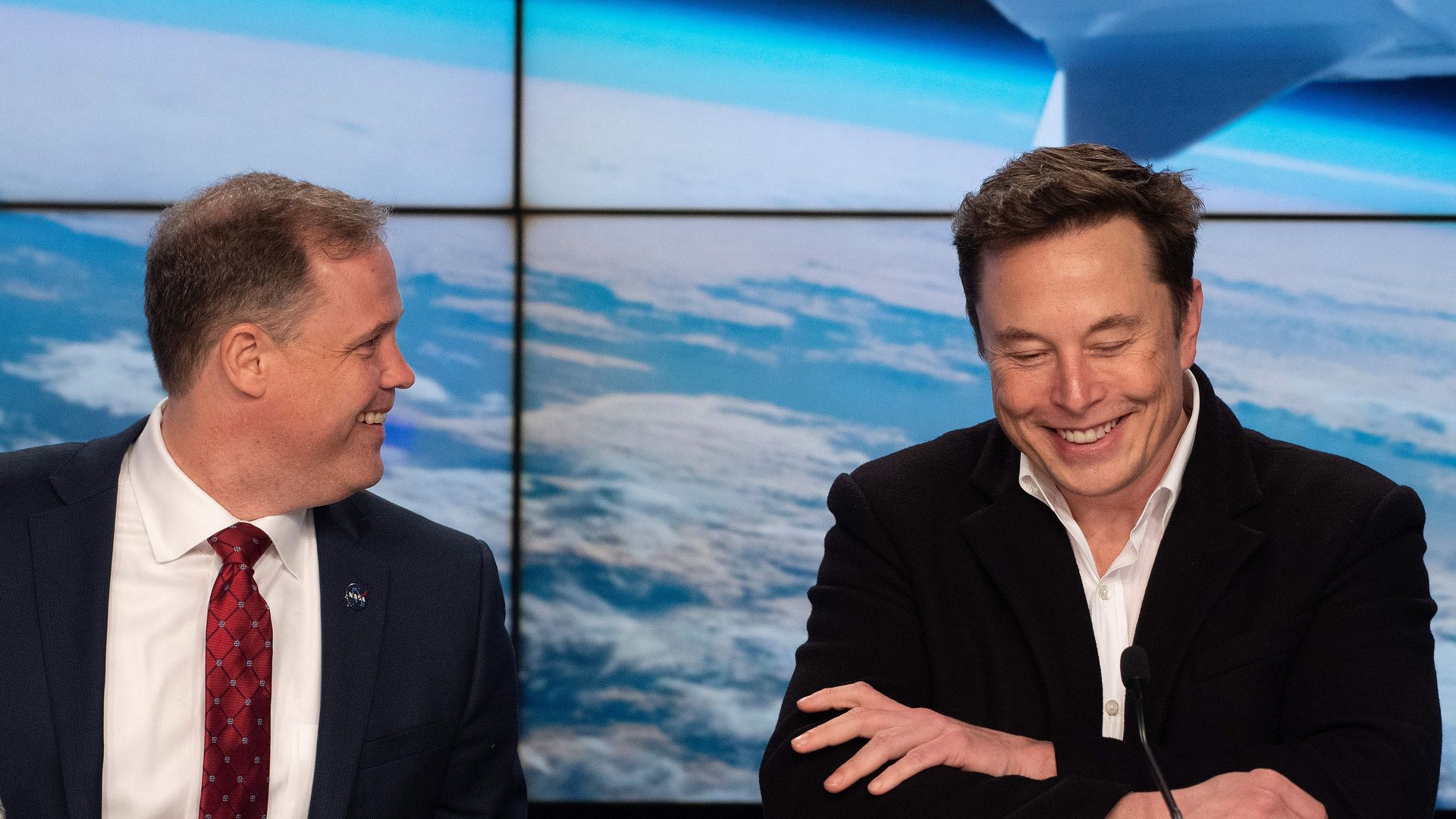 For the first time, a commercially built and operated spacecraft designed to carry a human crew has docked at the International Space Station from U.S. soil. The Crew Dragon spacecraft launched atop a Falcon 9 rocket from Cape Canaveral at 2:49 a.m. ET Saturday.
Why it matters: The launch, known as the "Demo-1 mission," brings the U.S. closer to restoring human spaceflight capabilities through NASA's Commercial Crew program. Under this $6.8 billion program, the Elon Musk-founded SpaceX and Boeing are building and testing the next generation of space taxis and cargo carriers to the ISS. Saturday's launch marks the first time a crew-capable spacecraft blasted off under this program in a mission aimed at demonstrating and testing its capabilities.
Details: The Crew Dragon capsule rendezvoused with the ISS on Sunday morning, and it is scheduled to remain there until March 8. This will allow NASA and SpaceX to work out any problems that arise in the spacecraft's docking, return and recovery phases.
According to NASA, when the spacecraft approached the space station, it was expected to demonstrate its automated control and maneuvering capabilities by hitting reverse and backing away from the station, which it would need to do in the event of a malfunction, prior to docking.  
"The docking phase, as well as the return and recovery of Crew Dragon, include many first-time events that cannot be totally modeled on the ground and, thus, are critical to understanding the design and systems ability to support crew flights," NASA said in a press release.
Modeled after SpaceX's successful Dragon cargo craft that has been successfully bringing cargo to the ISS over the course of 9 missions, the Crew Dragon will use new sensor and propulsion systems, along with a new docking mechanism, all of which must be tested.
There are 400 pounds of cargo aboard the spacecraft, along with an instrumented dummy SpaceX playfully named Ripley, in homage to Sigourney Weaver's character in the "Alien" movies. The instruments are designed to record the radiation, G-forces and other parameters a human would be exposed to when riding in the spacecraft.
Backdrop: Before they can launch humans into space, SpaceX and Boeing must meet strict safety requirements, including limiting the risk of loss or permanent disability of crew to at-or-below a 1-in-270 chance.
Difficulty in meeting the loss of crew requirement, as well as design and production challenges, has led to considerable delays in the Commercial Crew program, so much so that NASA had to consider contingency plans to maintain ISS access in the event neither Boeing or SpaceX is ready to launch safely.
NASA is hedging its bets against the possibility of further delays by considering the purchase of 2 additional Soyuz seats in 2019 and 2020, Space News reports.
What they're saying: "This first launch of a space system designed for humans, and built and operated by a commercial company through a public-private partnership, is a revolutionary step on our path to get humans to the Moon, Mars and beyond," said NASA administrator James Bridenstine, in a press release.
What's next: An in-flight, uncrewed abort test will take place after the Demo-1 mission. Assuming all goes smoothly and the company meets certification requirements, then the first crewed SpaceX test flight to the ISS, with astronauts Bob Behnken and Doug Hurley on board, could blast off as early as July. The Boeing timeline is proceeding at roughly the same pace.
Go deeper: The new space race begins Saturday
Go deeper