Jay Inslee on the issues, in under 500 words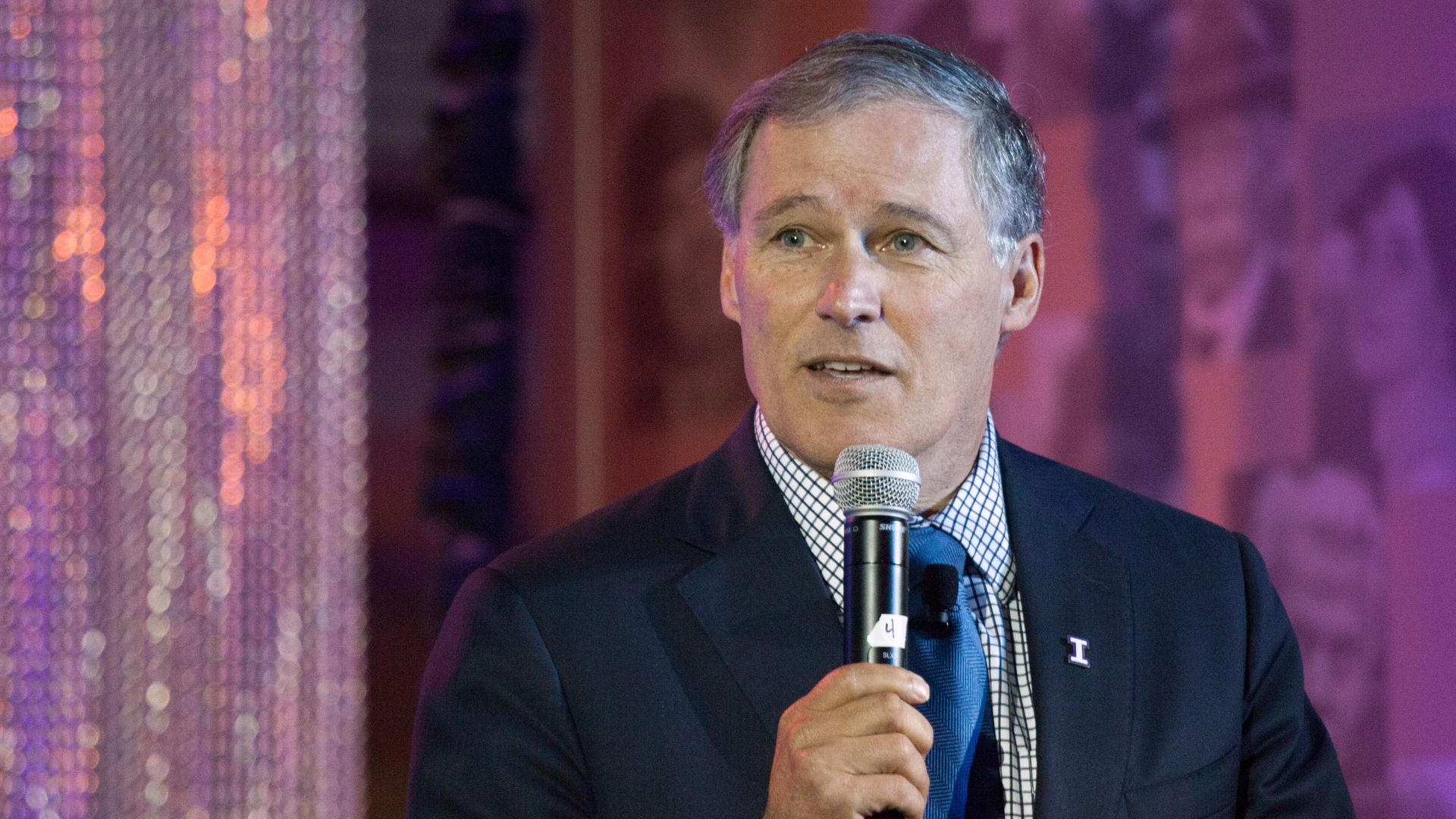 Editor's note: Inslee dropped out of contention for the Democratic presidential nomination on Aug. 21, 2019. Below is our original article on his candidacy.
Jay Inslee, the governor of Washington, is a Democrat who has made climate change the key issue of his 2020 campaign. He released a $9 trillion climate plan in May largely centered on greening the economy with job incentives.
Key facts about Jay Inslee:
Current position: Governor of Washington — 9 years served. Chair of Democratic Governors Association.
Age: 68
Born: Seattle, Washington
Undergraduate: Stanford University, University of Washington
Date candidacy announced: March 1, 2019
Previous roles: House of Representatives (1993-1995, 1999-2012), Washington House of Representatives (1989-1993)
Jay Inslee's stance on key issues:
Climate change: Inslee wants to wean the U.S. off its reliance on coal, oil and gas. In May, Inslee revealed his "100 Percent Clean Energy for American Plan," a $9 trillion collection of climate-change policies including the closure of coal-fired power plants within 10 years; requirement that all electricity be "carbon neutral" by 2030; all new cars and light trucks be "emissions-free by 2030"; and a "Zero-Carbon Building Standard," by 2030.
Green New Deal: Inslee emphasizes the private sector over some GND advocates, although he praises the concept. Inslee told the Washington Post he "welcomes" the GND, but says it's not endorsable since it's not yet an actual policy.
Capitalism: Inslee signals he's closer to Sen. Elizabeth Warren's reformist view of capitalism than the democratic socialism of Sen. Bernie Sanders.
Gun control: In 1994, Inslee voted in favor of federal legislation banning the manufacture, sale and possession of combat-style assault weapons, a stance that likely cost him his House seat in 1995, CNBC reports. He said his state stands up for "common sense gun safety reforms."
Senate filibuster: "I don't believe you can really be serious about saying you are going to defeat climate change unless you realize that we need to have the filibuster go the way of history," Inslee said.
Vaccinations: Declared a state of emergency in January after the anti-vaccination wave contributed to cases of measles, causing what he called a "public disaster."
Immigration: Proposes "restoring foreign assistance aid to Northern Triangle countries" to "achiev[e] historic levels of refugee admissions to the United States" by "exceeding the target of 110,000 refugee resettlements" set by the Obama administration. Also wants to stop Trump's border wall and end the Muslim travel ban.
Education: Would use education to help combat climate change, boostin efforts in STEM in hopes of reaching clean energy goals, according to The Hill.
Environment: Signed a bill into law that makes Washington the first in state to legalize human composting.
Key criticisms of Jay Inslee:
Anonymity: Inslee isn't a nationally recognized name in a very crowded Democratic field.
Age: A poll found 43 of Iowa's 76 Democratic county party leaders say they want a young candidate to be their nominee.
1 fun thing about Jay Inslee:
In 2009, Inslee played in a series of basketball games at the White House against President Obama and members of his administration.
Go deeper: Everything you need to know about the other 2020 candidates
Go deeper