How John Kerry got tied up in Netanyahu's indictments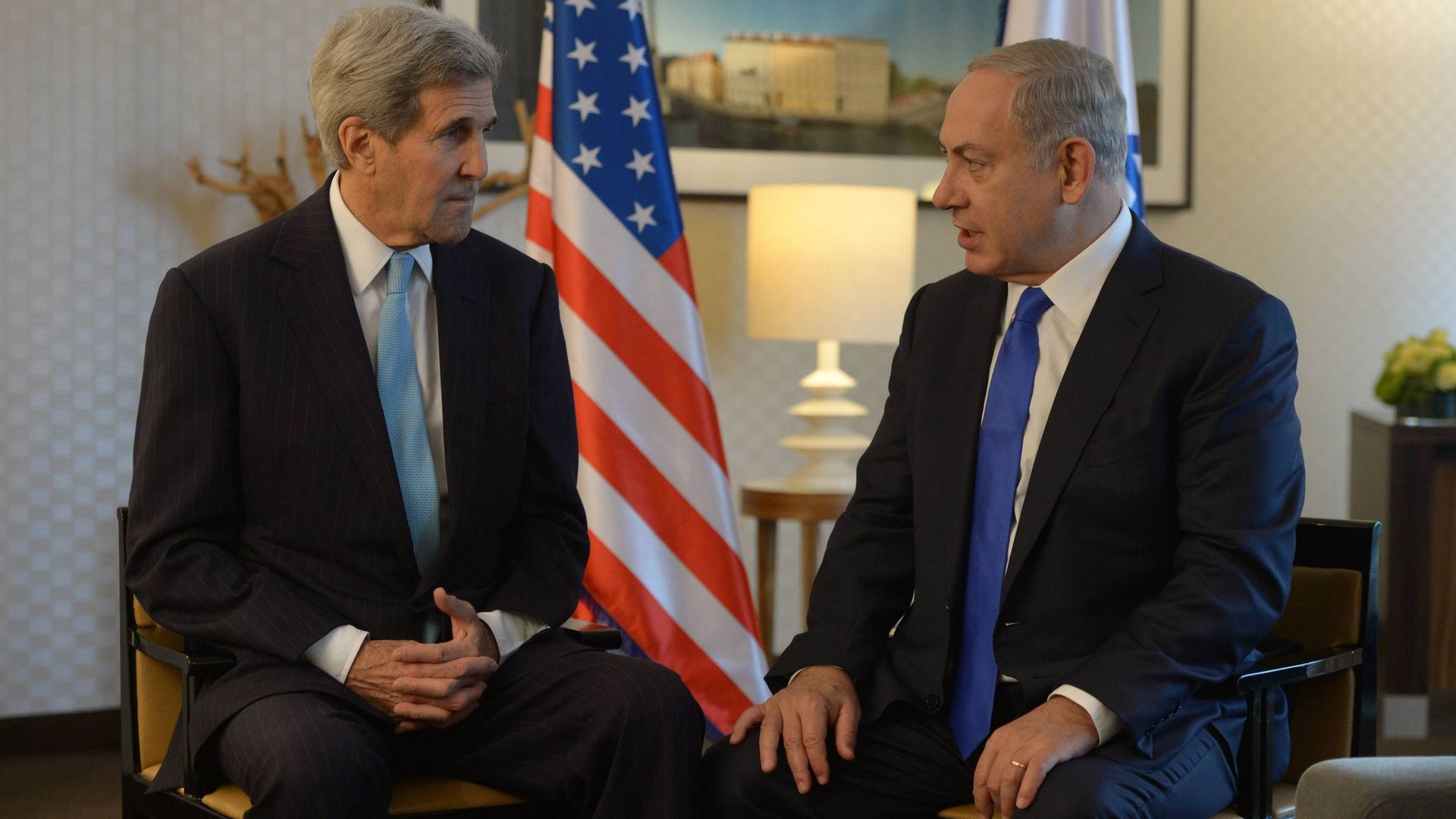 One of the indictments against Israeli Prime Minister Benjamin Netanyahu had an interesting twist involving former U.S. secretary of state John Kerry.
Why it matters: This episode was part of "Case 1000," which saw Netanyahu indicted for breach of trust and fraud after allegedly receiving shipments of expensive champagne and Cuban cigars for more than a decade from Israeli Hollywood producer Arnon Milchen. According to the indictment, the "gifts" were worth more than $130,000. In return, Netanyahu allegedly used his executive powers to help Milchen in his personal and business affairs.
According to the indictment, in the years 2013-2014 Milchen asked Netanyahu numerous times to contact the U.S. government in order to help him solve a problem regarding the extension of his visa.
Milchen called Netanyahu for the first time right after leaving the U.S. embassy in Tel-Aviv, when he was told that his visa was flagged and could not be extended.
The reason was an interview in which Milchen confessed that in the 70's and 80's he was an Israeli agent and helped purchase parts in the U.S. for Israel's clandestine nuclear program.
After Milchen's request, Netanyahu spoke with the U.S. ambassador at the time, Dan Shapiro, and asked him to help Milchen. Milchen soon had his visa extended, but only for a year and not ten years, as had been the case before.
Milchen then spoke to Netanyahu again and asked him to help get a longer-term visa. Netanyahu continued contacting U.S. government officials in an attempt to do so.
The indictment included this remarkable story:
Milchen once arrived at the prime minister's residence in Jerusalem carrying a box of cigars and a box of champagne bottles.
Netanyahu wasn't home, and Milchen waited for him. When Netanyahu arrived Milchen told him that he brought cigars for him and champagne for his wife, before asking if he could call then-secretary of state Kerry about the visa.
According to the indictment, Netanyahu then called Kerry, and raised the issue again in a face-to-face meeting with the secretary of state. Milchen's visa was later extended for 10 years.
Some of the details of this story were reported previously in the Israeli press, but the indictment included more details and, more importantly, it had the stamp of the attorney general on it.
Kerry was never interviewed by the Israeli police about this episode. I asked his representatives about the issue several times over the last three years, and they all said Kerry received similar requests from other world leaders over the years and didn't think it was out of the ordinary. They also stressed that Kerry wasn't aware of the cigars and champagne relationship between Netanyahu and Milchen.
Go deeper