Andrew Yang on the issues, in under 500 words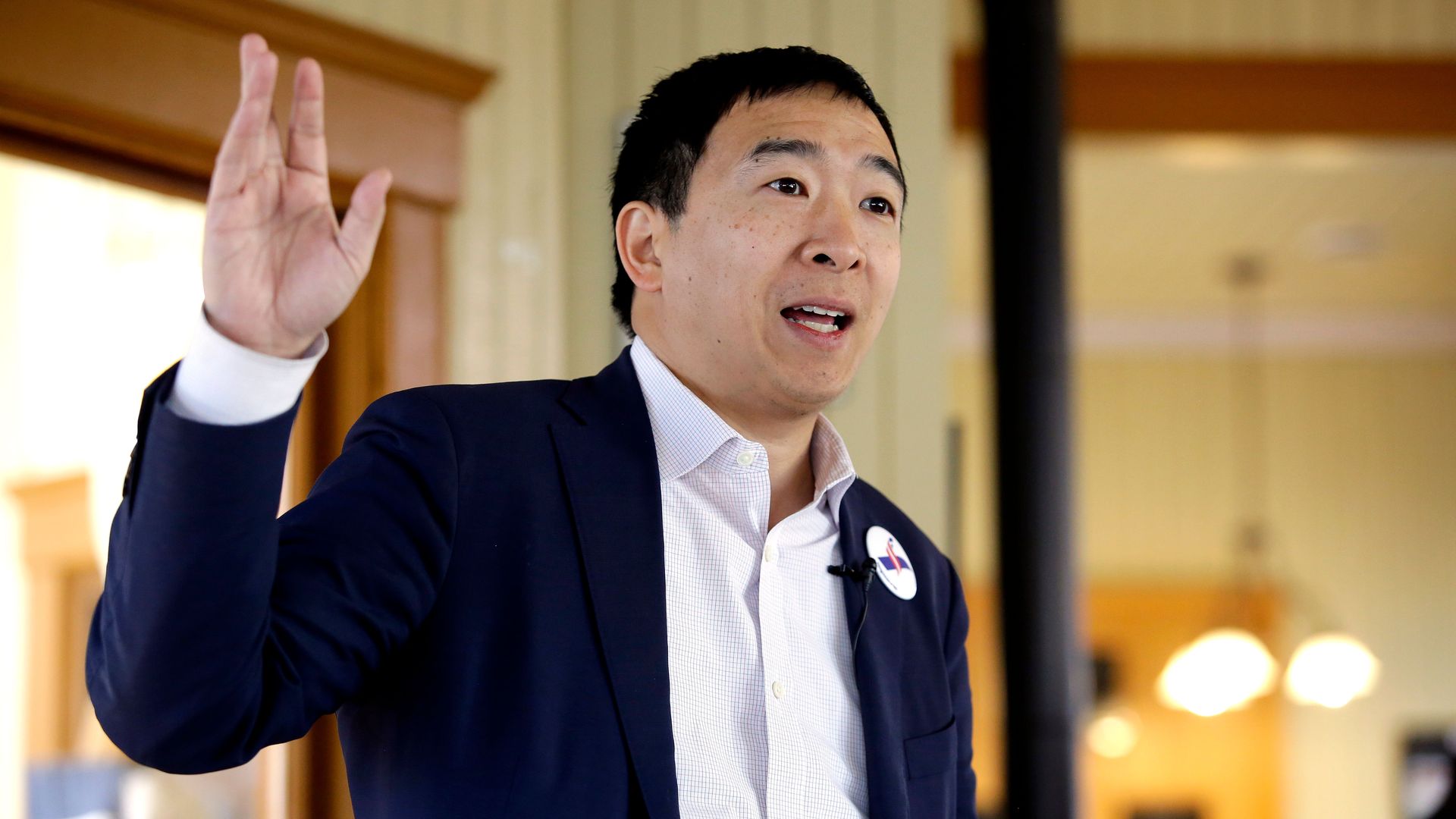 Andrew Yang is a former tech executive who founded Venture for America, a nonprofit young entrepreneur fellowship program. His central issue, a proposal for universal basic income, is grounded in the belief that millions of jobs will be wiped away due to automation.
Key facts about Andrew Yang:
Current position: n/a
Age: 44
Born: Schenectady, N.Y.
Undergraduate: Brown University
Date candidacy announced: November 6, 2017
Previous roles: Founder of Venture for America, Manhattan Prep CEO, Stargiving.com VP, corporate attorney at Davis Polk & Wardwell
Andrew Yang's stance on key issues:
Universal basic income: Yang's proposal — "The Freedom Dividend" — would provide every American over 18 years old with $1,000 per month. He contends that this would grow the economy by 13% and increase the labor force by 4.5-5 million people. This policy stems from his belief that AI and automation will wipe out millions of jobs, and that UBI is the path to avoiding economic ruin.
Gun control: Wants to require a federal background check and federal buyback program, eliminate the gun show loophole, ban high-capacity magazines and prohibit the manufacture and sale of bump stocks, suppressors, and other attachments.

References smart guns in his policy and says he plans to "invest in innovative technology that would make firearms harder to fire for non-owners of the gun."
Those who currently own firearms under Yang's plan would be grandfathered in with their existing licenses and receive one-time "Good Gun Owner" tax credits for adhering to additional requirements.

Medicare for All: Yang advocates for a single-payer health care system.
Economy: Yang calls his economic philosophy "human-centered capitalism," advocating for a system that emphasizes metrics that measure "human well-being and fulfillment," such as standard of living, health-adjusted life expectancy, childhood success rate and social and economic mobility. He described his plans as a "vision for a trickle-up economy."
Marijuana legalization: Yang pledged to legalize marijuana and pardon all non-violent drug related offenses, then later clarified that he would only pardon marijuana-related offenses. Yang said he would still decriminalize opioids.
Social media: Yang has proposed a federal department to oversee social media, citing "a huge surge in depression, anxiety, and emotional issues." He described it as "a Department of the Attention Economy."
Circumcision: In March, Yang came out against circumcision, telling The Daily Beast: "From what I've seen, the evidence on it being a positive health choice for the infant is quite shaky."
Key criticisms of Andrew Yang:
Anonymity: Yang is not well-known and will struggle to drive the conversation.
Inexperience: He has not worked in government before.
1 fun thing about Andrew Yang:
He says he rebranded universal basic income to the "Freedom Dividend" because it tests better with conservatives.
Go deeper:
Go deeper