Updated Feb 27, 2019 -

World
Recap: Michael Cohen's explosive public testimony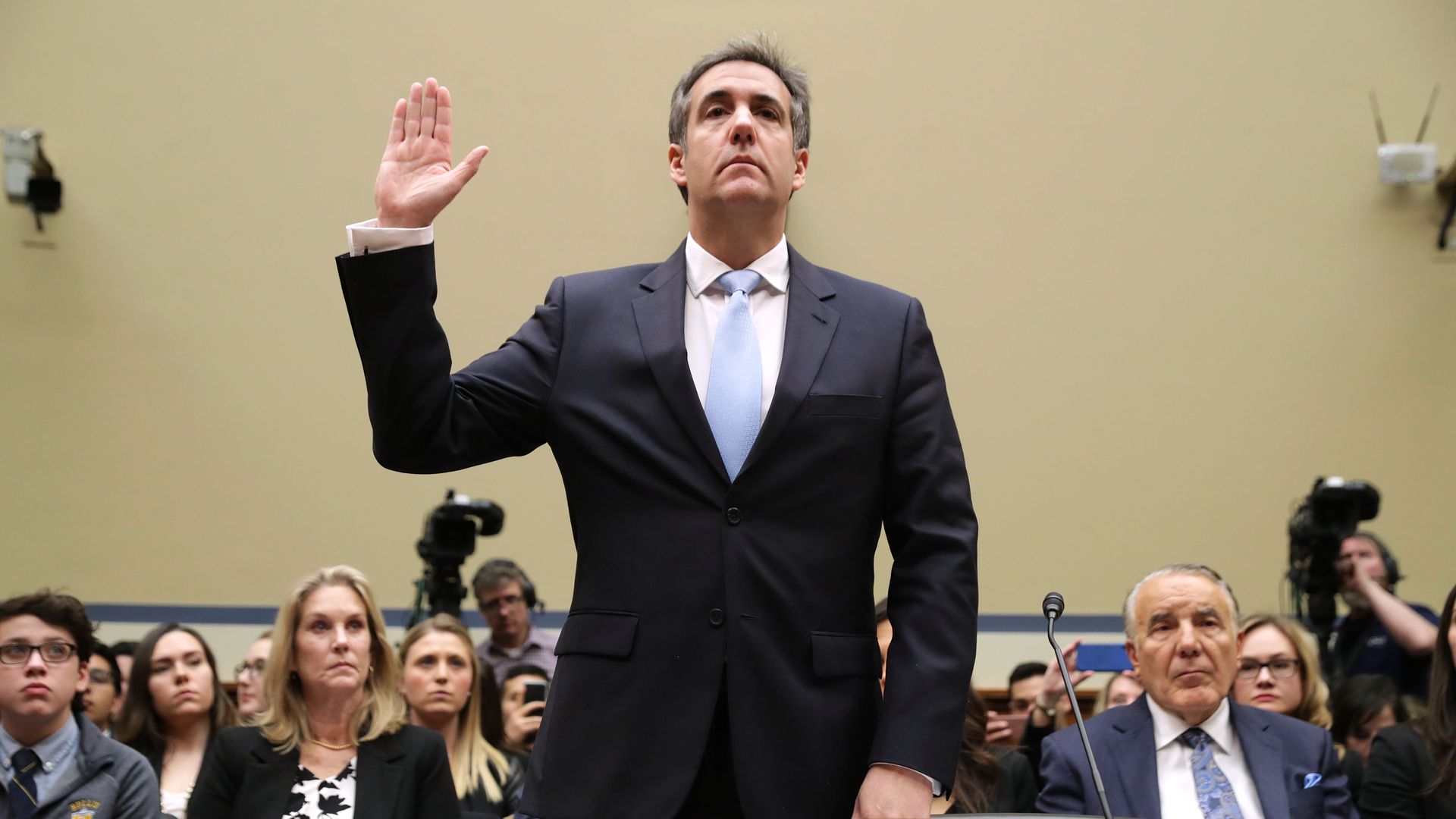 Michael Cohen, who worked as President Trump's fixer and personal attorney for 10 years, testified Wednesday before the House Oversight Committee.
1 big thing: Cohen told the committee that Trump is "becoming an autocrat," adding that The Trump Organization was steeped in a culture of threatening people — sometimes physically — who might pose a threat to Trump. "Every day, most of us knew we were coming in and we were going to lie for him on something. And that became the norm. ... It's exactly what's happening here in government, sir."
Highlights
Cohen's hearing started off with Rep. Mark Meadows (R-N.C.) unsuccessfully moving to postpone the hearing because Cohen did not submit his testimony 24 hours in advance.
Following his opening statement, Cohen described in detail how he, President Trump and Trump Organization CFO Allen Weisselberg repeatedly discussed how Trump would reimburse payments made to Stormy Daniels.
Cohen confirmed that Trump had advanced notice that Wikileaks was going to dump Democratic National Committee emails before the 2016 election. He said Trump cheered the release, but could not say whether Trump knew the specific contents of the emails.
Cohen testified that "Mr. Trump's desire to win would have him work with anyone." Asked whether Trump would have "the potential to cooperate or collude with a foreign power to win the presidency," Cohen answered: "Yes."
Cohen fought back against a characterization by Rep. Jim Jordan (R-Ohio) that he was disgruntled because he was not offered a job in the White House: "I was extremely proud to be personal attorney to the president. ... I did not want to go to the White House. ... Shame on you, Mr. Jordan."
Asked about his claims that Trump has made racist comments, Cohen said he had no proof to back up his allegations. Cohen did say, however, that he has taped about 100 conversations over 10 years.
Cohen said that he is in "constant contact with the Southern District of New York regarding ongoing investigations," and that they have asked him not to talk about his most recent conversation with Trump because it is currently under investigation. He also said he has spoken with special counsel Robert Mueller's office 7 times.
Asked whether Trump attempted to influence his testimony during a meeting prior to his appearance before the House Intelligence Committee, Cohen said: "It's difficult to answer, because he doesn't tell you what he wants. What he does is, 'Michael — there's no Russia, there's no collusion, there's no involvement, there's no interference.' I know what he means because I've been around him for so long."
Cohen testified that during a deposition, Trump either misled or lied under oath about not knowing Felix Sater, who worked with Cohen on the Trump Tower Moscow project and had an office on the same floor as Trump in Manhattan's Trump Tower.
Cohen repeated that on either July 18 or 19 of 2016, Roger Stone called Trump and told him on speaker phone that he had just finished a call with Julian Assange, who said there would be a massive dump of emails that would severely hurt the Clinton campaign. Leaked DNC emails were then published on July 22.
Addressing a critical component of the infamous Steele Dossier which alleges Cohen traveled to Prague to meet Kremlin officials in 2016, Cohen testified that he has never been to Prague or the Czech Republic.
Cohen testified that Trump has probably asked him about 500 times over 10 years to threaten an individual on his behalf, either through litigation or other means.
Cohen confirmed that he hired someone to rig online presidential polls for Trump in 2014, and that Trump directed him to do so.
Cohen told Rep. Alexandria Ocasio-Cortez that Trump inflated the value of his assets for insurance purposes and deflated them to get tax deductions. He said Trump Organization CFO Allen Weisselberg is aware of this practice.
Go deeper:
Go deeper