Some Congo politicians fanning violence against Ebola health workers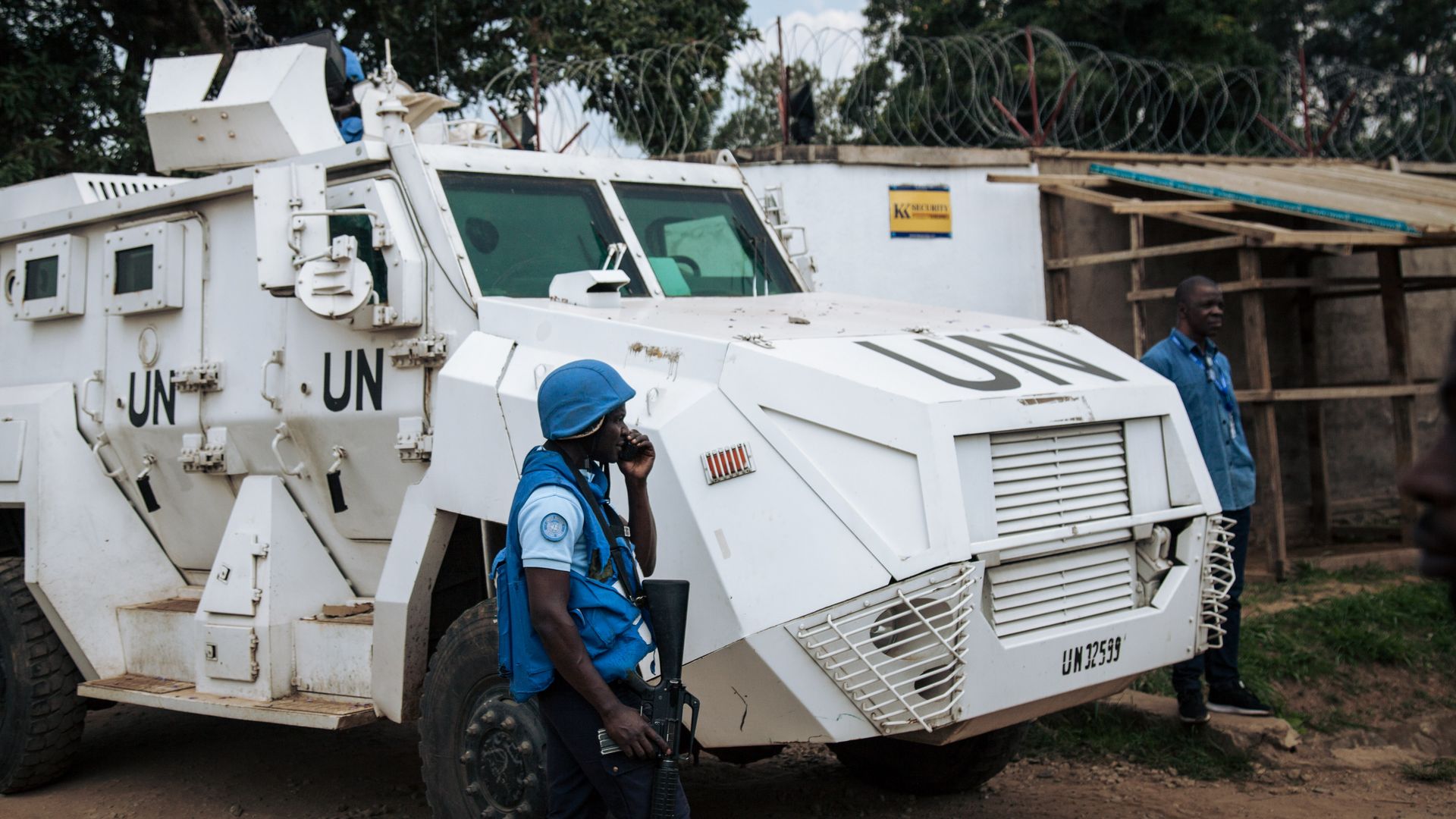 Anti-health worker rhetoric has led to deadly violence and setbacks for combatting the Ebola outbreak in the Democratic Republic of the Congo, according to the country's Ministry of Health and reports from international health organizations.
Why it matters: Doctors without Borders (MSF) announced Tuesday it is closing its Ebola Treatment Center (ETC) in Katwa after a violent attack killed one person and forced staff and patients to flee. Continued violence against health care workers and treatment centers has severely damaged efforts to combat this deadly outbreak, as each pullback or break in treatment can allow the contagious virus to spread.
According to a DRC Health Ministry spokesperson, local politicians are using anti-Ebola-treatment rhetoric "just to gain popularity," which is fomenting a "high level of urban violence" in Katwa, a current epicenter of the outbreak that has now surpassed the number of cases in the previous epicenters of Beni and Mangina.
Background: This outbreak is more challenging than the prior 9 outbreaks, as it's the first in an area experiencing an active, decades-long conflict. The two affected provinces also haven't experienced the disease before.
This creates the need to educate and push against misinformation, Daniel Lucey, adjunct professor of microbiology and immunology at Georgetown University Medical School, tells Axios.
What's new: On Feb. 24, there was a "traumatic" attack on the Ebola Treatment Center in Katwa, which ended up killing 1 person, partially burning down the facility, and forcing personnel and 10 patients to be evacuated, MSF announced.
"This attack has crippled our ability to respond to what is now the epicenter of the outbreak," Emmanuel Massart, MSF's emergency coordinator in Katwa, said in a statement Tuesday.
"After some successes in stopping transmission in the initial epicenters of Mangina and Beni — and some ancillary locations such as Tchomia, Mutwanga, and Masereka — the epidemic has spread from four to 19 health zones," MSF announced.
"We increased security around ETCs as we constantly receive threats of attacks," DRC Ministry of Health spokesperson Jessica Ilunga tells Axios. "The attack in Katwa was incredibly shocking for health teams. We were lucky that patients did not escape and that we managed to transfer them safely to other facilities. But if there is another similar attack, we might not be as lucky."
A spokesperson for the National Institute of Allergy and Infectious Diseases tells Axios that patients from the Katwa facility were transferred to another center in Butembo.
"I really admire the people on the ground who are doing this day and night. ... Their lives are at risk and they're still doing it, but that's what it'll take to get this done," Lucey said.
Yes, but: Lucey also said he's "hopeful" that the same measures can be taken in Katwa that succeeded in Beni, the former epicenter where there's been no new cases for 23 days, with 1 exception — a suspected case of sexually transmitted Ebola from a man who had been successfully treated.
Very rarely, the Ebola virus can remain in a survivor's semen for months or even a year after it's no longer present in the blood, Lucey said.
A synopsis in the CDC journal Emerging Infectious Diseases says more research is needed for studying immunologically protected body sites, like male gonads and parts of the eye, as potential new chains of transmission.
Go deeper:
Editor's note: This story has been corrected to better explain where the virus might be able to persist in the body (not in the tears) after a person survives.
Go deeper