Mr. Cohen goes to Washington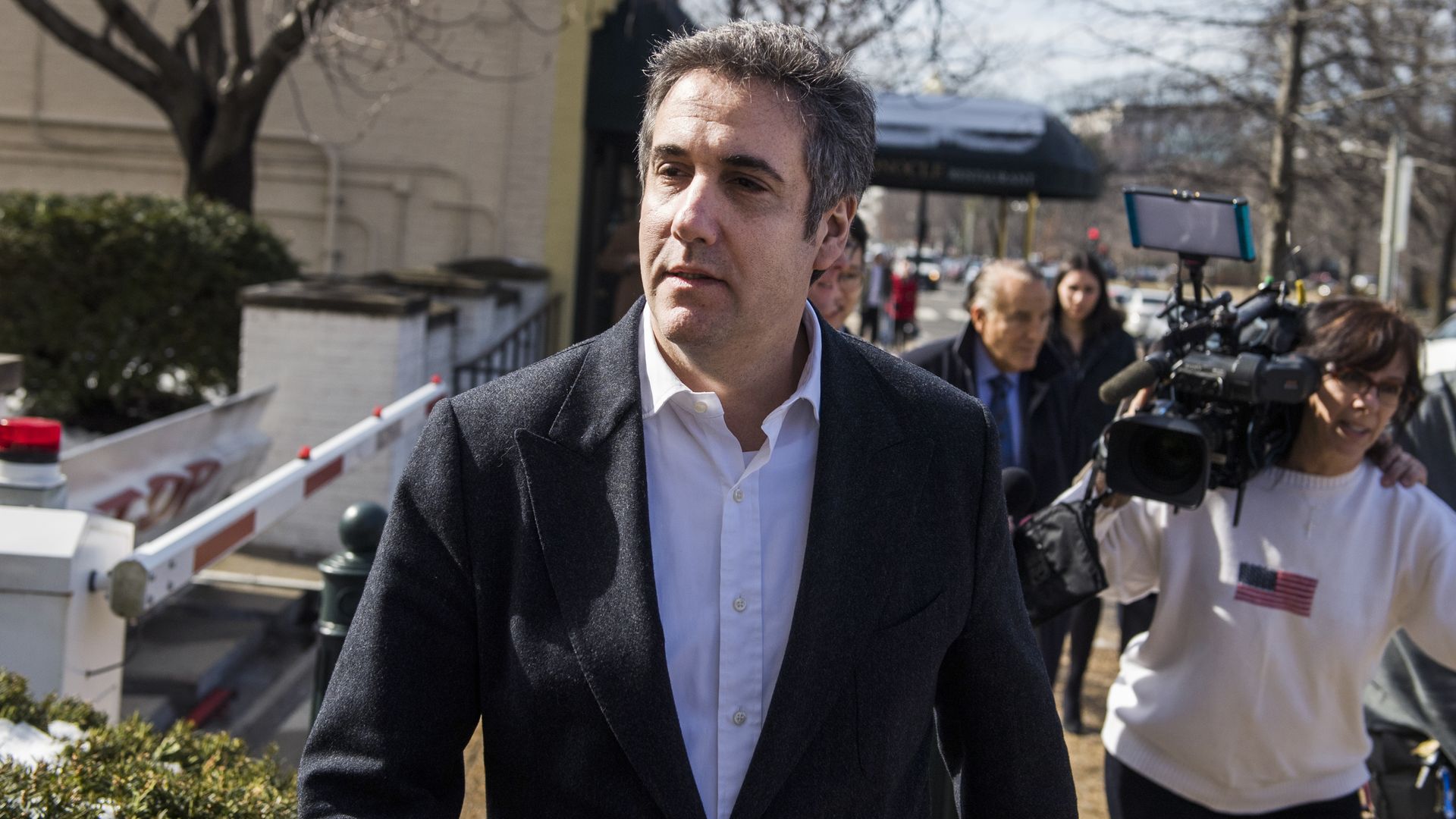 Michael Cohen, Trump's former lawyer and fixer, is set to testify for three consecutive days on Capitol Hill this week.
The backdrop ... Cohen's interview before the House Oversight Committee on Wednesday, his first and only planned public Congressional hearing, will produce a striking split-screen: He testifies while Trump meets in Hanoi with Kim Jong-un.
While some Democrats hope it'll be a blockbuster hearing — Rep. Jackie Speier, who serves on both the House Oversight and Intelligence committees, told Axios she thinks Michael Cohen could be "the John Dean of the Watergate crime" — some Democratic members privately acknowledge they don't expect Cohen to offer any new, substantially damaging information on Trump.
"We can't go into Russia stuff, because we can't in any way say something that hampers an ongoing investigation," said a Democratic aide on the House Oversight Committee. "Because of those parameters … it's not going to be any more damaging than what you've already seen." (House Oversight Chairman Elijah Cummings laid out 10 areas of focus for the hearing in a letter last week, and noted Russia was off-limits.)
Instead, Cohen will talk about Trump's character, and is expected to describe the "dirty deeds" he claims Trump directed him to carry out — some of which made him a felon.
"What Michael Cohen has to say will confirm what people already know about Donald Trump," Lanny Davis, Cohen's attorney, told Axios. "The question is, some people care about Michael's experience with repetitive lies and misconduct that in the private sector seem less surprising, but as president may seem very frightening."
"This is his chance to tell America in some comprehensive way what his involvement with Trump did to his life and what Trump is doing to our country," said Democratic Rep. Jamie Raskin, who serves on the Oversight committee.
Cohen's closed-door hearings before the Senate and House Intelligence committees (Tuesday and Thursday) may be more fruitful than the public Oversight hearing given both committees plan to focus on ties between Trump's 2016 campaign and the Kremlin, as well as whether foreign entities have any leverage over Trump, his family, and his businesses, according to sources on both committees.
"We will be conducting a closed-door interview with Mr. Cohen to fully explore his previous testimony before our committee, allow him to correct the record, and answer questions related to our probe," said Rep. Adam Schiff, chairman of the House Intelligence Committee.
"We are particularly interested in hearing from Mr. Cohen about the Trump Tower Moscow project and any other foreign financial entanglement..."
A Democratic staffer on the Senate Intelligence Committee indicated their questioning will be similar, but said they'll also ask about allegations in the Steele Dossier that Cohen met with Kremlin officials in the Czech Republic in 2016, as well as whether any foreign payments were made to Trump's inaugural committee.
Go deeper