Kushner says Middle East peace plan focuses on "drawing the borders"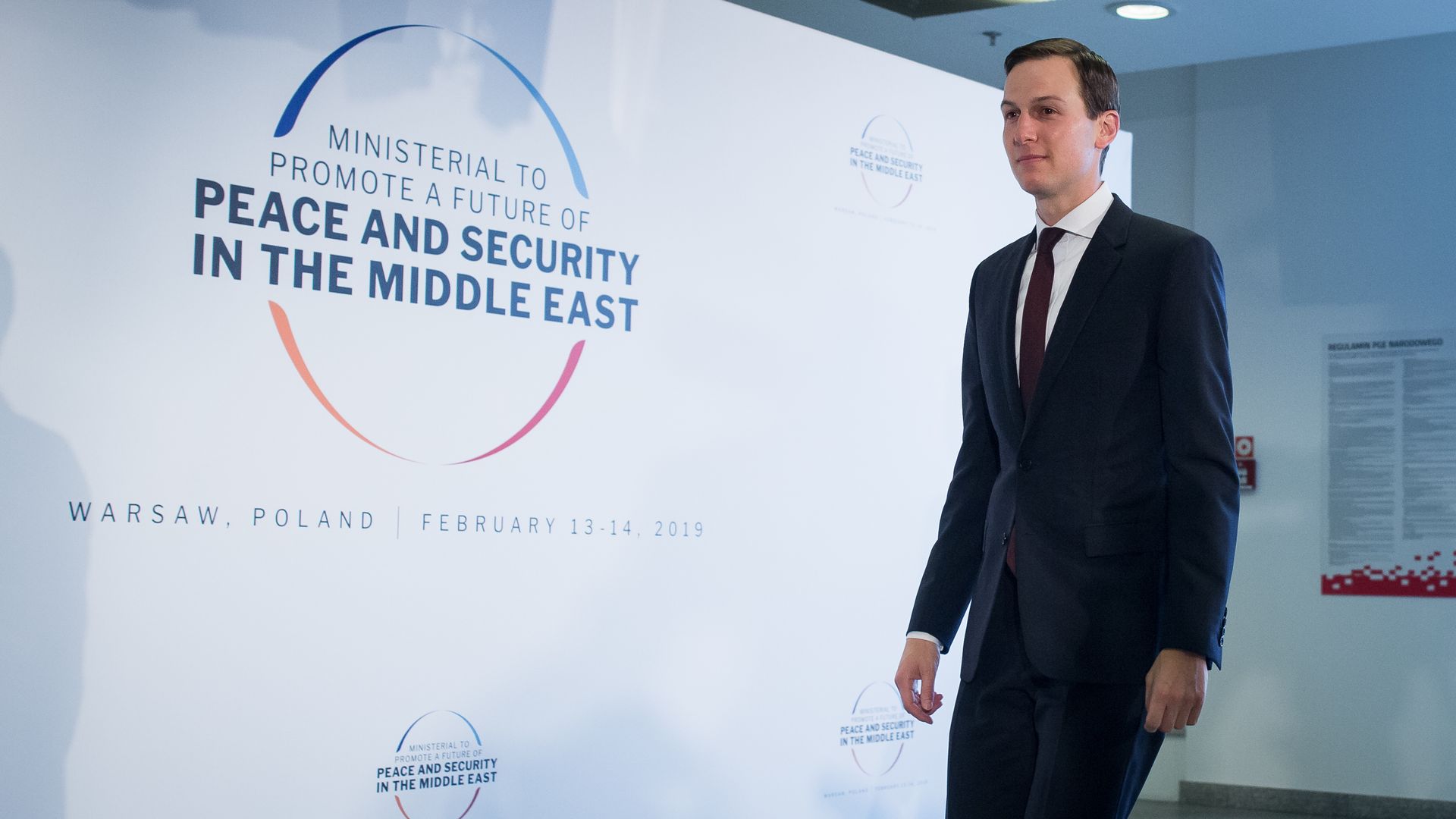 In a rare interview, Jared Kushner, who leads the White House "peace team," told Sky News Arabia that the upcoming U.S. peace plan will focus on "drawing the borders" between Israel and the Palestinians and solving the core issues in the conflict.
Why it matters: The details of the plan, which is expected to be revealed after the April 9 elections in Israel, have been a closely held secret. The forthcoming plan has already become an issue in Israel's election campaign, and Kushner's remarks today drew reactions from the key political players.
Kushner gave the interview during a trip to the Middle East that includes stops in the UAE, Bahrain, Qatar, Oman and Saudi Arabia. One of the goals of the trip is to rally support from the leaders and influence public opinion in the Gulf states.
Kushner said in the interview that the plan will include practical solutions to the Israeli-Palestinian conflict that will be just but also relevant to the reality of 2019. Kushner said the pillars of the plan will be freedom, dignity, security and economic prosperity.
On the secrecy surrounding the plan, Kushner said that in past negotiations, details leaked ahead of time, which caused political leaders on both sides to backtrack.
Kushner also said that the Trump peace plan envisions the Palestinians in the West Bank and the Gaza Strip united under one leadership and one government — unlike the current division between Fatah (in the West Bank) and Hamas (in Gaza).
What they're saying: Naftali Bennett, the leader of Israel's New Right party, said the comments were proof Prime Minister Benjamin Netanyahu and Trump were coordinating on the timing and the details of the peace plan. Bennett said, "There is a clear danger that Netanyahu will form a government after the elections that will establish a Palestinian state."
Netanyahu, who said in a speech last week that a Palestinian state would endanger Israel, said, "I protected the land of Israel against the hostile Obama administration and I will keep on doing it with the supportive Trump administration."
Go deeper