Republicans condemn Cummings' "irresponsible" accusations against Trump lawyers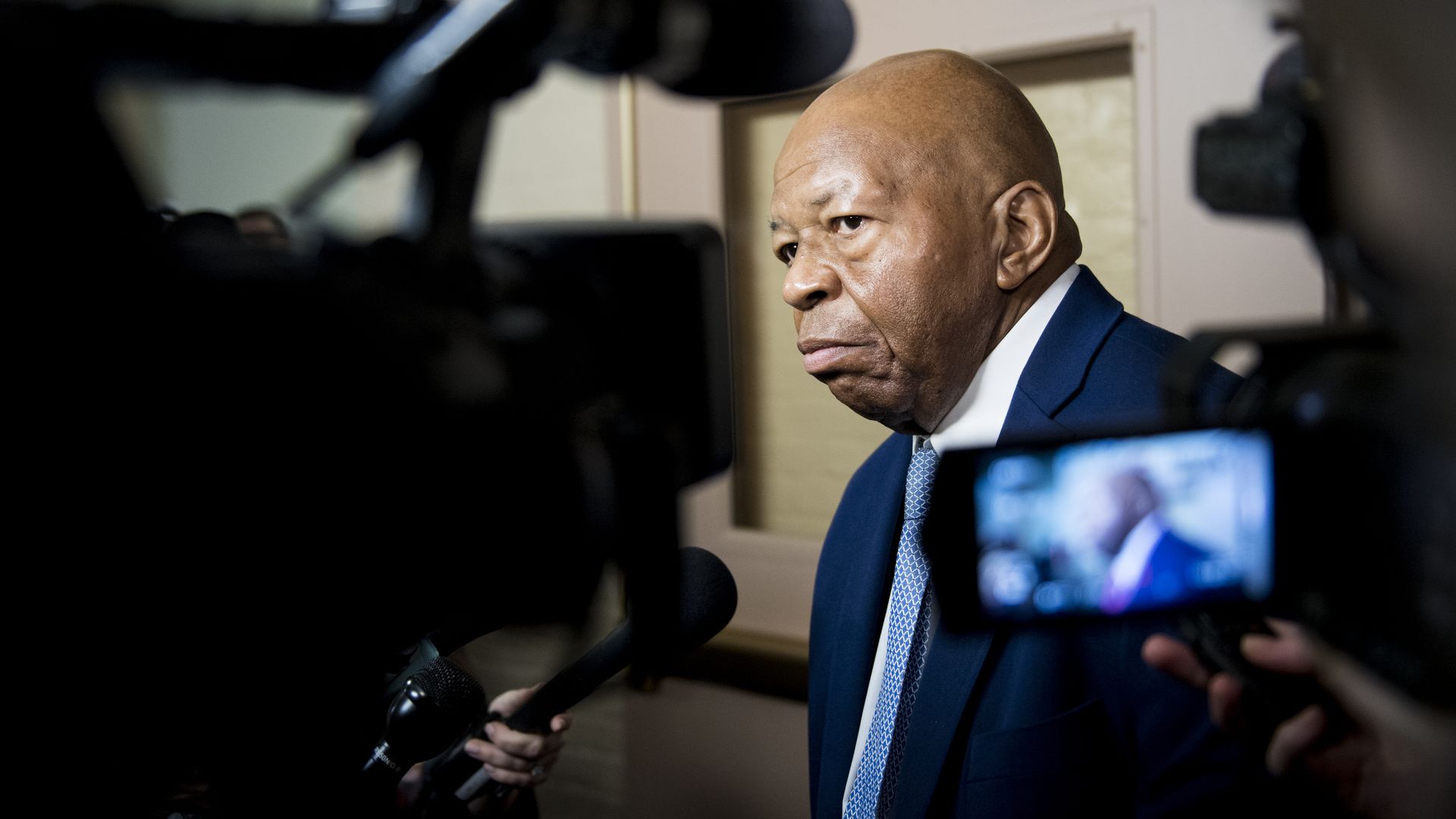 Rep. Jim Jordan (R-Ohio), ranking member on the House Oversight Committee, and Rep. Mark Meadows (R-N.C.), sent a letter to Chairman Elijah Cummings (D-Md.) on Thursday criticizing his claims that President Trump's lawyers made false statements to federal ethics officials as "extremely unfair and unsupported accusations."
Why it matters: The letter highlights the increasingly contentious relationship between Cummings, who is leading House Oversight's onslaught of investigations into Trumpworld, and top Republicans on the committee. It also reveals how Republicans plan to publicly defend the president: by scrutinizing how Democrats seek and obtain information relating to their probes.
The backdrop: In a letter to White House Counsel Pat Cipollone on Feb. 15, Cummings said that internal documents from the Office of Government Ethics (OGE) described Trump's personal lawyer, Sheri Dillon, and former White House attorney Stefan Passantino (who now represents the Trump Organization) as having provided "false information" and "evolving stories" regarding Trump's reimbursements to Michael Cohen for hush money paid to Stormy Daniels during the 2016 campaign.
Note: Cohen pleaded guilty last year to campaign finance violations related to the $130,000 payment, and claimed that Trump directed him to make the payment.
What they're saying: Jordan and Meadows wrote that Cummings' charges were based on "cherrypicked passages of incomplete, one-sided handwritten notes prepared by OGE staff" and that "this is not the fair oversight process you promised for the Committee."
The Republican congressmen also questioned what information Cummings based his assertions on, and whether he reached out to the attorneys, OGE's then-acting director David Apol, and other relevant agencies before sending the letter to Cipollone.
Meadows and Jordan claim that Cummings' accusations against Passantino were specifically based off "a single phone conversation" with OGE experts, and that Passantino was not speaking with authority or offering an explanation about the payments. Rather, he was trying to clarify OGE disclosure regulations.
The congressmen state that "it is simply irresponsible to conclude that Passantino made false statements to OGE."
Jordan and Meadows also sent a separate letter to OGE Director Emory Rounds questioning the agency's process in responding to Cummings' initial request for documents relating to the payments, and claim "one could suspect that OGE may have known the request was coming."
The other side: "These Republican letters seem to be attacking the very concept of congressional oversight — one attacks the independent Office of Government Ethics for providing information to Congress, and the other attacks the Committee for seeking documents from the White House," Aryele Bradford, communications director for the House Oversight Committee, told Axios.
"Congress' job under the constitution is to seek and defend the truth, and be an independent check on the executive branch — not to act as the president's defense counsel," Bradford added.
Go deeper