Samsung's first foldable smartphone will cost nearly $2000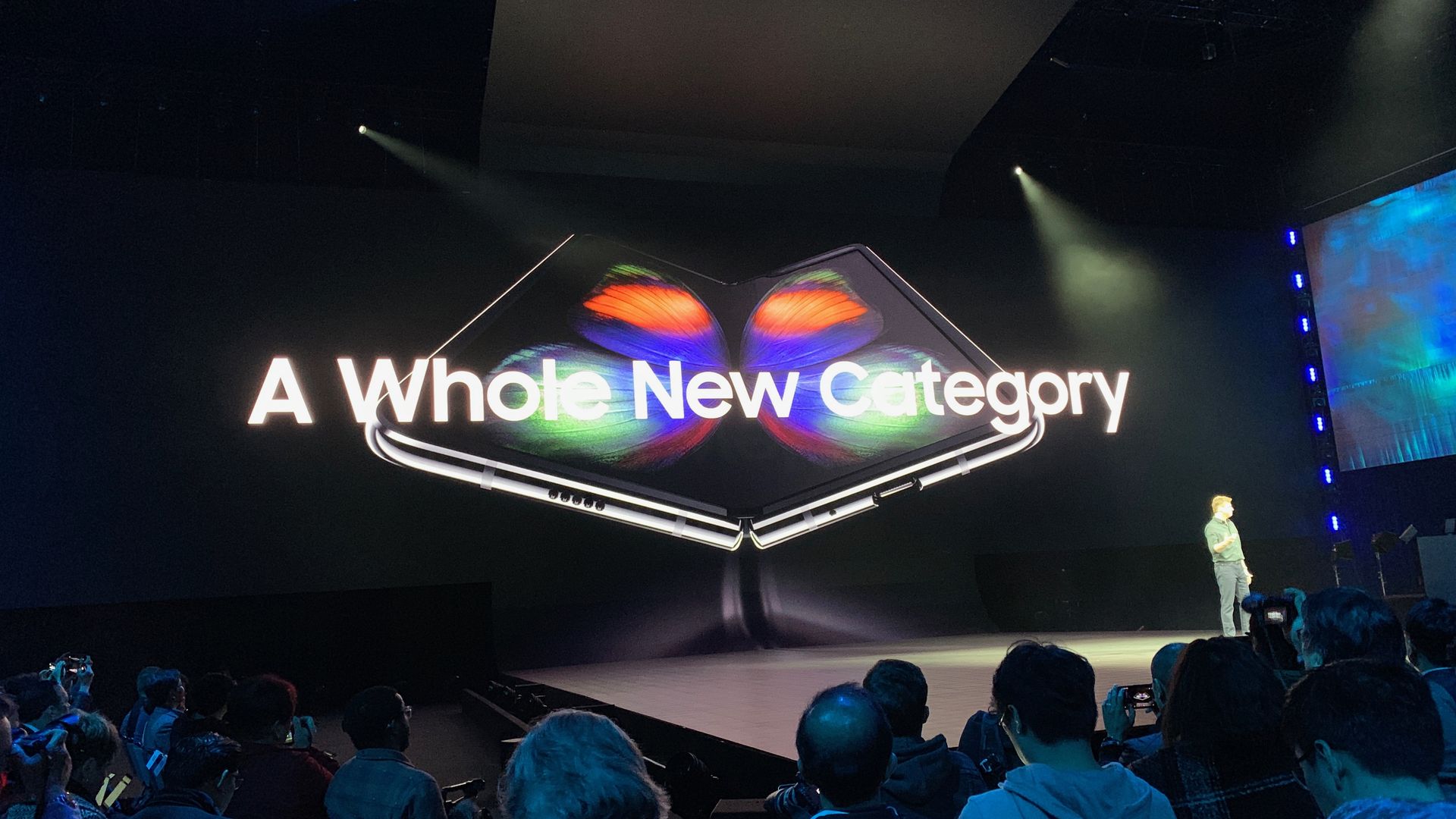 Samsung kicked off a San Francisco event Wednesday with details on Galaxy Fold, a $1,980 smartphone that unfolds into a tablet. It also introduced 4 versions of its mainstream flagship phone, the Galaxy S10, which starts at a far more affordable $749.
Why it matters: Samsung hopes the foldable will usher in a whole new category of devices, while the S10 family aims to rival Apple's iPhone.
Galaxy Fold details:
The Fold will come in LTE and 5G models, but will start at a whopping $1,980 — the price of a high-end phone and tablet combined.
The device has a 4.6-inch display when closed and opens to reveal a 7.3-inch display.
It packs 6 cameras and will ship in April.
Samsung previewed its foldable at a developer conference last year.
Meanwhile, the Galaxy S10 will come in 4 models:
A smaller model, known as Galaxy S10e, starts at $749 and has a 5.8-inch display.
The standard model, the S10, starts at $899 and has a 6.1-inch display.
A larger screen model, the S10+, starts at $999 and has a 6.4-inch display.
A 6.7-inch model, the Galaxy S10 5G, works with 5G networks.
S10 details:
The S10e has dual rear cameras; the S10 and S10+ have 3, including standard, zoom and wide-angle; while the Galaxy S10 5G adds a fourth, depth-sensing camera as well as an additional depth-sensing camera on the front.
All models can wirelessly charge another device, such as another phone or compatible accessory, and pack Qualcomm's new high-end Snapdragon 855 processor.
An ultrasonic fingerprint reader sits underneath the full-screen display on the S10.
The camera app will feature an Instagram mode, developed with the Facebook subsidiary, that includes access to its filters and tools as well as easy posting to the social network. It also partnered with Adobe for a custom version of its Premiere Rush video-editing software.
Pre-orders for all but the 5G model will start Thursday, with the device hitting store shelves March 8. The 5G model will ship in the second quarter, first on Verizon and later in the quarter on other carriers.
In addition to the phones, Samsung introduced a pair of wireless earbuds, known as Galaxy Buds. Those who pre-order the S10 or S10+ will get the $129 earbuds for free.
Go deeper