Bernie Sanders and Democrats' age problem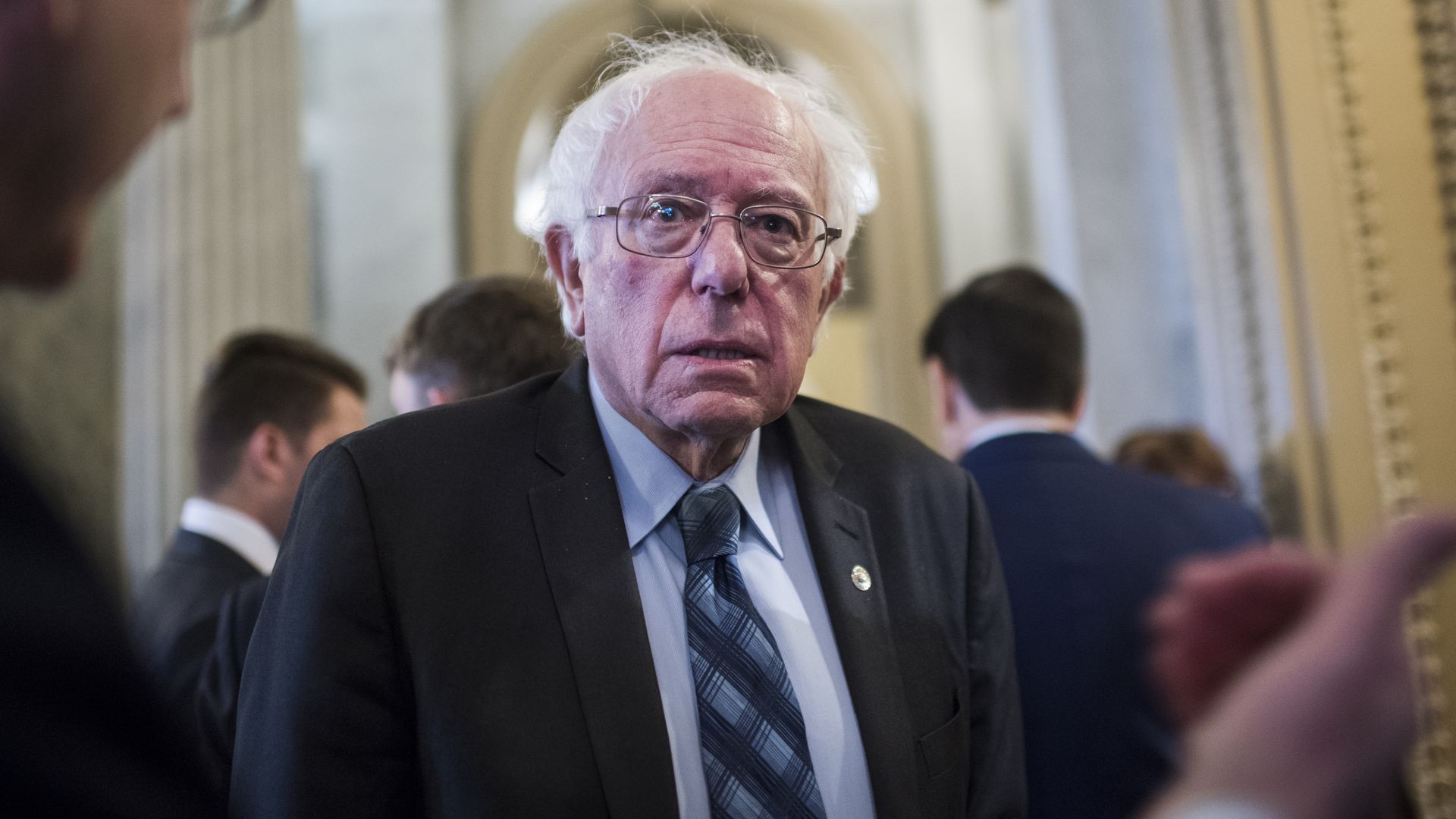 Democrats seem to be addicted to old age ahead of the 2020 presidential election.
By the numbers: Sen. Bernie Sanders, 77 (five years older than President Trump, a spry 72), jumped into the race yesterday. And Sen. Elizabeth Warren, 69, was one of this cycle's first to announce. For some in the party, former Vice President Joe Biden, 76, is the savior.
Why it matters: Despite that lineup, today's Democratic Party is actually dominated by youthful energy.
That's clear from all the young House members in the 2018 midterms, the activists pushing lawmakers farther to the left, and the fact that millennials are Democrats' strongest age group.
The big picture: The party is suffering from what Democratic strategist Doug Sosnik calls the "barbell effect."
On one end are the seniors. On the other end are all the 40- and 50-somethings moving up in the ranks: Sens. Cory Booker (49), Kirsten Gillibrand (52), Kamala Harris (54) and Amy Klobuchar (58).
Plus South Bend, Indiana Mayor Pete Buttigieg (37), Rep. Tulsi Gabbard (37), Julián Castro (44) and Beto O'Rourke (46).
And we rarely elect oldsters: Since 1828, only 3 Democratic presidents have been in their 60s when inaugurated — and none came close to Sanders, who would be 79 if elected in 2020.
The average age of every previous Democratic president in history on Inauguration Day is 52.
Be smart: If a 70-something is elected as president, it's not going to stymie the grassroots generation of the Democratic Party. But it will throttle some of the younger activists' energy.
If a 40- or 50-something is elected, there's likely going to be an emerging generation pushing to take power. Expect the voices of millennials and activists to be even louder.
If Democrats lose the 2020 election, "that'll be a complete breaking of the wall and the dam, and this emerging generation will be completely in charge of the party going forward," said Sosnik, who was a senior adviser to Bill Clinton during his presidency. "We only have a leader if we have a president."
Sanders insists that age is just a number. "I think, you know, when we look at people, whether they're old or they're young, you've got to look at the totality of the person," Sanders said in an interview with CBS yesterday.
The backstory: The Democratic presidential nominees who ultimately lost the presidency skew a bit older than those who actually won: 13 Democratic nominees among the presidential losers have been over 54.
Biden has been leading early polls by double digits, likely because of high name recognition. But Bill Whalen, a Hoover Institution research fellow, said Biden faces a similar problem that Hillary Clinton did in 2016: He represents the past more than the future.
"The weakest argument to make for running for president is electability. Primary voters don't want to hear that; they want passion and enthusiasm," Whalen said.
The bottom line: You don't have to be young to attract young voters — Sanders proved that in 2016. But now that there's a large group of younger candidates competing for their votes, that could all change in 2020.
Go deeper