Report: Trump asked Whitaker to appoint ally to lead Cohen probe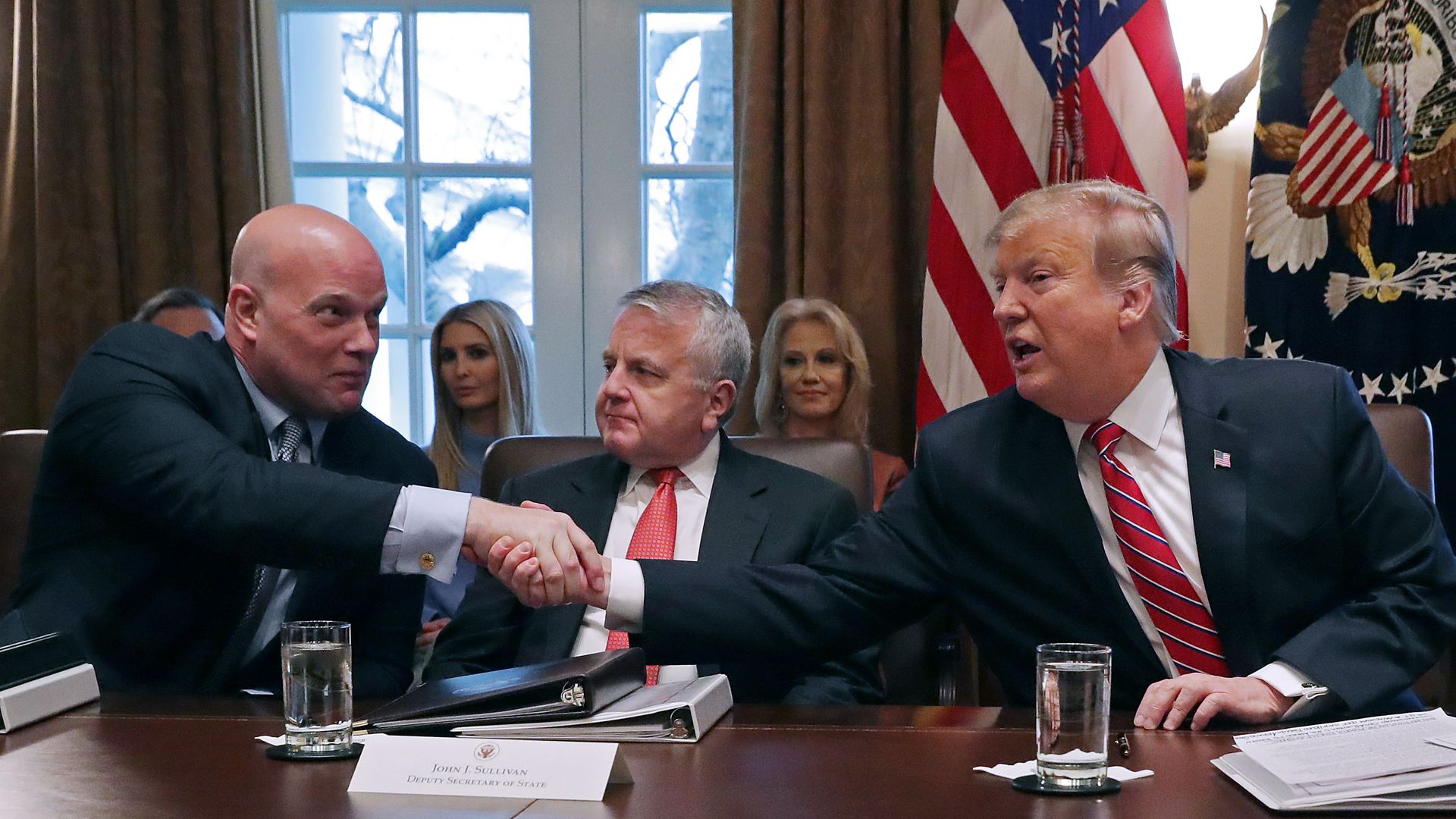 President Trump late last year called acting Attorney General Matthew Whitaker to ask whether a Trump-appointed attorney could "unrecuse" himself in order to lead the Southern District of New York's investigation into hush money payments during the 2016 election, the New York Times reports.
Why it matters: There is no indication that Whitaker took any steps to appoint Trump ally Geoffrey Berman to lead the investigation, which had ensnared the president's longtime personal attorney Michael Cohen. But Whitaker, who has reportedly told colleagues that part of his job was to "jump on a grenade" for the president, testified to the House Judiciary Committee earlier this month that Trump had never pressured him to intervene in any investigation.
House Democrats are now pursuing a formal deposition of Whitaker as they scrutinize whether he committed perjury.
Asked Tuesday whether the "unrecusal" conversation with Whitaker ever occurred, Trump responded: "No, not at all. I don't know who gave you that. That's more fake news."
The big picture: The Times piece reveals a number of unreported incidents over the course of the two last years that shed light on Trump's extensive efforts to derail the various investigations that threaten his presidency.
After former national security adviser Michael Flynn was fired for lying about his contacts with Russian officials, Trump directed then-Press Secretary Sean Spicer to tell reporters that the president asked for his resignation — which the White House counsel later concluded was misleading.
In the summer of 2017, after the president threatened to fire special counsel Robert Mueller, one of Trump's lawyers reportedly reached out to attorneys for Flynn and former campaign chairman Paul Manafort to discuss possible pardons.
The bottom line: There are more than 1,100 instances of Trump publicly attacking the Russia investigations. This, the Times notes, has been "a public relations strategy as much as a legal strategy."
Go deeper