Big Pharma's GOP firewall is weakening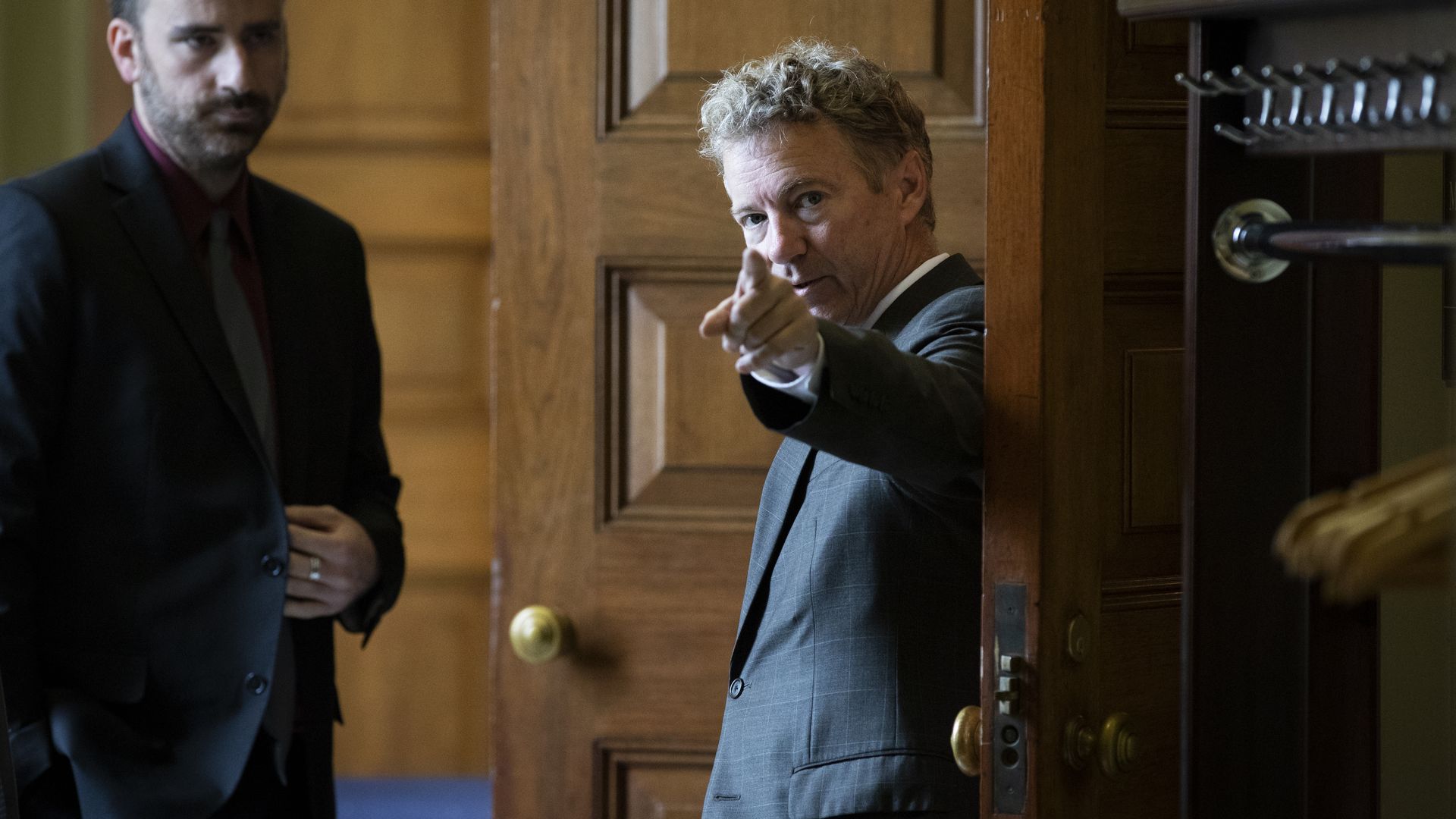 Congressional Republicans are increasingly open to cracking down on the tactics pharmaceutical companies use to keep competition at bay — changes that were once a non-starter for the GOP.
Why it matters: Critics say drug companies manipulate the patent system to extend their monopolies and keep prices high. The industry has billions of dollars on the line as lawmakers take a closer look at changing those patent rules.
The big picture: House Democrats are "actively looking into potential solutions to patent abuses by companies that delay cheaper generics from coming to market," according to a Democratic aide. And Republicans are more open to that idea than ever before.
"I think it's terrible that Big Pharma sort of abuses the system to try to sort of evergreen these patents and keep them around forever, and I think it's part of the answer," Sen. Rand Paul (R-Ky.) said.
"I'm open to looking at a lot of things, and I think maybe Big Pharma might be more cooperative if they thought we might actually limit the exclusivity," he added.
It's not just flame-throwers like Paul who are talking about this.
Sen. Susan Collins (R-Maine) said she's introducing legislation soon that's "aimed at some of the gaming of the system that we see going on."
"I think it's time to look at the broader issue of whether the way in which companies are protecting their patented drugs is leading to higher costs," Sen. Rob Portman (R-Ohio) said.
In the past, Republicans were quick to defend the existing patent system, saying it's a necessary incentive for innovation, while they avoided defending individual bad actors. But many members' tone, at least, is changing, and they aren't ruling out reform.
And drug companies are getting worried about the GOP's interest in patents, according to a GOP lobbyist who works with the companies.
Between the lines: It's unclear how far any of this will ultimately go. But some Democrats are optimistic about compromise.
"Evergreening might be an area where we can get some bipartisan agreement on rooting out the worst of the abuses," said Sen. Elizabeth Warren (D-Mass.).
How it works: New drugs get patent protections and a period of market exclusivity, both of which block competition from cheaper generics. The idea was to reward innovation and give drugmakers an incentive to come up with new products.
But critics say pharma is gaming the system — for example, by making minor changes to their drugs and taking out a new patent, extending their monopolies longer than the system intended.
One study published in the Oxford Academic last year found that 78% of the drugs awarded new patents between 2005 and 2015 weren't new drugs, but existing ones.
There has been a bipartisan push to end specific categories of gaming, but there is a much wider world of potential targets.
The bottom line: A mix of Trump's rhetoric, his administration's aggressive policies, and Democrats' leftward march on health care has forced Republicans to become more proactive on drug prices.
"Big Pharma needs to wake up and say, we need to talk to people...who believe in capitalism, believe in profit, believe in businesses succeeding, but don't like to see the government manipulated for people's profit," Paul said.
Go deeper