How Amazon's New York playbook backfired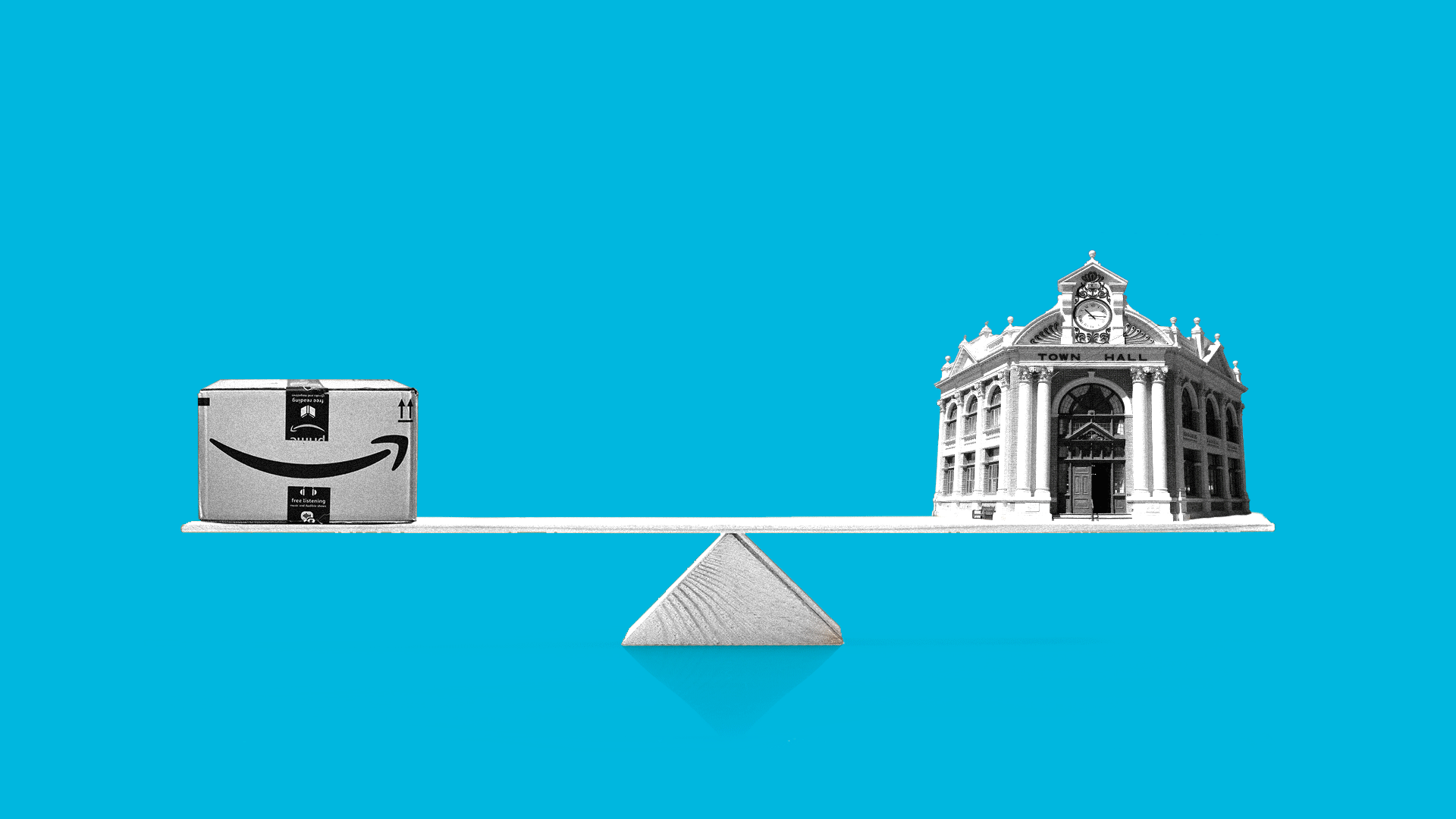 Amazon's retreat from Queens shows us the dynamics of a new local power game — one in which giant tech companies play on the same field with governments, as equals, with equal influence over our economies and communities.
The big picture: The company's move cheered those New Yorkers who believed the deal gave Amazon too much in the way of tax breaks and financial incentives, even as it disappointed local officials who'd banked on Amazon's promise of 25,000 new jobs.
Context: Amazon has played a high-handed game all along in its headquarters search.
When it launched the $5 billion HQ2 competition in September 2017, it invited mid-sized cities across the U.S. to compete in what felt like a reality-TV pageant.
Then, in November 2018, it announced it would split its new headquarters between two of the country's most powerful regions, New York and greater D.C.
Now it says it really only needs one of these two projects, after all, and will make smaller investments in many other U.S. cities.
How it works: Along the way, Amazon gave us a glimpse into the new playbook that a tech company functioning like a quasi-state can use to flex its power.
Close the doors: Dicker with cities and states in secret, as if you're negotiating an arms-control deal, not a local building project.
Hide your cards: Tell the other side what you want without letting on how flexible you're actually going to be.
Change the game: In the end, Amazon may simply prefer to rewrite its entire expansion plan than have to horse-trade with demanding and unpredictable local elected officials.
Winners: Leaping to conclusions about who came out on top here is a mistake.
Rep. Alexandria Ocasio-Cortez, whose district is next door to the Amazon site, tweeted about defeating "Amazon's corporate greed, its worker exploitation, and the power of the richest man in the world."
In this version, New Yorkers won and Amazon lost: It suffered a PR black eye and has to regroup.
But New York didn't win much. Polls showed wide support in the area for bringing Amazon to Queens, even as some residents feared rent increases.
There's another way to play this game. Google and Apple have been undertaking major expansions outside of Silicon Valley and doing so with a lot less tax money and a lot less drama.
Apple said a year ago it was looking at a spot outside of California and Texas in which to expand. It decided instead to expand in Austin, pledging to invest $1 billion there.
It's also setting up new offices in Seattle, San Diego and the Los Angeles suburb of Culver City and expanding operations in Pittsburgh, New York, Boston, Portland, Oregon and Boulder, Colo.
Impact: No public search, minor tax breaks.
Google announced last year a major expansion in New York, spending $2.4 billion to acquire Chelsea Market and then, in December, announcing a further $1 billion investment.
This week the company announced it was spending $13 billion this year on data centers and offices throughout the US.
Impact: Lots of jobs in New York, no tax breaks.
Go deeper:
Go deeper