What New Yorkers have to say about Amazon's huge reversal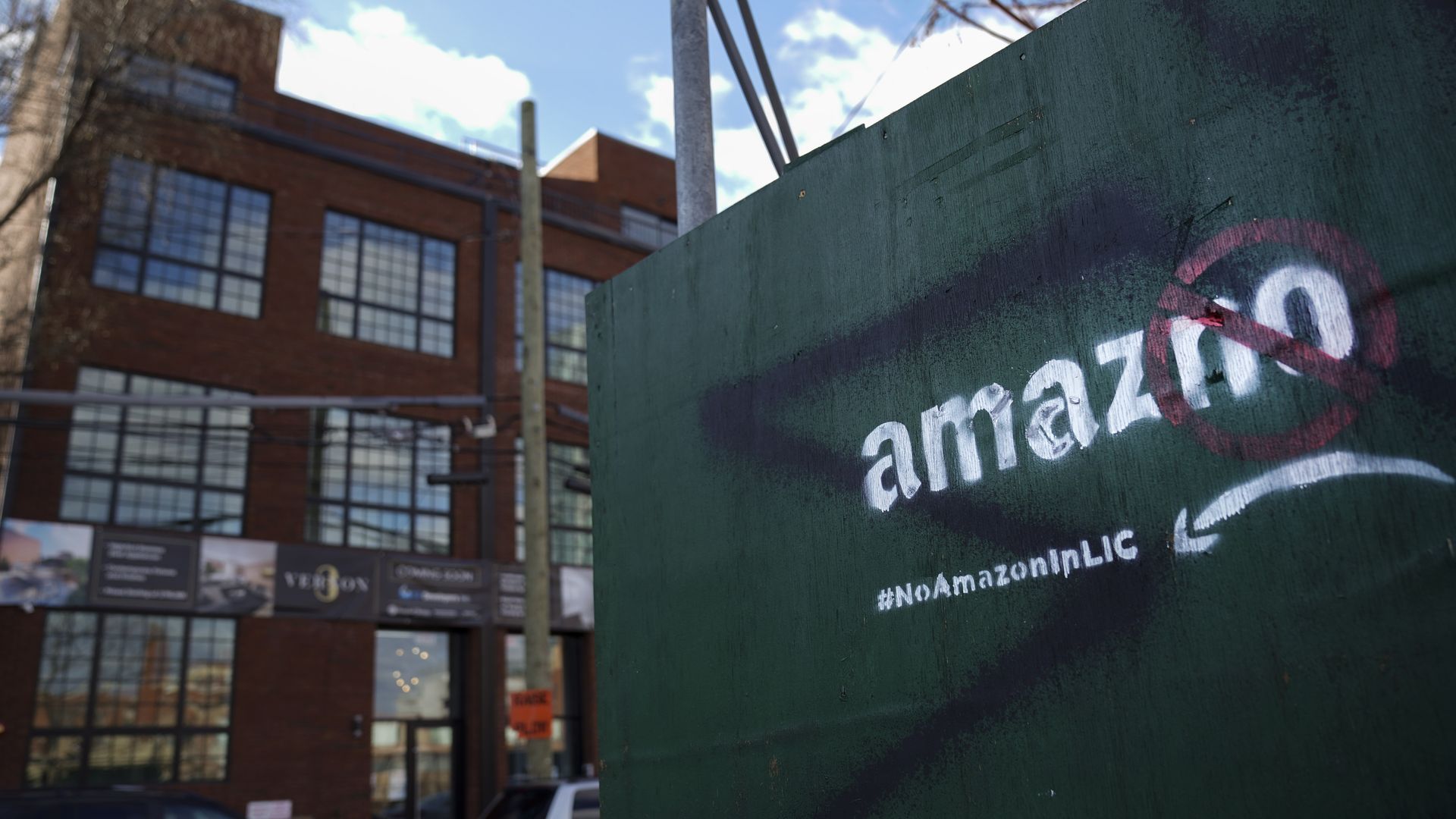 LONG ISLAND CITY, New York — On the corner of 41st Avenue and 12th Street, right in front of the Queens Library Tech Lab, people were giddy, furious and astonished at the news they heard today: Amazon, after all, will not build a gigantic new headquarters in their neighborhood, employing 25,000 people earning an average of $100,000 a year each. One emotion seemed ubiquitous: whiplash.
What's happening: Amazon said it will add jobs to 17 of its existing offices around the country rather than build in New York, angry at pushback that spilled over here and elsewhere in the city over the $3 billion price tag promised to attract the company, as Axios' David McCabe has reported.
There, a couple of blocks from the 21st St.-Queensbridge subway stop, was Debra Lee, who has lived for 38 years at Queensbridge Houses, the country's largest housing project, which dominates the neighborhood.
Like many of the dozen people Erica spoke with, Lee said the enormity of the Amazon project would have pushed old-time residents out. And that made them unsentimental about Amazon's decision.
"There's no need for Amazon. Go somewhere else," Lee said.
Amazon's decision is not entirely surprising: Axios reported yesterday that the company's plans — born in a different era in which Big Tech was fêted everywhere — had gone aground in a new age of popular unhappiness with the companies.
On this corner, you could feel the kind of in-your-face personality that Amazon perhaps had not anticipated — or feared. In this case, that personality was April Simpson, president of the Queensbridge Tenants Association, who until now had publicly supported the potential of new neighborhood jobs.
When asked if she was upset, she said, "Do you want me to beat you with this cane?" Simpson lashed out at Amazon.
"I'm very disappointed because we were in negotiations with them. This is shameful. They should be ashamed."
— April Simpson, president of the Queensbridge Tenants Association
Elcina Alban was disappointed, too. "It would have been good for the community," she said.
The community feels it was deceived by businesses before, another longtime resident said, gesturing to the buildings all around. "All these hotels around here said they were going to hire people," he said, declining to give his name. "They didn't hire half of what they said they would."
Go deeper