Amazon cancels plans to build portion of HQ2 in New York City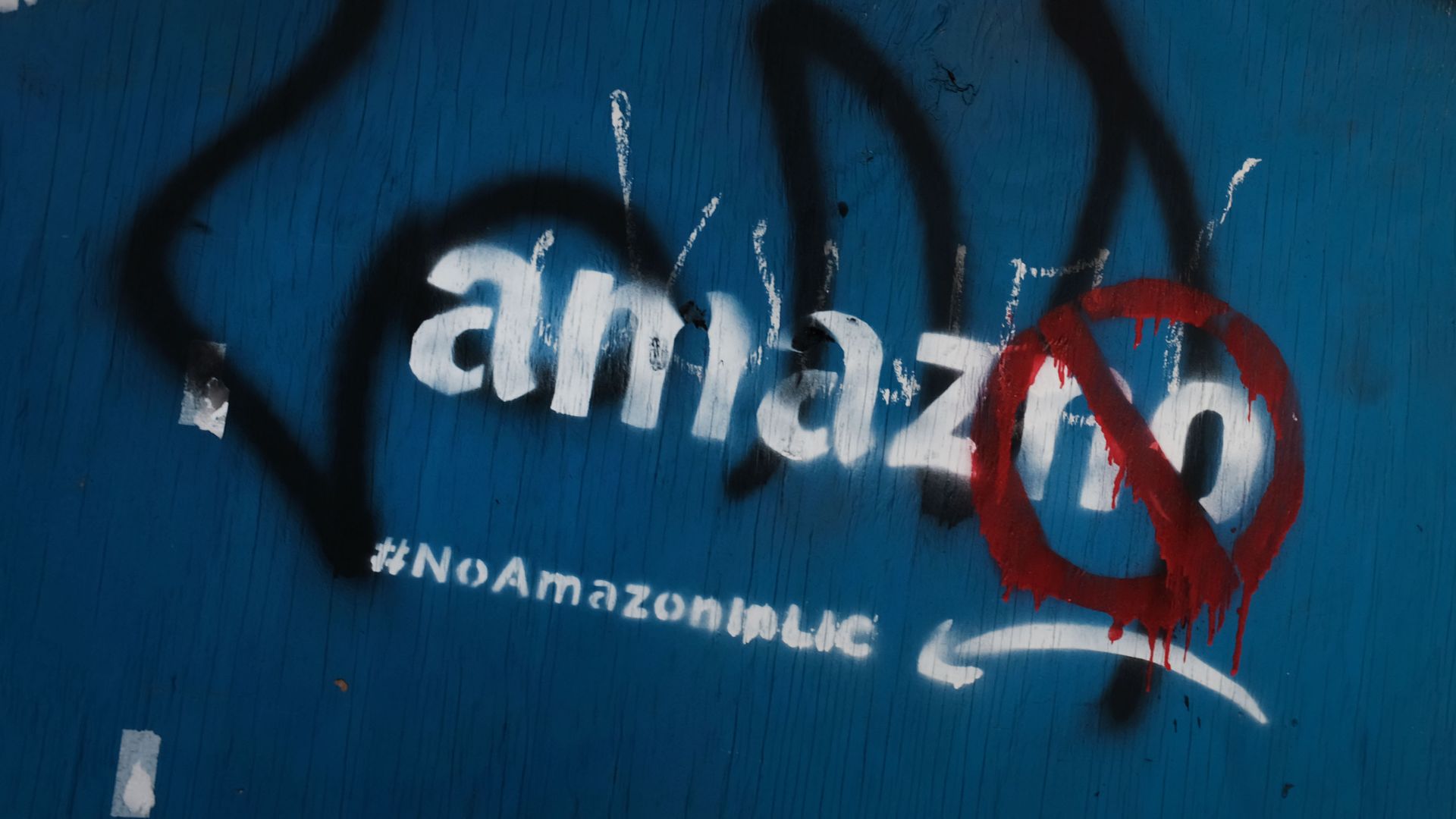 Amazon announced Thursday that it was canceling its plan to build a portion of its HQ2 project in New York City, according to a company statement.
Why it matters, via Axios' David McCabe: This is a huge surprise. The deal was built — with the support of Gov. Andrew Cuomo and Mayor Bill de Blasio — to avoid almost all scrutiny from elected officials. But it turns out one of the world's most valuable companies would rather fold than continue confronting the aggressive backlash from the city's community activists and municipal officials.
The big picture: Amazon said it would not reopen its HQ2 search, but it's still unclear whether the 25,000 jobs that had been slated for NYC will be relocated to another of the HQ2 sites — like the D.C. area or Nashville. The company said in a statement, "We will proceed as planned in Northern Virginia and Nashville, and we will continue to hire and grow across our 17 corporate offices and tech hubs in the U.S. and Canada."
As Axios reported last year, members of New York's city council took turns brutalizing Amazon executives over the tax incentives that are part of the deal for the company to set up shop in Queens. They also harshly questioned Amazon's engagement with the legislative body and the necessity of a helipad that could accompany its office.
From outside NYC's city hall, Rep. Alexandria Ocasio-Cortez's criticism of the company has been echoed by progressive activist organizations.
A Siena College poll released this week showed that New York City residents supported the project by a 58% to 35% margin, per the Wall Street Journal.
After much thought and deliberation, we've decided not to move forward with our plans to build a headquarters for Amazon in Long Island City, Queens. For Amazon, the commitment to build a new headquarters requires positive, collaborative relationships with state and local elected officials who will be supportive over the long-term. While polls show that 70% of New Yorkers support our plans and investment, a number of state and local politicians have made it clear that they oppose our presence and will not work with us to build the type of relationships that are required to go forward with the project we and many others envisioned in Long Island City.
We are disappointed to have reached this conclusion — we love New York, its incomparable dynamism, people, and culture — and particularly the community of Long Island City, where we have gotten to know so many optimistic, forward-leaning community leaders, small business owners, and residents. There are currently over 5,000 Amazon employees in Brooklyn, Manhattan, and Staten Island, and we plan to continue growing these teams.
We are deeply grateful to Governor Cuomo, Mayor de Blasio, and their staffs, who so enthusiastically and graciously invited us to build in New York City and supported us during the process. Governor Cuomo and Mayor de Blasio have worked tirelessly on behalf of New Yorkers to encourage local investment and job creation, and we can't speak positively enough about all their efforts. The steadfast commitment and dedication that these leaders have demonstrated to the communities they represent inspired us from the very beginning and is one of the big reasons our decision was so difficult.
We do not intend to reopen the HQ2 search at this time. We will proceed as planned in Northern Virginia and Nashville, and we will continue to hire and grow across our 17 corporate offices and tech hubs in the U.S. and Canada.
Thank you again to Governor Cuomo, Mayor de Blasio, and the many other community leaders and residents who welcomed our plans and supported us along the way. We hope to have future chances to collaborate as we continue to build our presence in New York over time.
Go deeper