When tax incentives for jobs go wrong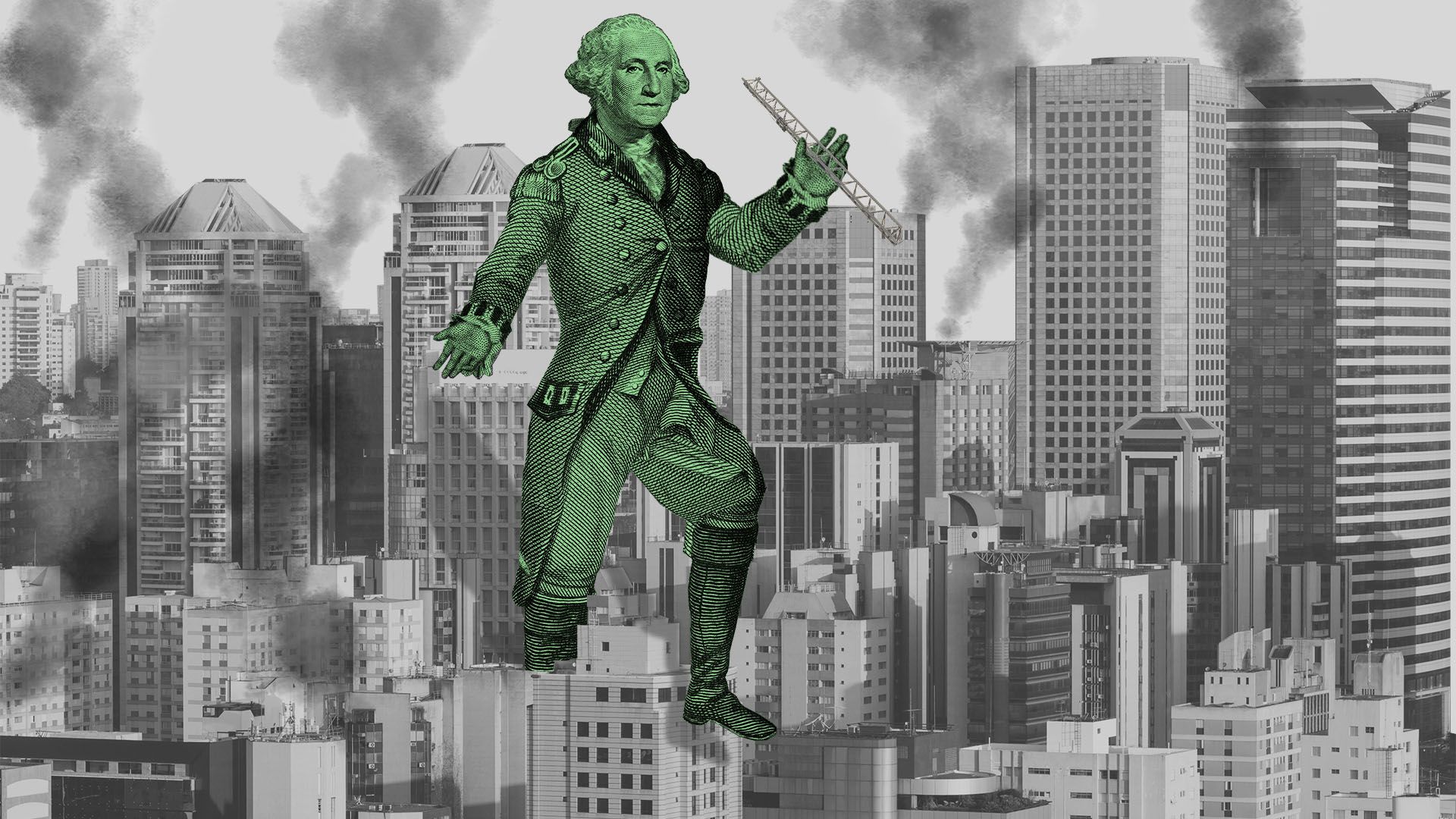 In New York, official scrutiny is triggering doubts about the future of Amazon's much-publicized $3 billion in concessions to build a new headquarters employing tens of thousands. And in Wisconsin, Foxconn has created uncertainty about whether it will fulfill promises to build a huge new factory employing 13,000 people.
Why it matters: Together, the deals cast unwanted new attention on breaks granted to big companies that pledge to hire thousands, often renege, and demand contracts that block disclosure of the arrangements.
The Foxconn and HQ2 stories are part of a pattern across the U.S., according to a new study and interviews with experts.
The study — an examination of 164 deals in Texas since 2003, conducted by Nate Jensen, a professor at UT-Austin, and Calvin Thrall, a graduate student — found that about a quarter of the companies walked back on promised jobs after signing.
Many of the companies that underdelivered had stipulations that shielded them from public scrutiny — contract clauses that allowed them to block the release of details on the deals, Jensen and Thrall found.
Amazon inserted such conditions into its HQ2 contracts with both New York and Arlington, Virginia, says Jensen.
"It's only when you have these rare public auctions that the mask gets ripped off. It's just too easy. There's too much money sloshing around, and it's too easy to qualify for it."
— Greg LeRoy, head of Good Jobs First, a nonprofit that tracks incentives
The Amazon HQ2 search threw the curtains open. Critics say too much was granted in a deal that could create havoc in and around Long Island City, including the displacement of long-time residents by skyrocketing rents.
Now the accord is under threat: On Monday, New York's state legislature nominated Senator Michael Gianaris — a vocal HQ2 opponent — to a three-person board on which any member has the power to veto Amazon's plans.
In an interview with the NYT, Gianaris said past economic development projects in New York have been "littered with overpromising and underdelivering."
The examples of companies failing to deliver appear to be rife.
Milwaukee has the highest-profile case: Foxconn got one of the biggest economic development grants in memory: $4.5 billion for 13,000 jobs, the rough equivalent of Wisconsin paying 30% of Foxconn's payroll for 15 years, says Tim Bartik, a senior economist at the Upjohn Institute.
But over the last week, Foxconn has thrown the project into a whirlwind of uncertainty.
Last week, the company said it won't build the plant. Then, after a reported conversation between the company and President Trump, it said it actually will. No one knows what will happen next.
In a new investigation, Bloomberg reports that Foxconn's promises were never realistic. In the past, the company has failed to deliver on such pledges in Brazil, India and Pennsylvania, per Bloomberg.
Comerica, a financial services company headquartered in Dallas, is another example. Jensen and Thrall found that, after taking a $3.5 million grant from the city in 2007 on the condition of adding 200 high-paying jobs, Comerica went back to Dallas in 2012 with an amended offer.
The company wanted to count the relocation of 16 executives — the CEO among them — as part of the total job number, in addition to positions created at two subsidiaries.
Comerica also included substantial executive salaries when calculating the average compensation of the added jobs.
Evergreen Solar, a solar panel manufacturer, received a $58 million grant commitment to build a plant in Massachusetts, but eventually scrapped construction plans. The state recovered just $3 million of $21 million Evergreen had already received.
An Amazon spokesperson said, "We expect our new headquarters to generate more than $27 billion in new tax revenues for community improvements and the people of New York."
Foxconn did not respond to requests for comment.
Comerica said it met its final contract with Dallas.
Evergreen Solar has gone bankrupt.
The bottom line: Since the 1990s, the typical size of a corporate tax break has tripled, and although these incentives are open to all businesses, 70% of the deals and 90% of the dollars go to big companies.
The future of incentives is trending even bigger, says the Upjohn Institute's Bartik. "There's a threat that these things will dip into money for schools and roads."
Go deeper